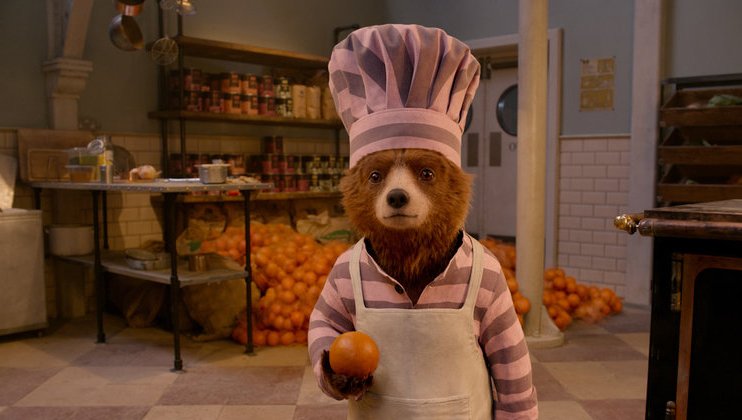 These magic movies on Netflix and Amazon Prime will give you a much needed boost!
We could all do with a big dose of escapism and warm fuzzy feels right about now. So stay inside, camp out on the sofa (dens are highly encouraged) get cosy and stick on one of these movie equivalents of a sticky toffee pudding - comforting, sweet and sure to make you smile.
---
My Neighbour Totoro (1988)
Availble on Netflix
When Netflix announced it would be rolling out 21 titles from legendary Japanese anime film producers Studio Ghibli throughout spring, we were excited to soak up the stunning animation and unique storytelling that Ghibli films are famous for. My Neighbour Totoro is no exception. Set in the rolling countryside of 1950's Japan, young sisters Satsuki and Mei encounter the mischievous local sprites including the large friendly acorn-loving Totoro, and a cat bus the likes of which you've never seen. The relatively simple storyline mixed with the elements of magic and the tranquil countryside setting makes this the ideal choice for when you just need 90 minutes of calm and escapism from the crazy world around you.
---
When Harry Met Sally (1989)
Available on Netflix
Can men and women ever just be friends? That's the question at the heart of this Nora Ephron penned rom-com. Billy Crystal and Meg Ryan have fantastic chemistry as the titular Harry and Sally, uni graduates who spend twelve years in New York having chance encounters, fledgling friendships and complicated situations trying to figure out the answer. Intercut with pleasantly schmaltzy fictional accounts of how cute old couples met, and famous for that "I'll have what she's having" diner scene, its sharp comedic dialogue makes it the ultimate comfort movie.
---
Groundhog Day (1993)
Available on Netflix
For anyone stuck inside right now it can feel like the days are starting to blur into one, but what if you had to repeat the same day over and over again? Phil Connors (Bill Murray) is a sarcastic TV weatherman less than thrilled about covering the annual Groundhog Day event in Punxsutawney, Pennsylvania with news producer Rita (Andie McDowell). When he wakes the next day (and the next etc) to the sound of Sonny & Cher's 'I Got You Babe', the continuing spiral, full of Murray's signature comedic style, eventually leads to him reassessing his negative outlook on life and realising that sometimes what makes you happy has been right there the whole time.
---
About Time (2013)
Availble on Netflix
You can always trust Richard Curtis, king of charmingly awkward Britishness, to deliver on the feel-good vibes, and About Time is no exception. Domhnall Gleeson's "too tall, too skinny, too orange" Tim is pretty hapless when it comes to love until his dad (the fantastic Bill Nighy in full Bill Nighy mode) reveals the secret that the men in their family can travel back in time throughout their own lives. Whilst this may sound like just another quirky rom-com on the surface, it's actually a really lovely exploration into the importance of the different relationships in our lives beyond the romantic, with the father-son narrative being particularly heart-warming and poignant. At its heart About Time is a message to actively look for the beauty in the often overlooked everyday moments, and that joy can always be found even in the most difficult times if you look hard enough.
---
Paddington 2 (2017)
Available on Amazon Prime
Everyone's favourite marmalade-loving bear is back in this fun-filled sequel. Paddington has settled into life with the Browns in Windsor Gardens and has his heart set on buying a rare pop-up book of London to send to Aunt Lucy for her upcoming birthday. However, when the book is stolen and Paddington is found at the scene of the crime, he finds himself in prison for a crime he didn't commit. With silly set pieces galore, song and dance numbers, and a recent career-high turn from Hugh Grant as failed thespian Phoenix Buchanan, Paddington 2 champions the power of kindness and community spirit and guarantees to put a massive smile on your face.