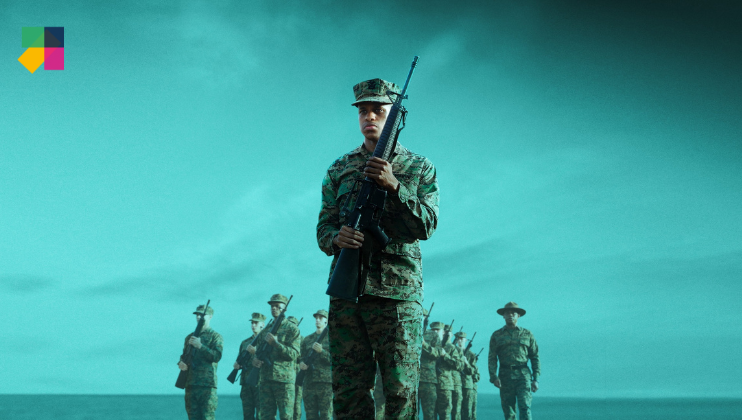 Searching for the right film to watch can take forever, sifting through hundreds of films over multiple streaming services, unsure what's worth your time. Sometimes you just need a good recommendation to show you a hidden gem, or a new release that's meant to be a good watch, or maybe you didn't know they had one of your all-time favourite classics. It's extremely hard to keep track of everything on all the different platforms these days.
Well look no further because we at Culture Calling have selected some of the best films available on Netflix right now.
The Inspection
A young, gay Black man with few options for his future decides to join the Marines, willing to do whatever it takes to prove himself to his estranged mother and triumph in a system that would otherwise cast him aside. However, even as he battles deep-seated prejudice and the grueling rigor of basic training, he finds unexpected camaraderie, strength and support in this new community, giving him a hard-won sense of belonging that shapes his identity and forever changes his life.
1h 35m | Drama | 15
Directed by: Elegance Bratton
Starring: Jeremey Pope, Gabrielle Union, Bokeem Woodbine, Raúl Castillo, Aubrey Joseph
---
The Killing of a Sacred Deer
Steven Murphy, a surgeon, takes an awkward teenage boy, Martin, under his wing. But things get worse for the Murphys when they find out that Martin has a sinister agenda of his own.
2h 1m | Thriller/Horror | 15
Directed by: Yorgos Lanthimos
Starring: Colin Farrell, Barry Keoghan, Nicole Kidman, Raffey Cassidy, Sunny Suljic, Alicia Silverstone
---
Traffic
The lives of four people intertwine because of the drug trade in America. Each experiences personal loss and despair in the ongoing war on drugs, but is helpless.
2h 27m | Crime/Drama | 18
Directed by: Steven Soderbergh
Starring: Michael Douglas, Benicio del Toro, Catherine Zeta-Jones, Don Cheadle, Erika Christensen, Dennis Quaid, Luis Guzmán
---
Portrait of a Lady on Fire
France, 1770. Marianne, a painter, is commissioned to do the wedding portrait of Héloïse, a young woman who has just left the convent. Héloïse is a reluctant bride to be and Marianne must paint her without her knowing. She observes her by day, to paint her secretly.
2h 11m | Romance/Drama | 15
Directed by: Céline Sciamma
Starring: Adèle Haenel, Noémie Merlant, Luàna Bajrami, Valeria Golino, Armande Boulanger
---
There Will Be Blood
Daniel Plainview is a ruthless oil prospector who goes on a relentless pursuit to become the most powerful oil tycoon. For this, he even resorts to manipulating and using his adopted son.
2h 38m | Drama | 15
Directed by: Paul Thomas Anderson
Starring: Daniel Day Lewis, Paul Dano, Dillon Freasier, Ciarán Hinds, Erica Sullivan, Jim Meskimen
---
Up in the Air
Ryan, a corporate downsizing expert, takes his new colleague on his office tour. On the way, he meets another flier and the two begin a casual relationship.
1h 49m | Comedy/Drama | 15
Directed by: Jason Reitman
Starring: George Clooney, Anna Kendrick, Vera Farmiga, Jason Bateman, J.K. Simmons, Zach Galifianakis, Danny McBride
---
Akira
Biker Kaneda is confronted by many anti-social elements while trying to help his friend Tetsuo who is involved in a secret government project. Tetsuo's supernatural persona adds the final twist.
2h 4m | Sci-fi Action | 15
Directed by: Katsuhiro Otomo
Starring: Johnny Yong Bosch, Joshua Seth, Simon Prescott, Michelle Ruff
---
Catch the Fair One
A former boxer is told that her younger sister, who disappeared two years ago, may be alive in a trafficking network and sets out to find her.
1h 25m | Thriller | 18
Directed by: Josef Kubota Wladyka
Starring: Kali Reis, Tiffany Chu, Kimberly Guerrero, Lisa Emery, Kevin Dunn, Daniel Henshall
---
Tracks
To satisfy her craving for solitude, a young woman goes trekking across the deserts of West Australia with four camels and a dog.
1h 52m | Adventure/Drama | 12
Directed by: John Curran
Starring: Mia Wasikowska, Adam Driver, Emma Booth, Jessica Tovey
---
RRR
A Japanese woman hires a handmaiden, but little does she know that her employee is working hand in glove with a con man to cheat her out of her wealth.
3h 7m | Action/Drama | 15
Directed by: S. S. Rajamouli
Starring: Ram Charan, N. T. Rama Rao Jr., Ajay Devgn, Alia Bhatt, Olivia Morris, Ray Stevenson
---
Annihilation
A heartbreaking home birth leaves a woman grappling with the profound emotional fallout, isolated from her partner and family by a chasm of grief.
2h | Sci-fi/Horror | 15
Directed by: Alex Garland
Starring: Natalie Portman, Oscar Isaac, Jennifer Jason Leigh, Gina Rodriguez, Tessa Thompson
---
Moonage Daydream
Featuring never-before-seen footage and performances, filmmaker Brett Morgen explores David Bowie's creative, spiritual and musical journey.
2h 15m | Music/Documentary | 15
Directed by: Brett Morgen
Starring: David Bowie
---
The Unbearable Weight of Massive Talent
Billy Beane, a baseball general manager, and Peter Brand, an economics graduate, challenge convention as they try to form a competitive sports team using computer-based methods.
1h 45m | Comedy/Action | 15
Directed by: Tom Gormican
Starring: Nicolas Cage, Pedro Pascal, Lily Mo Sheen, Sharon Horgan, Alessandra Mastronardi, Paco León, Ike Barinholtz, Tiffany Haddish
---