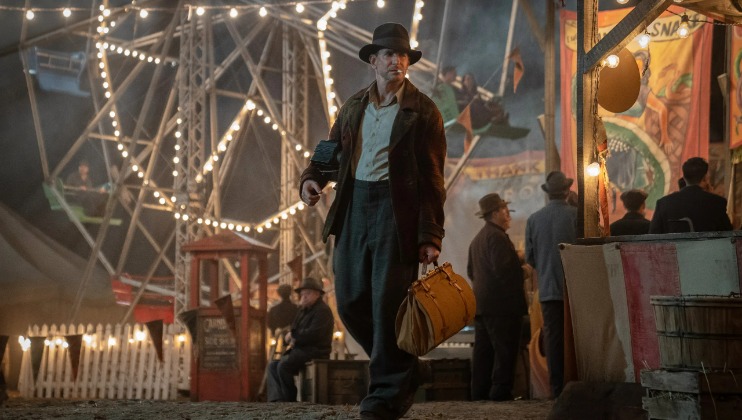 Searching for the right film to watch can take forever, sifting through hundreds of films over multiple streaming services, unsure what's worth your time. Sometimes you just need a good recommendation to show you a hidden gem, or a new release that's meant to be a good watch, or maybe you didn't know they had one of your all-time favourite classics. It's extremely hard to keep track of everything on all the different platforms these days.
Well look no further because we at Culture Calling have selected some of the best films available on Disney + right now.
Nightmare Alley
In 1940s New York, down-on-his-luck Stanton Carlisle endears himself to a clairvoyant and her mentalist husband at a travelling carnival. Using newly acquired knowledge, Carlisle crafts a golden ticket to success by swindling the elite and wealthy. Hoping for a big score, he soon hatches a scheme to con a dangerous tycoon with help from a mysterious psychologist who might be his most formidable opponent yet.
2hr 20m | Thriller/Drama | 15
Directed by: Guillermo del Toro
Starring: Bradley Cooper, Cate Blanchett, Rooney Mara, Toni Collette, Willem Dafoe, Ron Perlman, Paul Anderson, David Strathairn, Richard Jenkins, Mary Steenburgen, Holt McCallany
---
The Eyes of Tammy Faye
In the 1970s, Tammy Faye Bakker and her husband, Jim, rise from humble beginnings to create the world's largest religious broadcasting network and theme park. Tammy Faye becomes legendary for her indelible eyelashes, her idiosyncratic singing, and her eagerness to embrace people from all walks of life. However, financial improprieties, scheming rivals and a scandal soon threaten to topple their carefully constructed empire.
2hr 6m | Drama/Romance | 12A
Directed by: Michael Showalter
Starring: Jessica Chastain, Andrew Garfield, Cherry Jones, Vincent D'Onofrio, Mark Wystrach, Sam Jaeger, Louis Cancelmi, Gabriel Olds
---
The French Dispatch
A love letter to journalists set in an outpost of an American newspaper in a fictional 20th-century French city that brings to life a collection of stories published in "The French Dispatch."
1hr 48m | Drama/Comedy | 15
Directed by: Wes Anderson
Starring: Bill Murray, Tilda Swinton, Timothée Chalamet, Owen Wilson, Adrien Brody, Léa Seydoux, Benicio del Toro, Jeffrey Wright, Frances McDormand, Saoirse Ronan, Lyna Khoudri, Jason Schwartzman, Edward Norton, Mathieu Amalric, Willem Dafoe, Anjelica Huston, Elisabeth Moss, Christoph Waltz, Rupert Friend
---
West Side Story
Love at first sight strikes when young Tony spots Maria at a high school dance in 1957 New York City. Their burgeoning romance helps to fuel the fire between the warring Jets and Sharks -- two rival gangs vying for control of the streets.
2hr 36m | Musical/Romance | 12A
Directed by: Steven Spielberg
Starring: Rachel Zegler, Ansel Elgort, Ariana DeBose, Maddie Ziegler, Rita Moreno, Mike Faist, David Alvarez, Iris Menas, Josh Andrés Rivera, Corey Stoll, Brian d'Arcy James
---
Summer of Soul
In his acclaimed debut as a filmmaker, Ahmir "Questlove" Thompson presents a powerful and transporting documentary-part music film, part historical record created around an epic event that celebrated Black history, culture and fashion. Over the course of six weeks in the summer of 1969, just one hundred miles south of Woodstock, The Harlem Cultural Festival was filmed in Mount Morris Park (now Marcus Garvey Park). The footage was never seen and largely forgotten--until now. SUMMER OF SOUL shines a light on the importance of history to our spiritual well-being and stands as a testament to the healing power of music during times of unrest, both past and present. The feature includes never-before-seen concert performances by Stevie Wonder, Nina Simone, Sly & the Family Stone, Gladys Knight & the Pips, Ray Baretto, Abbey Lincoln & Max Roach and more.
1hr 58m | Documentary | 12A
Directed by: Questlove
Starring: Stevie Wonder, Lin-Manuel Miranda, Nina Simone, B.B. King, Chris Rock, Jesse Jackson, Gladys Knight
---
Fresh
FRESH follows Noa (Daisy Edgar-Jones), who meets the alluring Steve (Sebastian Stan) at a grocery store and -- given her frustration with dating apps -- takes a chance and gives him her number. After their first date, Noa is smitten and accepts Steve's invitation to a romantic weekend getaway. Only to find that her new paramour has been hiding some unusual appetites.
1hr 54m | Thriller | 18
Directed by: Alex Somers
Starring: Sebastian Stan, Daisy Edgar-Jones, Charlotte Le Bon, Brett Dier, Andrea Bang, Jonica T. Gibbs, Dayo Okeniyi
---
Three Billboards Outside Ebbing, Missouri
After months have passed without a culprit in her daughter's murder case, Mildred Hayes makes a bold move, painting three signs leading into her town with a controversial message directed at William Willoughby, the town's revered chief of police. When his second-in-command, Officer Dixon -- an immature mother's boy with a penchant for violence -- gets involved, the battle is only exacerbated.
1hr 55m | Crime/Drama | 15
Directed by: Martin McDonagh
Starring: Frances McDormand, Sam Rockwell, Woody Harrelson, Peter Dinklage, Caleb Landry Jones, John Hawkes, Abbie Cornish, Lucas Hedges, Samara Weaving
---
Cruella
Estella is a young and clever grifter who's determined to make a name for herself in the fashion world. She soon meets a pair of thieves who appreciate her appetite for mischief, and together they build a life for themselves on the streets of London. However, when Estella befriends fashion legend Baroness von Hellman, she embraces her wicked side to become the raucous and revenge-bent Cruella.
2hr 14m | Crime/Drama | 12
Directed by: Craig Gillespie
Starring: Emma Stone, Emma Thompson, Joel Fry, Paul Walter Hauser, John McCrea, Mark Strong, Kirby Howell-Baptiste, Jamie Demetriou, Kayvan Novak
---
The Favourite
Queen Anne of England falls sick while her close aide Sarah Churchill oversees the country's important matters. Soon, things take a turn when Sarah's cousin Abigail starts serving the queen.
2hr | Drama/Comedy | 15
Directed by: Yorgos Lanthimos
Starring: Olivia Colman, Emma Stone, Rachel Weisz, Nicholas Hoult, Joe Alwyn, Faye Daveney, Emma Delves, Paul Swaine, Jennifer White
---
Seven Psychopaths
Boozy writer Marty (Colin Farrell) is a man in search of a screenplay. He has a catchy title but no story to go along with it. Marty has a couple of oddball buddies, Hans (Christopher Walken) and Billy (Sam Rockwell), who make a living by kidnapping rich people's dogs, then returning them and collecting the reward. However this time, the fur flies when Hans and Billy kidnap the beloved pooch of a gangster (Woody Harrelson), and Marty uses the ensuing events as fodder for his screenplay.
1hr 49m | Comedy/Crime | 15
Directed by: Martin McDonagh
Starring: Sam Rockwell, Christopher Walken, Colin Farrell, Woody Harrelson, Abbie Cornish, Tom Waits, Olga Kurylenko, Michael Pitt, Gabourey Sidibe, Željko Ivanek, Michael Stuhlbarg
---