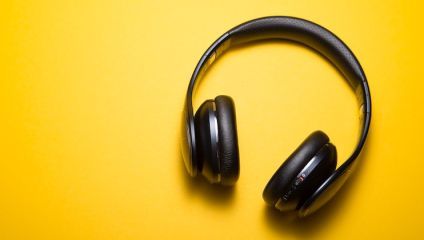 Missing your daily dose of social interaction? These podcasts are bringing the chat to you
Water cooler chat just isn't the same when it's just you in your kitchen making a brew. If you're missing the daily office chats about Brenda's wild weekend at the garden centre or what everyone watched on telly last night, these chatty podcasts will make you feel like you're not alone whilst you work from home.
---
Jules and Sarah The Podcast
Hosted by two absolute rays of sunshine, Jules Von Hep and Sarah Powell, this show is the podcast equivalent of having your best mates round for a cuppa (or a wine) and a good old catch up. Each episode is essentially the two friends chatting about what's been happening in their lives, from funny anecdotes, thoughts on pop culture and reading out weird and wonderful mail from their listeners affectionately dubbed The Port Salut Crew. Don't fancy a whole podcast? They also put out weekly 'Nibble' episodes at around five minutes long - perfect for that mid morning tea break.
Give it a listen here
---
Nobody Panic
There's always that one colleague who gives the best advice on everything from relationships to what to make for dinner. If you're missing their pearls of wisdom then Nobody Panic is just what you need. Comedians and creators of hot hot content Stevie Martin and Tessa Coates will guide through everything from how to stop losing things to how to understand wine. Hilarious, relatable and prone to going off on some epic tangents, each topical episode leaves you feeling like all the adult things you're meant to know how to do aren't actually so scary.
Give it a listen here
---
Thirst Aid Kit
In a time of social distancing, the thirst has surely never been more real. Enter Bim Adewunmi and Nichole Perkins, your thirst sommeliers with the best dirty laughs to guide you through the various ways women express desire when it comes to celebrity men. Does James McAvoy float your boat? They have it covered. Lakeith Stanfield or Taika Waititi? Covered. ALL the celebrity Chris' you can shake a thirsty stick at? So covered. Their fan fiction "drabbles" and infectious laughter make this the perfect podcast to beat the afternoon slump.
Give it a listen here
---
The Fringe Of It
Content creators, style queens and self-confessed nana's Charlotte Jackson and Liv Purvis are the virtual water cooler pals we all need right now. Their warm conversational format lends itself perfectly to everything from weekly telly talk and book recommendations to see us through the time spent indoors, to guest episodes delving into subjects such as women's health, activism and sustainability.
Give it a listen here
---
Like Minded Friends
Missing the random workplace chats that seem to come from nowhere but are the thing that makes the 9-5 bearable? Comedians Tom Allen and Suzi Ruffell are the cure to the solo working blues with this podcast that is, in their own words, "two homo comedians talk about love, life and culture… sometimes". Any subject goes in their fun and informal chatty episodes, making it the ideal companion if you're social distancing but still have work to do.
Give it a listen here