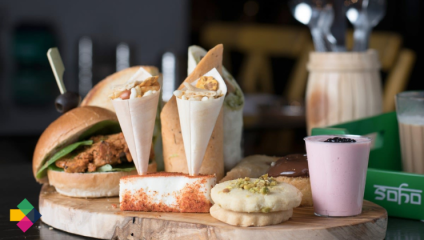 We've got this week's pick of top podcasts episodes for your playlist.
BBC Radio 5 live: World Cup Daily - England smash six past Iran in World Cup opener
Hosted by Mark Chapman this podcast gives a run down on the long awaited World Cup games each day. In today's episode Mark discusses England's 6-2 win against Iran with sports journalist John Murray. He also chats with former England internationals Rob Green, Matthew Upson and Jermaine Jenas and gains their insight into today's play. Other familiar voices include England manager Gareth Southgate as well as Kieran Trippier, Bukayo Saka and Jude Bellingham.
Spotify | Apple Podcasts | Episode Website
---
Radiolab - What's up doc?
In this reminiscent and sentimental episode of Radiolab, producer Sean Cole talks to Noel, the son of Mel Blanc who was also known as 'the man of 1000 voices' which included Bugs Bunny, Porky Pig, Daffy Duck, Tweety, Barney Rubble, Woody Woodpecker, Sylvester and Foghorn Leghorn. Noel talks about his young life, as well the later friendship and professional ventures he shared with his dad. It also explores the idea of how following a near fatal car crash, these family favourite characters may have played a hand in saving his Dad's life.
Spotify | Apple Podcasts | Episode Webiste
---
Crimehub: A True Crime Podcast - The Dexter Copycat Killer: Mark Twitchell
This spine chilling episode tells the horrifying details of the murder of John Brian Altinger by Mark Twitchell who is alleged to have been inspired by the fictional serial killer character Dexter Morgan.This captivating episode sheds light on the crime, aftermath and subsequent trial of Twitchell, a Canadian filmmaker which leads to his conviction of first degree murder in April 2011.
Spotify | Apple Podcasts | Episode Website
---
The Times: Off Air... with Jane and Fi - Fantastically successful Pink Ladies - with Grace Dent
This is a side splitting episode from broadcasters Jane Garvey and Fi Glover who are joined by award winning food critic, columnist and broadcaster Grace Dent. The conversation spans from loos at motorway service stations and removing the glue from HRT patches, to how to deal with awkward supermarket encounters. Grace also chats about the fourth season of her own podcast Comfort Eating on which she chats about life with celebrity guests including Graham Norton, Malorie Blackman and Dawn O'Porter.
Spotify | Apple Podcasts | Episode Website
---
Grounded with Louis Theroux - The Coming Storm - Louis Theroux interviews Gabriel Gatehouse
Household favourite Louis Theroux interviews international editor of Newsnight, and host of BBC Radio 4 Gabriel Gatehouse about the reverberations that followed the 2021 Capitol riots, QAnon, and the latest inconceivable events of modern America. This thought-provoking episode delves into the narrative that Gatehouse has uncovered during his research for his podcast The Coming Storm and provides an alternative perspective to the mainstream media.
Spotify | Apple Podcasts | Episode Website
---