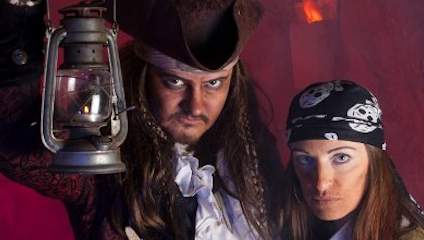 Shiver me timbers, next Wednesday (19 September) is Talk Like a Pirate Day! Whether you're a filthy landlubber or an old sea dog, there "argh!" plenty of events to help you to get into character before the big buccaneer day. So grab your eye patch and cutlass and head to one of the best swashbuckling activities around the UK.
---
Pirates on the Dock, Liverpool
What better place to see a sea-faring adventure than by the murky waters of Liverpool's Albert Dock? Head to Pirates on The Dock, a two-day festival of live action and family entertainment, from ship battles to stunts, sword fights to local folklore and sea shanty singing. There's even a Pirate and Mermaid parade, which budding buccaneers can join in with on the day. And the great news is it is all for free, so you don't need to go looting some booty to afford to go!
Image Credit: Royal Albert Dock Liverpool via Twitter
Pirates on the Dock runs from 10am - 6pm on 15 & 16 September at Albert Dock, Liverpool
---
Pirate's Quest, Newquay
Cornwall's famous for its treacherous tales of smugglers and sea criminals, so Newquay is the perfect place to head to explore Britain's pirate riddled past. Whilst you're there, head to Pirate's Quest, an immersive walk-through experience that guides you through mystical caves and antiquated streets of 18th Century Cornwall, and teaches you about the history of piracy. The big question is, will you opt to follow the safe route, or will you risk getting the black spot by going through the exhibition's "scare section" - a venerable Davy Jones' locker with smoke effects, atmospheric lighting, loud noises, and live performers.
Image Credit: Pirate's Quest via Twitter
Pirate's Quest is located at 22 St. Michaels Road, Newquay, Cornwall, TR7 1RA
---
Pirate Walks, Bristol
Bristol has a rich maritime history, and is even the birthplace of the infamous Blackbeard! You can learn more about the hometown of the legendary buccaneer by taking part in a Pirate Walk around the city. Led by Pirate Pete you will visit many timber shivering sites including Long John Silver's treasure chest in the smugglers caves, Blackbeard's lair in the medieval port, and the Spy Glass Inn from Treasure Island.
Image Credit: Pirate Walks via Facebook
Pirate Walks run on Saturdays at 2:00 pm throughout the year and start from Black Beetle Status, Anchor Square, BS1 5LL. Always telephone for availability.
---
The Pirates' Graveyard, Dorset
Dorset is the setting for Moonfleet, John Meade Falkner's classic tale of smugglers, so is another key county to visit if you're a pirate aficionado. Head to Church Ope Cove on the Isle of Portland, which is not only a stunning beach but also situated near a spine chilling graveyard. Whilst it's official name is St. Andrew's graveyard as it is alongside the romantic ruin of St. Andrew's Church, the site has come to be thought of as a Pirates' Graveyard due to many of the headstones having skulls and cross bones carved upon them. Whether it's true or not, you can still let your imagination run wild, and think of all the possible adventures that led to these potential scallywags ending up in Davy Jones' locker.
Image Credit: Trip Advisor
The Pirates' Graveyard is located at St Andrew's Church nr. Church Ope Cove, Easton, Portland, Dorset
---
Bowood House Adventure Playground, Wiltshire
Get your small smugglers started early with the life-sized Pirate Galleon located at the heart of Bowood House's adventure playground. Suitable for seadogs up to 12-years-old, there's rigging to climb, portholes to peek through, and a watch tower from which you can survey your surroundings and keep an eye out for the dreaded Kraken (also known as your parent telling you it's time to go home!)
Image Credit: Bowood House and Gardens via Twitter
Bowood House Adventure Playground is open daily until 4th November 2018, and is located at Old Road, Derry Hill, Calne, SN11 0LZ