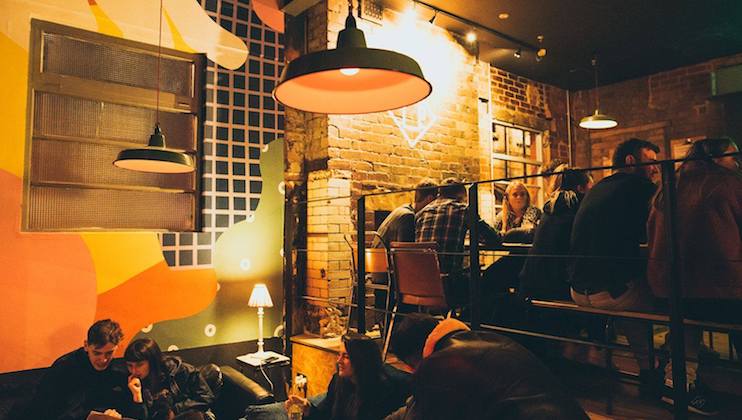 Support some indie music venues and check out these spots
There's nothing better than discovering your new favourite music venue…unless that venue also happens to serve up some top-notch grub. We have decided to compile a list of establishments that have won our hearts by combining two of our greatest loves in life: music and food. Whether it's a burger and beer you fancy while nodding your head to Loyle Carner or a vegan wrap while moshing to new-wave punk, there's something here for everybody.
---
Belgrave Music Hall and Canteen
1-1A Cross Belgrave St, Leeds, LS2 8JP
Within Leeds' bustling Northern Quarter you'll find the beautifully restored 1930's 3-storey building which has now become the proud home of Belgrave Music Hall and Canteen. The venue aims to provide artists and performers with a unique platform to showcase their blossoming talents, which means you can catch all sorts of live music here, as well as comedy, films and art exhibitions. This isn't, however, just a live music venue - you may notice it's Belgrave Music Hall and Canteen - as you can also get all sorts of grub from various street food pop ups or the venue's culinary residents, Dough Boys (who serve pizza by the slice) and Patty Smith's Burger Co. You'll never go thirsty either, as they boast an extensive selection of premium craft beers and cask ales, as well as delicious cocktails, tea and coffee, which you can enjoy on their spectacular roof terrace when it gets a bit warmer.
---
Fuel
448 Wilmslow Road, Manchester, M20 3BW
Withington is a bit of a strange place - although at first glance it may appear a bit of a dead zone, there is an abundance of weird and wonderful establishments for you to enjoy. There's an unassuming but incredible Middle Eastern Restaurant, a multi-coloured café with beanbags upstairs, and, of course, the veggie community café, Fuel. This trendy little café/bar is known for its reasonably priced, delicious vegetarian food (their battered halloumi and chips may sound like a heart-attack waiting to happen, but at least you'd die happy) which you can tuck in to in their laid back, friendly atmosphere with an imported German beer from their eclectic menu to wash it down. Although some may not be aware, they also hold sporadic live music performances upstairs, all for just the shrapnel in your back pocket. A lot of these are from grunge and punk bands, but you can also catch some gypsy-jazz or folk/acoustic jams too.
---
Hagglers Corner
586 Queens Road, Sheffield, S2 4DU
Whether you want to attend an exciting creative workshop, see a brilliant new band, or you just have a bit of a sweet tooth, Hagglers Corner is the place to go. As they are located in the heart of Sheffield, where there is undoubtedly a lot of untapped talent waiting to be unleashed, you're sure to catch some fantastic gigs, whether it's afrobeat, bluesy rock or folk you're in to. These events take place as either an intimate gig in their café or one that takes place across the whole venue. They're half Icelandic, and have their own Kaffihus (which is Icelandic for coffee house) which offers a delicious selection of homemade food and cakes, and cater for vegans too. For anyone who would like a drink to accompany their meal or their music, they are also fully licensed.
---
Bar Loco
22 Leazes Park Rd, Newcastle upon Tyne, NE1 4PG
Bar Loco is a great little drinking hole for musicians, artists and students alike, with an international, bohemian vibe and sincerely friendly staff. In addition to their regular reggae open mic and quiz nights, they also host occasional genre-spanning events with acoustic folks, live electronic music and sometimes gypsy-jazz jam nights. They are also a restaurant and offer an extensive menu of various burgers, wraps, nibbles and tapas for very affordable prices, and we've heard that their pizza and pastas are some of the best in Newcastle. They've recently started doing brunch as well with a full English breakfast, eggs and homemade granola available, and from 10am they serve Bucks Fizz and Bloody Marys. In addition to all of that, they have fantastic real ales, beers, wines and other adventurous drinks to get you feeling merry.
---
The Gallimaufry
26-28 Gloucester Rd, Bristol, BS7 8AL
In a city that is habitually creative and quirky, there are interesting music venues at all far corners - but The Gallimaufry stands out. Every Monday, they host a friendly and relaxed open mic night, so if you fancy showing off your new song go ahead and join them and they'll treat you to a drink. Throughout the rest of the week they welcome talent from far and wide - "expect folk, jazz, funk, blues and beyond", which include a lot of up and coming talent, many of whom have become quite well known, such as George Ezra. As if that wasn't enough, on the weekends they have vinyl DJs playing anything to get you dancing "from classic to modern soul, disco to electronic, 80s to hip hop." The Gallimaufry is also a restaurant/bar/café (is there anything they can't do?), who offer dinner, brunch, delicious tapas and Sunday roasts and they have a weekly rotation of local beers and ales.