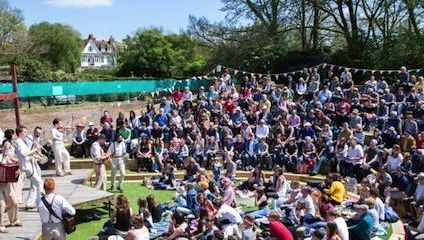 There's many a hidden gem to be found in the narrow, winding streets of Brighton's North and South Lanes, and the wider boulevards that run throughout the city's main strips also contain a plethora of arts centres and venues. You'll find theatres tucked away in all sorts of places, and there's much more beside the central strip of New Road, where Brighton's two largest theatres sit opposite each other. Read on for our guide to the nooks and crannies that theatre flourishes best in.
Brighton is known for its arty and creative culture. So we collected the best theatre Brighton has to offer for all you theatre-lover's out there.
We may as well start with the two big boys of Brighton theatre. Brighton Theatre Royal and Brighton Dome are huge receiving houses that programme a range of large scale touring shows throughout the year. The Theatre Royal is over two centuries old and has been owned by Ambassador Theatre Group since 1999, giving it access to West End transfers, large-scale touring musicals and star-studded plays. Brighton Dome, formerly home to the Prince Regent's stables and still linked to Brighton Museum and the Royal Pavilion by a series of underground tunnels, is every bit the Theatre Royal's equal. It too boasts over two centuries of history, and the large scale touring shows it programmes compliment the Theatre Royal's more commercial efforts by looking further afield to international artists, and multi-disciplinary shows. Think of it as the Barbican Centre to the Theatre Royal's O2 and you're on the right track. If you want big shows New Road is the place to head in Brighton.
Brighton Dome viewed from Pavilion Gardens © Matthew Andrews
Of course, it's not just about the big-hitters. Fringe theatre has grown substantially over the last 15 years, and there are some fantastic smaller-scale shows and companies producing great work. The Old Market, straddling the Brighton/Hove border on Upper Market Street, has potentially the greatest range of theatre in the city. The incomparable blend of live animation, theatre and music that is 1927; James Rowland's widely acclaimed Team Viking and a VR experience from the ever-inventive company Curious Directive are some of their upcoming highlights. Elsewhere Komedia, on Gardener Street in the heart of the North Lanes, hosts a string of top-quality comedians and spoken-word nights, as well as programming a strong line-up of younger-ages theatre and the occasional touring fringe show.
Brighton is well known for being a creative hub - with a music scene to rival that of any other UK city. Creativity breeds creativity, and local theatre is rife in Brighton if you know where to look. There are several not-for-profit theatres, of which Sevendials' Purple Playhouse Theatre is one of the most welcoming. All their profits go toward learning disability charity Grace Eyre's activities, and the upkeep of the theatre. Rialto Theatre, on Dyke Road in the centre of town, is a beautiful Grade II-listed gothic building which hosts a wide range of small shows in its theatre and studio spaces. The Marlborough Theatre is an LGBTQ+ theatre, located above the pub of the same name on Princes Street, which programmes a wide range of Queer & LGBT shows, as well as producing its own work. The New Venture Theatre is a community-focused theatre, found on Bedford Place near the seafront, run entirely by volunteers who host classes and workshops, programme new writing and support local theatre-makers. Finally the Brighton Open Air Theatre in Dyke Road Park opens from May till September each year, and is a charity organisation founded in 2015 by local playwright Adrian Bunting, who used his life savings to kick-start the project after finding out he had pancreatic cancer. The theatre has gone from strength to strength ever since, quickly becoming a staple of Brighton's theatre scene.
'Staples of Brighton's theatre scene' brings us nicely to cabaret. Kemptown is at the heart of Brighton's LGBT community, and it's where you'll find two of Brighton's finest cabaret clubs. Bar Broadway, part of the Broadway Lounge on Steine Street, plays host to regular Fireplace Sessions from local and visiting cabaret acts whilst Proud Cabaret is a glossier option. Here you'll find three-course dinners, international burlesque stars and AAA cocktails. Their home on St. George's Road is just down the road from the church, naturally.
Theatre knows no boundaries, and it's not surprising to learn that there are plenty of non-traditional spaces that regularly host plays and performances. Newcomers Junkyard Dogs on Edward Street won Brighton Fringe Best Venue 2017, and their 35-seater backyard theatre is sure to host plenty of acts throughout the rest of the year. Italian Restaurant Al Duomo serves up cabaret to accompany your food from their Pavilion Gardens location, while the Blue Man café/bar on Queen's Road does a similar side of comedy and spoken word to go with their North African menu. Artista is multi-use creative space that programmes theatre, spoken word and comedy to compliment their photography studio in Waterloo Street. The Nightingale Room, above the Grand Central opposite Brighton Station, is a well-travelled fringe performance space and new project The Spire, on the top of St Mark's Chapel on Eastern Road, is currently undergoing a refurbishment before launching as a creative space for all types of performance. It looks to be an exciting addition to the many theatres - of all shapes and sizes - that Brighton contains.