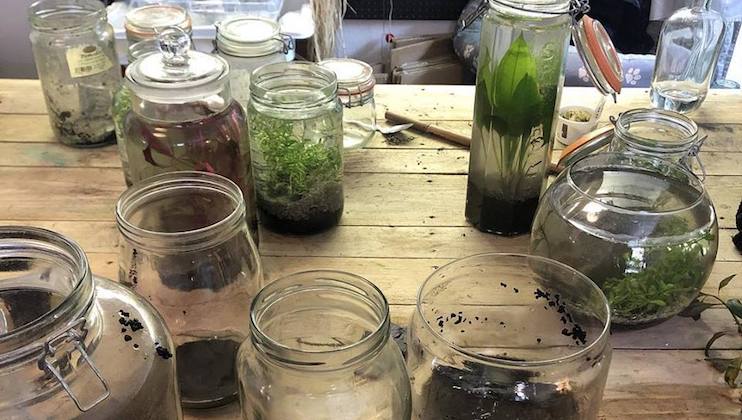 Arts and crafts spots for you to get your hands dirty and take home something truly unique
Gone are the days of arts and crafts drawers being solely for children, and with the rise in Pinterest and Kirstie Allsopp style 'upcycling' people everywhere are looking to revamp the make do and mend mentality. Whether you want to make an Instagram worthy terrarium, a box of posh vegan chocolates or even a unique set of wedding rings, Brighton's arty community has plenty to offer in terms of crafty evening activities.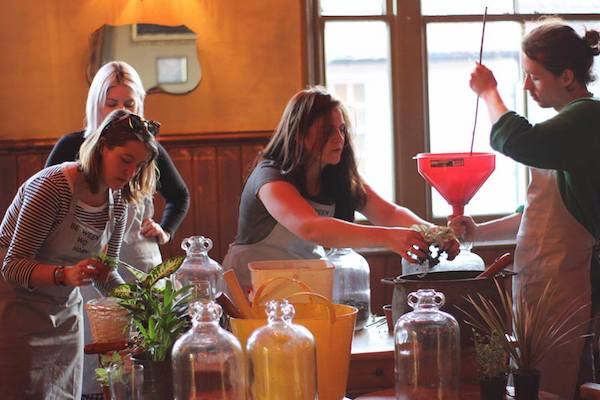 Image credit: Between Two Thorns via Facebook
---
Between Two Thorns
67 Upper North Street, Brighton, BN1 3FL
What? Floristry workshop with coffee and cakes for budding green thumbs.
Where? Five minutes from Western Road, just up Spring Street.
Why? For all things foliage this calming Brighton shop is the perfect spot to learn some new skills and produce something amazing. Run by passionate florist Alys, book in to an existing workshop or hire the space and receive a personal lesson for groups of 4 or more! The shop offers coffee and cake on a day to day basis and something a little bit stronger for birthday parties and special occasions. Whilst Between Two Thorns offers a wide range of niche plant-based experiences (including non-Christmassy living succulent wreaths) their most popular event is the terrarium workshops. These self-sufficient ecosystems require very little care, making them the ideal houseplant for the millennial lifestyle. They're also totally aesthetic and look great on your Instagram, which obviously we love. Alys also hosts a few non-flowery craft sessions including lino cutting and jumbo arm knitting! Check out her website and book in to create something cool.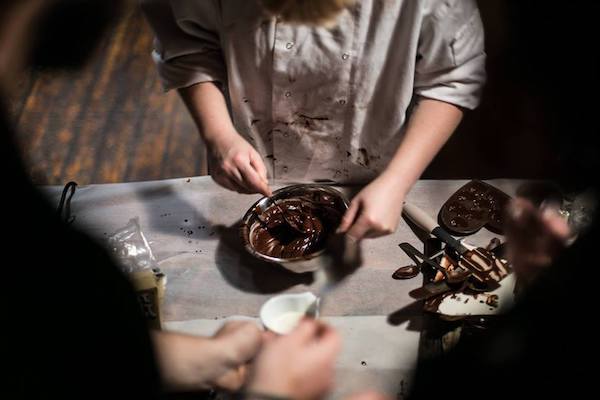 Image credit: Cocoa Crystal via Facebook
---
Cocoa Crystal
Various Locations
What? Vegan chocolate masterclasses and tasting sessions with talented chocolatier!
Where? All over the place! Often at Brighton's Community Kitchen or Bond Street Coffee.
Why? If there's anything better than chocolate and booze, then it's making your own chocolate and taking a posh box of chocs home with you (with a glass of prosecco in hand). Chocolatier Emily has a passion for Peruvian chocolate and will guide you in creating some sweet treats that are 100% organic, gluten free and vegan. She's devoted to running her sessions with zero single-use plastic items and uses fresh and preservative free ingredients to combat the cheap high milk and high sugar bars that we come to think of when someone says chocolate. Play around with colours and flavoured oils to create a truly unique flavour combination in this guilt free treat, whilst also learning heaps of interesting facts about chocolate making as an art. Emily provides only the best industry quality equipment and will show you how to temper chocolate on a marble slab before moulding the liquid into shapes of your choice. Don't fancy getting your hands dirty? Try a Speciality Chocolate Tasting session instead, where you can try some of the world's finest chocolates and play around with interactive sensory exploration. You'll also get a chocolate cocktail included with your ticket!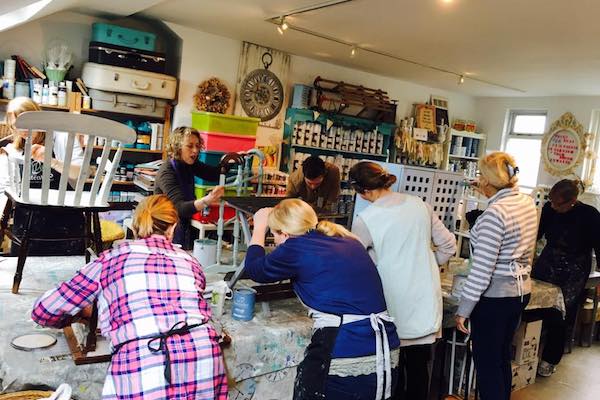 Image credit: DIY Shabby Chic.com via Facebook
22 Albion Street, Portslade, Brighton, BN41 1DQ
What? Upcycling sessions for old pieces of furniture, completely Pinterest worthy.
Where? A residential street in the Portslade area.
Why? Revamping old pieces of furniture can be a hit and miss hobby, with the 'shabby chic' style often coming across much more shabby than chic. Enlist the help of a professional at DIY Shabby Chic, where you can bring along your own unloved pieces of furniture and breathe some life back into them. DIY expert Tanya (the lady who runs the sessions) excels in furniture painting, stencilling, gilding, crackle glaze, decoupage and antique wax techniques, and her workshop sessions including furniture painting, garden furniture painting and 'Design a Plaque', as well as parent and child workshops. Want to try something else? Simply get in touch to request a potential workshop.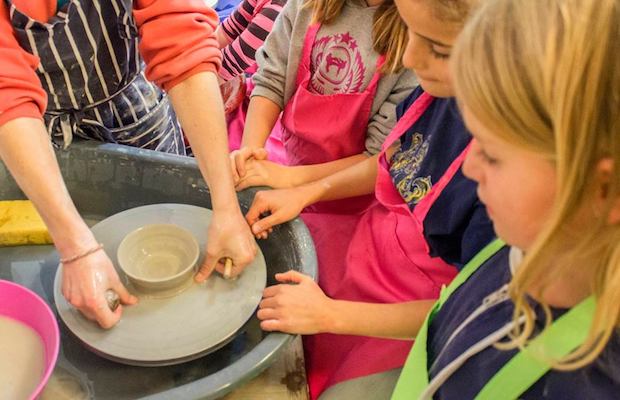 Image credit: The Painting Pottery Cafe Brighton via Facebook
31 North Road, Brighton, BN1 1YB
What? Pottery throwing and painting sessions for visitors of all ages.
Where? In the North Laines.
Why? Perfect for artistic amateurs and painting professionals, this pottery painting café is ideal for getting the creative juices flowing. The majority of visitors stop by for a simple pottery painting session, where you can choose an undecorated pottery item that costs between £15 and £45. It only costs £5 for the café to glaze and fire your masterpiece, offering you a little piece of your own art for as little as £20. The glazing and firing process also makes your piece of pottery entirely usable, so you can choose to keep it for decoration or use it around the house. You also have the option to throw your own pottery, a two-session activity (you have to come back when it's dry and paint it) that costs only £40pp and ensures complete individuality in whatever you've chosen to make! The café also offers evening classes in making certain sought-after pieces of pottery, like a serving bowl or mug and plate set!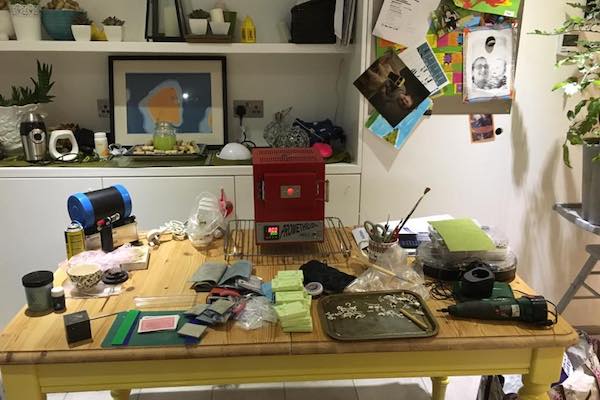 Image credit: Silver & Sage via Facebook
14-15 Sutherland Road, Brighton, BN2 0EQ
What? Expert silver jewellery making workshops.
Where? In the studio at The Round Georges pub.
Why? For a truly special keep sake head to one of Silver & Sage's workshops. These sessions are perfect for those who don't have any experience in jewellery making but are interested in the intricacies of making unique pieces out of silver. Every piece can be taken away that day and most items have the option of personalisation. Their versatile 'learn silver clay' sessions offer you the chance to create earrings or pendants featuring coloured gems and personal elements. All items are made with Silver Metal Clay which is 99.9% real fine silver when fired. Whilst these workshops are a little on the pricey side you can rest assured that you're coming home with something of exceptional quality and sentimental values. A truly romantic experience is their DIY Wedding Ring Workshop, where you and your hubby or wife to be can create original wedding bands with a bottle of bubbly and some afternoon tea.