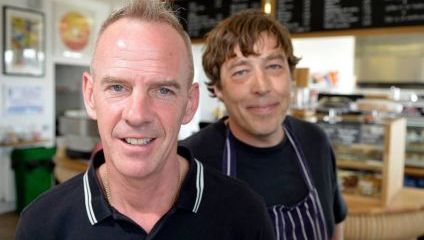 Dan Stockland and his friend Norman Cook (Fatboy Slim) have turned a little spot at Hove Lagoon, outside Brighton, into a thriving family destination. We chat about the birth of the Big Beach Café, revitalising the area and what customers really want.
London Calling: How did the café start out?
Dan Stockland: A little background - my best mate and business partner is Norman Cook - Fatboy Slim. The spot is about three miles outside of Brighton in an industrial area called Port Slade. It's been deteriorating for a long time. There was a series of businesses here before and the last one was VBites, a vegan café owned by Heather Mills which was obviously an absolute disaster.
She sold up and Norman bought her property. They asked if he wanted the café too, and I suggested we might be able to make it work. I thought families will always go to a local park and buy a coffee and some chips. Brighton has a lot of boutique-y things but where we are is a poor part of town so it was price-focused. Our most expensive item is a fiver, and that's for a really good burger. We've built our business on good value for money.
LC: Can you get everything locally sourced?
DS: Unfortunately it's not really an option because the really local things are very expensive. We get it all from the local hypermarket. The quality of the food is great though and we use proper grills, nothing's swimming in fat. We use recyclable packaging as well. We've got a good ethical heart to our business.
LC: Do all your profits come from the café?
DS: We have a fully licensed bar which we lease out almost every weekend for peoples' private parties - 30th, 40th, 50th birthdays - and sometimes weddings and club nights. We're also looking to put on an annual festival with the Friends of Hove Lagoon.
Now other local businesses have started to move in, too. They've put in pedalos nearby, trampolines and a bouncy castle. We had this huge mural from 1999 which was very faded, now we've got some young artists rejuvenating it.
LC: Do you feel the café has reinvigorated the area?
DS: Sure. The one before the vegan café killed the whole area off. In the three years since we've been here sales have increased a lot. Now people come down, they know we're here. Brighton's such a great destination and we're a bit out of the way, so we're pleased it's going so well. We thought the Fatboy Slim angle might have tempted a lot of people down but in fact it's more locals and regulars who come in.
LC: How big a part has the Fatboy Slim name played in your success?
DS: It has been important but it's a double-edged sword. Some people are expecting a big flash restaurant owned by Fatboy Slim and really we're just a bucket and spade café. But with Norman's profile there's a lot of goodwill there. There's an idea that he's giving something back to the community that nourished him. It's lovely to know that you're a part of a community. Norman's kids will probably come and work for me one day. We have a lot of young kids having their first taste of work with us too.
LC: What's your favourite thing on your menu?
DS: The bacon sandwich probably, it's a staple. We looked at doing lots of healthy options and salads, but people really want treats for their kids - cheesy chips, goujons, ice cream, burgers. In the winter when it's a lot quieter we do lots of amazing stews and different specials every day.
LC: What are your ideas for the future of the café?
DS: We're looking at building the Big Beach Café brand. With Norman's connections we've been asked to do VIP tents at festivals but we want to establish ourselves locally, maybe having a pop-up Big Beach Café for weddings. At the moment we're working on a big project to become more community-focused, to get some funding so that small local groups can come when they need a space to meet. I get loads of offers to open another one but we want to get this one really right before we do anything else.
Big Beach Café is at Hove Lagoon, Kingsway, Hove BN3 4LX and open seven days a week, 9-5.30pm.