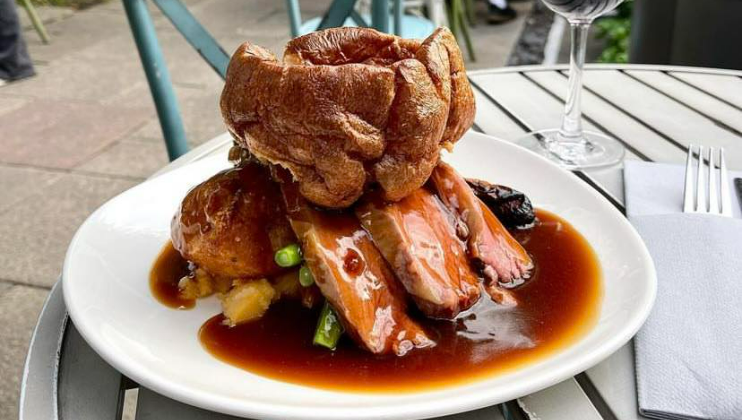 Sunday just isn't Sunday without a full-on roast: meat or veggie, gigantic Yorkshires and, always, buckets of gravy.
The Walrus
10 Ship Street, Brighton, BN1 4AD
Tucked away in The Lanes, but just a stone's throw from the seafront, lies The Walrus, with its impressive labyrinth of eclectic rooms. Sunday roasts here are a cut above covering a choice of meats (or a vegetarian option), all accompanied by mouth watering side dishes which are all included in the price. There are also variations for vegan or gluten free diners. Tuck into a delicious lunch to the backdrop of some live jazz and if you enjoy it as much as you surely will, they offer a Monday roast too – so you could even do Sunday all over again!
---
Lion and Lobster
24 Sillwood Street, Brighton, BN1 2PS
Lion and Lobster a quirky pub and restaurant spans three floors and is a popular destination for those seeking a restorative pint of Bloody Mary and a Sunday roast. Food is award winning but comforting with marinated roasts and half portions for the children. If you're really spoilt for choice, they even offer a 'mixed roast' option with half and half of two meats. Just what the weary weekender needs to bring them back to life on a Sunday afternoon.
---
Hove Place
35-37 First Avenue, Hove, BN1 1AD
Just outside of Brighton centre in Hove, Hove Place is a best kept secret of a location for an outstanding Sunday roast. As expected, meat and veggie options are on offer but with a twist on the norm (think Wagyu beef – for a roast!) and food is to die for. Trimmings are stars in their own right here: fabulously cooked and flavoured vegetables which are just as good as the roast itself. Priced incredibly reasonably given the food quality and presentation, it's a destination location for Sunday roast lovers.
---
The Geese of Hanover
16 Southover Street, Brighton, BN2 9UA
The awarding winning roasts at The Geese of Hanover tick every box you could think of, being locally sourced, classic and just downright delicious. Famous for their 'bangers and mash' they even offer a 'Sausage Roast'. There is a choice of options from the Sunday roast menu for vegetarians which is a real bonus and temptingly different side dishes for all. It's not surprising that they have opened a second venue in the area – you wouldn't want to miss out!
---
The Coal Shed
8 Boyce's Street, Brighton, BN1 1AN
As the name might suggest, The Coal Shed's Sunday roast is a bit different with everything cooked over coals. Food is seasonable and sustainable but, controversially, not veggie friendly. So, if you're dining with meat eaters only, then this one's for you! Offering an ingenious Sunday Sharing Roast priced per person, the Aberdeen Angus beef is a sure winner with all the trimmings included in the price. A really delicious 'friends and family, home from home', option for a Sunday when you're craving a roast but not the effort!
---