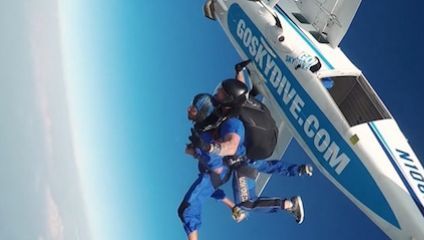 The South-East – home to "the Garden of England" and the South Downs. Quiet, calm and peaceful… Or extreme! Because alongside rolling fields and sedate villages, Kent and Sussex host a whole range of extreme sports for you to try. We've compiled an adrenaline-fuelled guide of some of the wildest and most adventurous activities on offer – perfect for those looking for a little danger.
Extreme Sports Getaways in South-East England
---
Climbing, Jumping, Cycling
If you like your extreme sports relatively simple, this selection might be for you. The fittingly named Extreme Ventures offers you a chance to try a hand (preferably two) at rock-climbing. They have two centres across the South-East: an indoor centre at Brighton, and their outdoor walls found at Harrisons Rocks near the Sussex border with Kent. Go Ape also has a few stations across the South-East with courses at Leeds Castle, Bedgebury, Crawley. The ever-popular high-wire adventures are perfect for younger thrill seekers, if not those with an aversion for heights. And for those looking to pick up the pace, why not gear up at Cyclopark near Gravesend and try its range of bike-based activities? Their specially designed BMX course is particularly popular, and they hold one-to-one and group training sessions for learners of all ages.
Rock-Climbing at Extreme Ventures
---
Wet and Wild
There's a big coastline along the South-East, which means lots of opportunities for water-based extreme sports. Kent has two kitesurfing schools - Kent Kite Surfing School and Aquilo Kiteboarding School. There's also the Brighton Kitesurf and SUP Academy (BKSA) which provides lessons at five locations along the south coast. BKSA also offers Stand Up Paddle (SUP) boarding and yoga, as well as their ready-made Adventure Days - a day-long itinerary of different extreme sports with a buffet lunch included. Hitting the lakes, Action Watersport, based near Hastings, is a one-stop centre for all things adrenalin. They offer wakeboarding, waterskiing, jet skiing and fly-boarding - all available for session hires at not too shabby prices - as well as the obligatory "Fun Rides" on a banana boat or rubber ring.
Jet Skiing at Action Watersports
---
Motoring Madness
Back on dry land, there are lots of opportunities for petrol-heads to get motoring. Kent is home to one of Britain's most famous racetracks, Goodwood. You can pay to race round the track in one of their specialist fleet of cars, or even try your hand at a Spin & Slide session, tearing tyres around the course's many winding corners. A little less prodigious and a lot more muddy is the motoring offered by Southern Pursuits. This outdoor activities centre has karts, quad-bikes, argocats and even hovercrafts(!) with sessions starting from £37.50 per person. You can also get medieval and try your hand at their axe-throwing classes - can it really get more extreme than that? Moving to two-wheels, MXCP (standing for Motocross Challenge Project) is an educational enterprise and extreme sports provider rolled into one. The Dover-based company instructs young people in a range of practical skills, such as vehicle mechanics, whilst also offering them the opportunity to train on motorbikes. The organisation holds regular experience and training sessions (for under 17 year-olds only) to go down and give it a try.
Goodwood Festival of Speed. Photo Credit: Neil.
---
Up in the Air
Anything where you are flying has to be counted as extreme - and there are lots of different options from which to choose. If you want to learn how to fly a plane, Boultbee Flight Academy and The Real Flying Company offer a chance to soar through the air in vintage aircrafts. Boultbee provides a range of WWII Spitfires and Mustangs for you to take for a spin (instructor assisted); and The Real Flying Company has even more retro planes, granting you the chance to go up in classic biplanes and look down on the white cliffs of Dover from above.
South Downs Hang Gliding
Tired of planes? Try jumping out - no really. There are two great venues to try skydiving in South-East - GoSkydive and Headcorn Skydives. Both offer you the opportunity to jump in a tandem or train for solo jumps from up to 15,000ft - with lots of opportunities for mid-jump photos. Finally, you could try some gliding. South Down Gliding Club offers the opportunity to operate their mini-gliding planes across the Sussex scenery. Not to be confused with South Downs Hang Gliding - being strapped into a fin sail and set off into the air. Whichever is your pick, both will get the blood pumping.