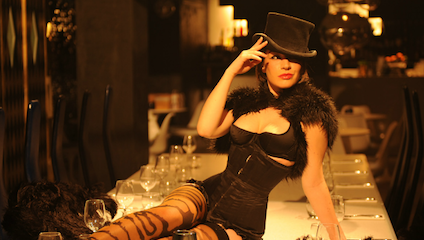 The international burlesque sensation chats to London Calling about her return to the Southbank
Kitty Bang Bang is an international burlesque star whose career has encompassed everything from fire-breathing and motorcycle-riding performances, to starring in the first ever Bollywood film to feature burlesque, via choreographing scenes from ITV2's Secret Diary Of A Call Girl. This summer Kitty returns to the Southbank's Underbelly Festival with her raucous cabaret show Between The Sheets, and London Calling spoke to her about the show and the life of a cabaret queen.
London Calling: Hi Kitty! Thank you very much for speaking with us. Please could you start by telling us a little bit about Between the Sheets at this year's Underbelly Festival?
KBB: It's a pleasure to speak to you guys! Between The Sheets is a burlesque show themed around all things salacious. Expect burlesque striptease, singing, circus skills and comedy; led by the utterly gorgeous Miss Polly Rae, and featuring a whole host of London cabaret stars alongside yours truly.
Kitty Bang Bang © Kapranos PR
LC: How do you go about updating and refining the show each year?
KBB: Each year Polly Rae, the director Laura Corcoran, visual director Klare Yaya Wilkinson and I grab a bottle or two, talk through exactly what we thought did and didn't work with the previous production and go from there. We have a core cast, who have been with the show since its inception, but each year we also have different performers who each bring something individual to the show. We're constantly updating the core routines with better costumes, better lighting and new tricks.
LC: How is it performing a show regularly at the Southbank? Do you see many repeat visitors?
KBB: We get lots of regular faces: one fabulous audience member called Clive often sends a bottle of rum backstage when he comes to watch the show. Everyone please note: this behaviour is much appreciated!
The beautiful Underbelly speigeltent is the perfect setting, and we absolutely love performing there. It's also a great place to catch up with performer friends from all around the world backstage. Briefs are the headline show this year and it's so much fun having them there. If you haven't seen their show, you HAVE to. Catch Briefs at 7.45pm and then stick around for Between The Sheets at 9.30pm.
Kitty Bang Bang © Kapranos PR
LC: Please could you tell us a bit about your background? What led you to this point?
KBB: I trained as a ballet dancer when I was younger but an injury put paid to me pursuing it professionally. I was pretty fresh out of university and working as a journalist when a friend called me up and asked me to help her to put together a burlesque routine. I had no idea what burlesque was, so we got a VHS tape out of Liverpool Library (I know, vintage) and I was hooked. I helped my friend to choreograph her routine and ended up choreographing myself into it. After that first performance, somebody booked me for another show and the rest is history. I've since taught myself fire and gone back to dance and gymnastics classes in order to add to my performances. I love learning new things and burlesque allows me to indulge myself in that way.
LC: How would you describe your style of performing?
KBB: My style of performing is definitely energetic. I love to dance. I tend to veer away from traditional burlesque performance. I'm drawn to a more anarchic and modern approach. You're more likely to see me climbing out of a bejewelled dustbin to the strains of Welcome to the Jungle than with a pair of feather fans.
Kitty Bang Bang © Kapranos PR
LC: Who are some of your biggest influences?
KBB: In burlesque terms, I love Julie Atlas Muz. As a fire performer I've been watching a guy called Shade Flamewater who does absolutely amazing vapour tricks. Fez Faanna, who produces Briefs, is an insane creative talent and an amazing dancer; Heather Holiday is another cabaret performer that I'm constantly impressed by and I absolutely love to watch. Meow Meow, Lady Rizo and Le Gateau Chocolat are all singers, and outside my particular discipline, but I find them all inspiring both as performers and in terms of how they conduct their careers.
LC: What's on your cultural radar at the moment? Are there any films/music/books that you're digging right now?
KBB: I love to read. I just came back from a few days of in Italy where I got through Sapiens by Yuval Noah Harari, Nights At The Circus by Angela Carter and re-read Margaret Atwood's The Handmaid's Tale which is pretty interesting in the current political climate!
Between The Sheets runs at Underbelly Festival, on the Southbank, on 8 and 29 September at 9:30pm.