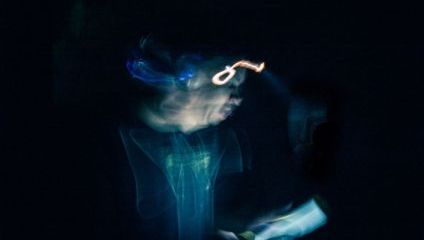 We speak to actor John MacMillan about his challenging new role in Philip Ridley's latest play Killer.
In the atmospheric basement spaces of Shoreditch Town Hall, there's the chance to experience theatre like you've never seen (or heard) it before. Playwright Philip Ridley is known for his experimental and unsettling plays, and Killer is no different. A collection of surreal and twisted monologues, Killer is an immersive experience that promises to take you into the depths of your psyche. Taking on this one-man show is John MacMillan, who has recently appeared in a sold-out run of the critically acclaimed Yerma as well as on film in The Dark Knight Rises and Maleficent. John told us about the bizarre experience of starring in Killer, the importance of storytelling and being thrown spectacularly out of his comfort zone.
London Calling: You've got an extensive theatre CV, so how does appearing in Killer compare to the experience of your other plays?
John MacMillan: It is completely different, unlike anything I've ever done in my life. I'm not only acting by myself, but rehearsing by myself in a dark room with a camera in the corner, which the director is watching me on. It's quite liberating though, normally in a play you're collaborating with other actors. This is literally just like playing in your room by yourself as a child.
LC: Did you feel like you were taking on a real challenge with this latest production?
JM: Jamie the director asked me to come and read these monologues out loud to him and Philip Ridley. I turned up and there was a model of a head on the end of a pole. They said 'just talk to the head like it's a person.' So I talked to it and moved around it just like I was talking to the listener. I was excited by the idea rather than scared I think. I like to do work that ultimately throws me out of my comfort zone.
LC: How do you prepare yourself for the experience of performing the monologues and how is it different from acting alongside the rest of the cast?
JM: With the three characters I play in this performance, it's testament to what a brilliant writer Philip Ridley is that each character has this compulsion to get exactly what they have to say out, a story that they need to tell. If you tap into that impulse in the writing, it sort of carries you along. In the dark I always imagine that I'm telling the story to someone specific.
I read something recently arguing humans became the predominant species on the planet because of our capacity for storytelling, and to construct fiction. If you were a Neanderthal and had more basic language facilities you could say 'there's a lion by the river, danger!' But if you're a human you could go 'there's a lion, by the river, and at night that lion turns into a man and he comes to my cave and talks to me, and he told me that if we gathered together and attacked the tribe on the other side of the river he will bless us with food and weapons.' It's that capacity that means we have been able to group together. I think you'd find that telling a story in a dark room is easier than you think.
Photo credit: Matt Humphrey
LC: And it's been described as an immersive experience, can you tell us a bit more about that?
JM: We're using this technology that I'm not too familiar with called binaural sound, which is like virtual reality for your ears. If you're an audience member, and you put the special headphones on, we can create the perception of 360 degree sound. It makes it seem like someone is standing right behind you, whispering into the nape of your neck, or standing right in front of your face. It's one of the most mindboggling experiences I've ever had!
One of the sound directors wove a woman's voice into the soundscape whilst I was rehearsing and didn't tell me. And all of a sudden, in this dark room, I heard this woman whisper 'sorry' and I turned around and I screamed! We all feel like we're exploring really uncharted territory.
LC: What do you think has been the most interesting role you've ever played?
JM: I think it's probably going to be Killer! I'm going to be talking non-stop for about an hour and 20 minutes. If you've ever seen a Philip Ridley play, you'll know that his characters really explore the full spectrum of human emotion. They often travel to the most extreme parts of the human experience.
What I love about acting is that it requires all of my attention. Total engagement. I think I like to make journeys away from myself. The more removed a character is from me, the more interested I am in exploring them. I'm drawn to outsiders and people on the extremes of society.
LC: And have you got any other exciting roles or projects coming up after Killer?
JM: I'm going to be in a film written and directed by Simon Amstell called Carnage. It's a film about veganism and I'm playing the leader of the vegan revolution. I'm also in Chewing Gum on E4 right now, and will be returning to Yerma at The Young Vic! It feels like an exciting time for me artistically, I've treaded the boards and paid my dues and I'm getting to work with some really exciting people.
John MacMillan stars in Killer at Shoreditch Town Hall between 22 February - 8 April. Tickets are between £15-£25, find out more and book tickets here.