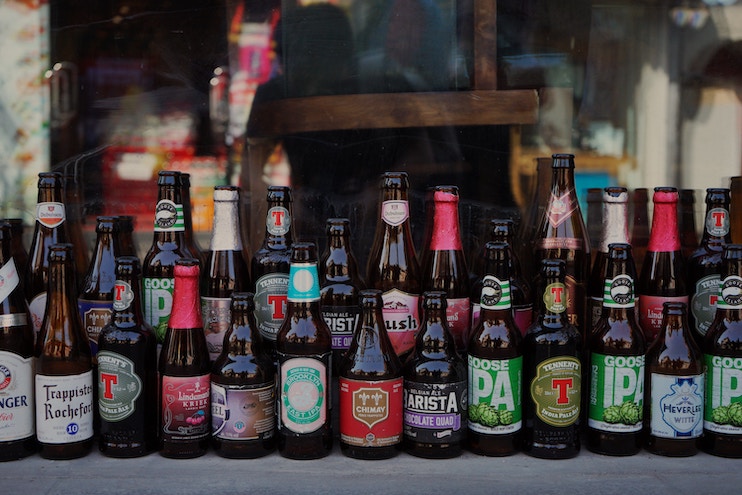 We explore London's Craft Beer scene, from tours and homebrews to festivals and the Beer Mile.
Thirty years ago, London was a beer wasteland. Traditional ale was on the way out whilst mass-produced bitter was imported cheaply from overseas. Then, thanks to Progressive Beer Duty and a few plucky upstarts, the microbrewing revolution began. Now there are more than 800 breweries in the UK with almost 100 more every year. Many of these brew craft beer, a slightly disputed term that is generally understood to mean small, independent breweries making beer the traditional way. With the craft beer scene exploding, follow our guide to get in the know. Just try to stay on the right side of tipsy - whichever side you think that might be.
Explore Bermondsey's Brewery Mile
Under the railway arches in south Bermondsey, a craft beer revolution is happening. Six microbreweries occupy the small area, and each one opens its doors to the public on Saturday so the public can embark on a craft beer crawl along the Beer Mile. Start off with the area's big daddy, The Kernel, who moved in five years ago, and then head onwards to Partizan, Brew By Numbers, Fourpure, Bullfinch, Anspach & Hobsday and fresh blood EeBria Taproom. In each you can sample a range of hoppy confections with many subtle shades of taste, mill around with fellow beer-fanciers and appreciate the latest label designs and flavours. If you don't want to go it alone, hit up London Brewery Tours for a 'Tasting Experience Walk' around the area.
London Brewery Tours run every Saturday and the first Sunday of the month.
Drink It Straight From The Tank
Hackney's Howling Hops is one of the kings of London's Craft beer scene. They've brewed hundreds of different beers from their Mare Street basement over the past few years, and recently had to expand to a new location. But that's not all Howling Hops have to offer - they recently opened the UK's first dedicated tank bar at Hackney Wick. Rather than serving beer from cask, keg or bottle they serve it directly from the ten tanks behind the bar. Does it taste different? Come and find out. If you need to sober up before the next round, snacks and coffee are also available. For another unique beer-drinking experience, try drinking a frosty one from a glass made of pure ice at Ice Bar.
Howling Hops Tank Bar is on Queens Yard, Hackney Wick, E9 5EN.
It's open from noon - 11pm Sun - Thurs, noon - midnight Fri + Sat.
Learn To Brew Your Own
Like the craft beer revolution, but think you could do better? Slightly lacking the technical know-how? London Fields Brewery runs homebrewing classes which will teach you what you need. The class is run over a day and focuses on making beer from raw materials as opposed to extract. All equipment is provided, as is lunch, and you get to leave with a demijohn of the beer you brew. After this, there's nothing to stop you from becoming the capital's next craft beer mogul.
London Fields Homebrewing Classes run on Saturdays and Sundays and cost £99 per person (discounts are available for groups).
Get A Professional Tour
If you want to be informed as well as intoxicated, try one of Alternative London's great East End pub tours. They'll give you an introduction to the history, culture and creativity of East London, with the opportunity to sample some locally brewed craft beers along the way. If you want something more specific, head over to Meantime Brewery in Greenwich, where you can get a comprehensive tour of the brewery followed by a tutored tasting of their beer selection.
Alternative London tours cost £25 per person (including 4 drinks), book online.
Meantime tours cost £20 per person, book online.
Go To A Beer Festival
London is flooded with beer festivals, each offering a different way to celebrate our national beverage. The big daddy is the Great British Beer Festival, where visitors can bravely try to sample over 900 different ales, ciders, perries and beers alongside food and traditional pub games. On the craftier end is the Craft Beer Festival, where one ticket entitles you to unlimited samples alongside music and access to knowledgeable brewery teams. Alexandra Palace offer a different option, twinning craft beer with street food for their August weekender, while one-day festival Hear No Evil also provides comedy (beer's natural companion) and helps Macmillan Cancer Support.
Hear No Evil is this Sunday, 29th May.
Great British Beer Festival, Craft Beer Festival and the Alexandra Palace weekender are in August.