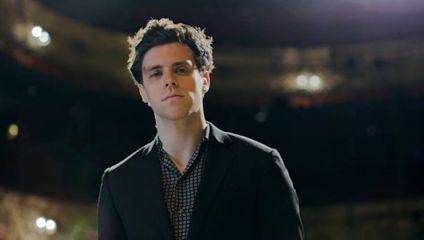 We spoke to songwriter Charlie Fink about his new theatre show Cover My Tracks
Charlie Fink, former frontman for noughties indie rock/folk group Noah and the Whale, has been working in theatre since writing the music and lyrics for The Lorax at the Old Vic in 2015. His new show, Cover My Tracks, again created in collaboration with playwright David Greig and director Max Webster, is opening at the Old Vic on June 5.
London Calling:
Hi Charlie, thanks for chatting to us. Could you start by telling us a bit about the show?
Charlie Fink: Cover My Tracks is both a theatre show and an album. The two were conceived together so all the songs from the album appear in the show and serve as part of the storytelling. It's the story of a songwriter who has gone missing, and the play follows his former bandmate and her search for him. The songs give information and clues as to what might have happened to him, and throughout the play there are flashbacks showing their time together in a band and what drove him to disappear. It's a story about what it means to disappear in a digital, interconnected age, and what it means to make music in that age.
Image Credit: Manuel Harlan
LC: How did the project come about?
CF: I worked with David and Max on The Lorax, and this all came from conversations we had when making that. We had some workshops to develop a story, and then the songs were written around that. They weave in and out of the text and, although some songs stand alone, we wanted the music and words to be as seamless as possible.
It's quite a traditional way for people to tell stories - people round the campfire, with a guitar - so it felt like a natural thing, in a strange way, to go between songs and music so fluidly. Folk music comes from that story-telling tradition. There's a part in the show that talks about how all folk music is utilitarian - it always serves a purpose. It was something David and I first talked about: we shared our enthusiasm for folk music and, importantly, for storytelling in folk music.
LC: Was theatre ever something you planned to do?
CF: It wasn't really. Then I fell in love with the process of collaboration, and the people I'd worked with, and I was very keen to do more.
With The Lorax, which was a sort of-musical, everyone had to be telling the same story and I really loved that level of collaboration. It's also fun to write in a different voice having spent ten years with the band. Writing songs you sing yourself is loads of fun, but to write for someone else was something totally new. It's the same, to a certain extent, with Cover My Tracks as, although I'm singing the songs, they're written for a character rather than me.
Image Credit: Manuel Harlan
LC: Has the process of writing for theatre changed your approach to songwriting?
CF: It has - I think writing for theatre is very different because of the level of storytelling. I feel that, in theatre, unless people are getting new information they drift off a bit. Repetition in pop songs is great - here comes the chorus, let's join in - but in theatre once you've heard something twice you want something new. In that way, my lyric writing is what's evolved the most.
This project really helped me fall in love with song writing again. I realised it's what I'd do even if I was stranded on Mars - it's just what I do. It made me excited to do more and more. Sometimes you need a shift to help re-discover your passion.
Image Credit: Manuel Harlan
LC: Who are your biggest influences as a songwriter?
CF: They always change, but the core few are Leonard Cohen, Bob Dylan and Lou Reed. Those three are the ones that keep coming back. There's definitely a tilt of the hat to Leonard in this album. He died around the time I was finishing the record, and I was listening to his last album You Want It Darker. His music has this beautiful melancholy - it's funny and joyful in its own way - and, although he gets labelled as depressing, I think there's something uplifting in his music despite that melancholy. That's something I wanted to achieve in this album.
LC: What's on your cultural radar at the moment?
CF: He's not new, but I got into John Berger this year. I hadn't actually read any of his work before, then we read To The Wedding in my book group, and since then I've been reading G and some of his other stuff. It's a fun book group - we're called BC/DC (Book Club/Drinking Club) and, although we've been a bit slack recently, it's a good group! I'm excited about the Dylan musical here at the Old Vic, Girl from the North Country, and I'm a big fan of Annie Baker. I loved The Flick at the National Theatre, so I'm excited that John is coming back next year.
Cover My Tracks is at the Old Vic Theatre from June 5-17. Tickets from £12.