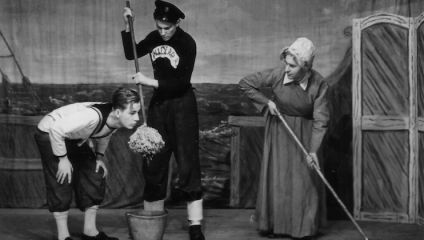 The pantomime is showing all over town this year but what's the truth behind the story of Dick Whittington?
There is nothing more British than a panto, and no panto more London than Dick Whittington. How literally should we take this tale of a real mayor from London's past?
Most pantomimes are based on fairytales or children's stories but Dick Whittington is the closest the theatrical form gets to hard-hitting documentary. There really was a Richard Whittington who set out to London from Gloucestershire, he really did become the Mayor of the City of London several times over and... the similarities more or less end there.
This year there are quite a few Dick Whittingtons in town, from the adults only - Dick! at Leicester Square Theatre and Charming Dick at the Royal Vauxhall Tavern; to the experimental - Puss in Boots mash-up Kitten in Heels at Lost Theatre, Stockwell; and the classic: Roy Hudd's traditional pantomime Dick Whittington & His Cat at Wilton's Music Hall. There has even been a lunchtime quickie for bankers in the cheekily titled Whittington: A Dick in the City at Bridewell Theatre.
It is of course fitting that the old City of London should celebrate its most famous Mayor, however nifty and naughty the tribute. Just as fittingly, Whittington was a money man through and through. Though originally a mercer, his business increasingly turned to moneylending, his major client, among many notable public figures (and a couple of subsequent monarchs) being King Richard II.
It was Richard who ensured Whittington's first mayoral term in June 1397 in a breach of civic custom. It was a fix, basically. The barons of the Exchequer refused to take Whittington's mayoral oath and it is thought that the king performed this function in their place. However, Whittington's tough approach to law and order went down well with the citizens of London, and he was re-elected without protest. Although the legend usually has it that Whittington was 'thrice mayor of London', he in fact held the office four times.
Much of the good reputation that was the foundation of the mythology that surrounds Whittington was a response to his generous last will and testament, which facilitated various civic improvements and which still provides financial support to Londoners to this day through the Whittington charity. As future generations benefitted from Whittington's legacy, stories were told about how he found his fortune. Ballads were written, books were published and plays were staged.
Samuel Pepys records a puppet performance in Southwark in 1668 and the first documented pantomime version appears in 1814. Whittington's wife Alice (née Alice Fitzwarren) has survived the retellings in name at least and is usually present and correct in the panto (although at the Leicester Square Theatre this year she is Alice Fitznicely and at the Bridewell she is Alice Fitzsnugly). The cat however is almost certainly pure invention, along with the villainous King (or Queen) Rat.
The story of Dick Whittington is to London what Romulus and Remus is to Rome, a myth that tells us something about our city. The key dramatic moment of the narrative, ripe for panto parody, is the point at which our hero turns back towards London having all but giving up on its possibilities. On the summit of Highgate Hill he hears the bells of London ringing and they seem to chant 'Turn again, Whittington, three times Lord Mayor of London'.
Is such a prophecy to be found in the origin stories of either Sadiq Khan or Zac Goldsmith? Were Boris or Ken swayed by church bells in their younger years? Not all of us are bound for the mayoralty, but that feeling of giving London another go is something we can all relate to.