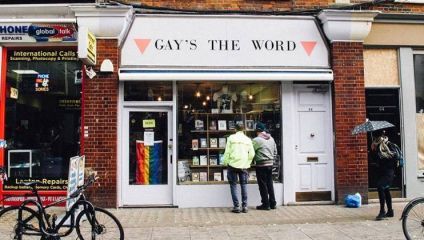 In honour of Pride we give centre stage to England's only LGBTQ+ bookshop

Take a walk down the quirky and unassuming Marchmont Street, away from the pandemonium of Euston Road, and nestled in amongst the independent cafés and restaurants you will find a bookshop. It's a small façade, easy to walk past if you're not looking out for it, but this belies its huge significance. Gay's the Word is the oldest LGBTQ+ bookshop in the UK.

Introduced to some by the 2014 hit film Pride, it's been a major institution on the London LGBTQ+ scene for far longer than that. Since opening its doors in 1979, at a time of widespread homophobia, police raids and objections from the local council, Gay's the Word has long been a beloved source of support, acceptance and information for the LGBTQ+ community.

As a bookshop, it's a veritable treasure trove, with an enormous selection of literature, curated by friendly and knowledgeable booksellers, and browsed by people of all ages and identities. Whatever you're looking for - be it fiction, history or memoir, prizewinning literature or erotica, critical theory or magazines, major names or debut writers - the bookshop sells it, and can advise on what to read next. The recommendation cards on the shelves often mention what identities are represented in a particular book, and if you can't find what you're looking for, it can be ordered.
Image © Alice Ahearn
It's also a lovely space to browse: airy and easy to navigate, and bedecked with the flags of all LGBTQ+ identities, as well as posters, memorabilia and, of course, the original Pits and Perverts merchandise from the Lesbians and Gays Support the Miners movement.
There's a packed events programme too. Up next is a talk on Transgender Studies on 2 August, and the shop has hosted countless famous names for readings and signings over the years, including Allen Ginsburg, Felice Picano, Neil McKenna, Sheila Rowbotham and many others. It's also the home of weekly Lesbian Discussion Group and monthly TransLondon Group meetings.
But it's much more than just a bookshop. In our times of greater acceptance, it's hard to comprehend just how crucial the existence of Gay's the Word was when it was the only space of its kind. Founded at a time when LGBTQ+ literature was almost impossible to come by in mainstream bookshops, and hostility was far more widespread, it served as a safe and welcoming place for all LGBTQ+ people, out or otherwise. From the beginning, its unabashedly loud and proud name served as a beacon of visibility and validation for people whose identities the rest of society refused to accept.
Gay's the Word bookshop, London, in the early 1980s. Image Courtesy of Gay's the Word
Today, too, the bookshop still provides that same support; the fight for equality and acceptance is, after all, far from over. It's particularly valuable as a place for people to visit when they're first coming out; it might even be the first place where they encounter others of the same identity. And although these days it's far from the only dedicated LGBTQ+ community space, that role remains as important and necessary as ever.
In a 2006 documentary about the shop, assistant manager Uli Lenart said, 'For this bookstore to open in this country, it finally meant that people had the right to access their own ideas. It's also been very practically important in terms of advice, support, help for the gay community. To be able to come to the bookstore and have a book, or a series of books, available to you that make you feel less fraught, make you feel less alone - I think it's really a wonderful, important thing.'
Photo © Alice Ahearn
Nowadays, it's a challenging time for independent bookshops, with falling print book sales, online competition and rising rents forcing many to close their doors. But Gay's the Word has always had a groundswell of community support. A campaign to keep it open in 2007 attracted huge coverage in both the gay press and national newspapers. Before that, the LGBTQ+ community mounted an enormous protest against a raid on the shop by HM Customs in 1984 (on charges of obscenity that were ultimately dropped). And incidents of homophobic hate attacks have been countered with outpourings of community love and support for the shop.
So in the face of every challenge, Gay's the Word has endured, and remains as much a pillar of the community as when it was founded. And as long as people continue to come through its doors and buy its books, it's unlikely to be going anywhere soon.
Gay's the Word is at 66 Marchmont St, London WC1N 1AB