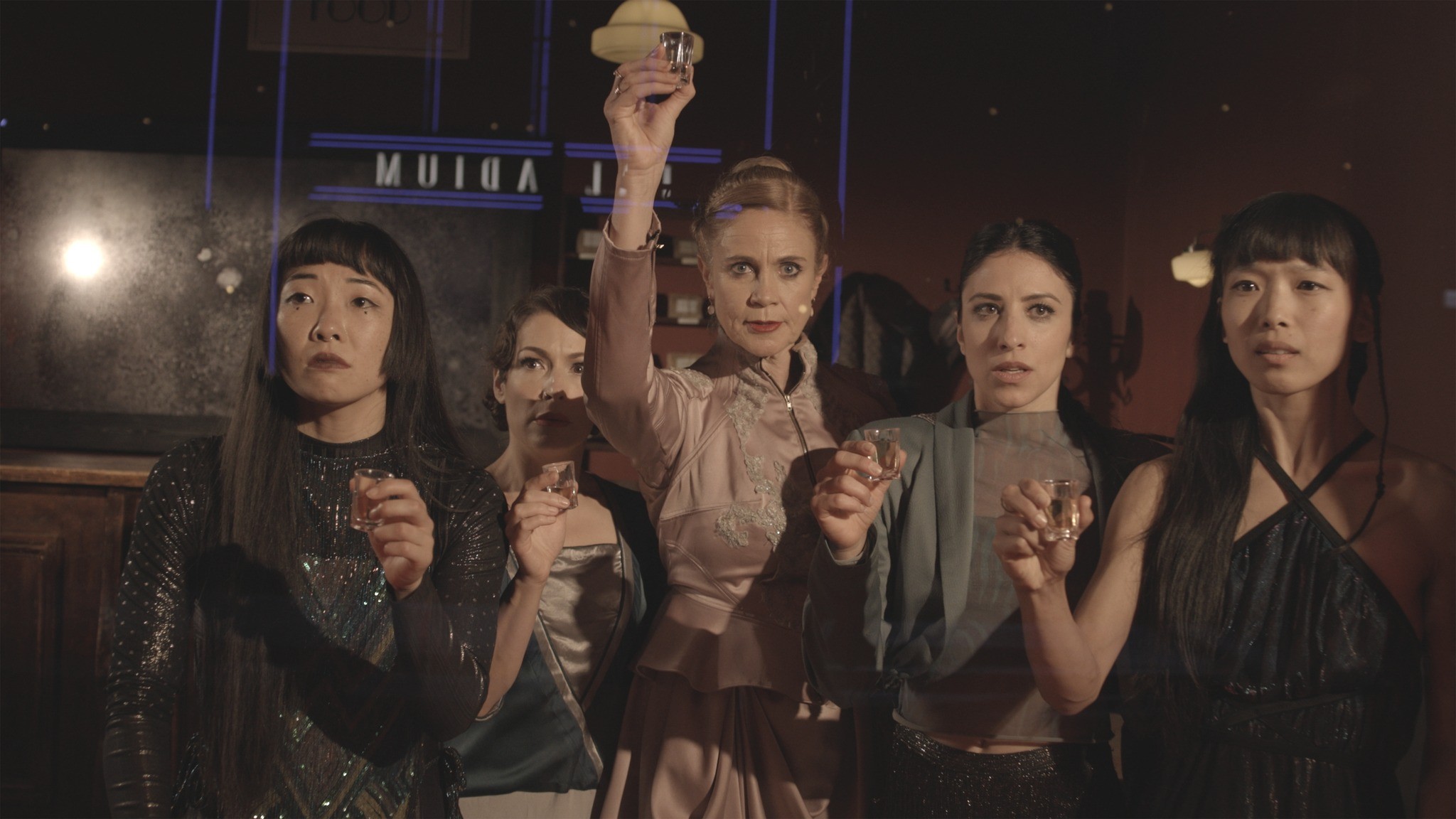 Discover London's Stage Beyond the Stage: A Spotlight on the Hidden Gems of Immersive Theatre!
London's Theatre Scene: Where 'Being a Part' of the Drama Takes Center Stage! Get ready to step into the spotlight as we guide you through the capital's immersive theatre wonders. From interactive masterpieces to mind-bending adventures, it's time to be the star of the show. Lights, camera, immersion...
---
The Gunpowder Plot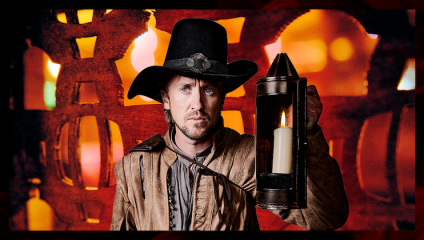 8-12 Tower Hill, London EC3N 4EE
Step into history's explosive drama with The Gunpowder Plot – an immersive spectacle that's truly dynamite! Located beneath the Tower of London, this 100-minute extravaganza combines live actors, spellbinding sets, and even a touch of virtual reality to ignite your senses. You'll be cast as a newly imprisoned Catholic, facing moral dilemmas that could shape the course of history. And let's not forget the heart-pounding VR experience, where you'll zipwire through 17th-century London like a true daredevil. With Tom Felton of Harry Potter fame as Guy Fawkes, this show is a thrilling, albeit slightly glitchy, adventure through time. Prices may be steep, but for an explosive evening, it's worth every penny. So, gather your fellow conspirators and prepare for a night of immersive mischief, just remember, this time, Parliament might actually stay standing! Upcoming performances are available on their website, and timings vary, so book your tickets before they vanish into thin air!
---
The War of The Worlds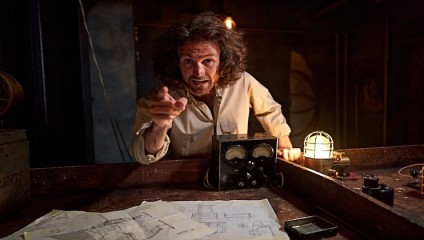 56 Leadenhall St, London EC3A 2BJ
Buckle up, Londoners, because The War of The Worlds: The Immersive Experience is blasting into town with a theatrical invasion like no other! Inspired by Jeff Wayne's iconic 70's sci-fi soundtrack, this show is all about hitting the right notes – and not just musically! With a mix of immersive theatre, virtual reality, augmented reality, and holograms, it's a sensory feast for the senses. You'll traverse 24 thrilling scenes, from sipping tea in a Victorian home while Martians prowl outside to witnessing a colossal Martian Fighting Machine in virtual reality. And speaking of thrills, don't miss the unforgettable boat ride down the River Thames, right through a Martian-ravaged London. With a maximum of 12 intrepid explorers per performance, you'll be guided by live and virtual actors, making it a truly immersive adventure. The total run time is 110 minutes, including a 20-minute intermission at the Red Weed Bar. So, whether you're a die-hard fan of the original novel or just craving a Martian encounter like no other, grab your tickets now. Upcoming performances and pricing details can be found on their website, so don't miss your chance to be a part of this out-of-this-world experience!
---
Faulty Towers Dining Experience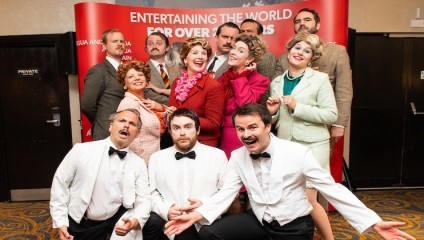 56 Guilford St, London WC1N 1DP
Get ready for a dining experience that's 'Absolutely Fabulous' – it's The Faulty Towers Dining Experience! While the sign might say 'Faulty' with a 'u,' the laughs here are anything but flawed. Created by Interactive Theatre International, this interactive dinner-show pays a hilarious homage to the legendary '70s sitcom, Fawlty Towers. As you sip your drinks at the well-stocked bar (just watch out for the 'Farty Towels'), the neurotic Basil Faulty will have you in stitches with his antics. Joined by Sybil and Manuel (Polly's got the night off, apparently), they'll serve up classic scenes from the series, from pet rats to fire drills, all while ensuring you're part of the comedy chaos. While the lack of a through-line might leave you craving a bit more structure, it's all part of the fun. And speaking of fun, don't expect haute cuisine – the food is faithful to the Towers 'experience.' So, if you're a fan of the sitcom and fancy a hilarious night out, book your tickets now. Upcoming performances at Radisson Blu Hotel are waiting to whisk you back to the '70s, with prices ranging from £71.50 to £86.50.
---
Tomb Raider: Live Experience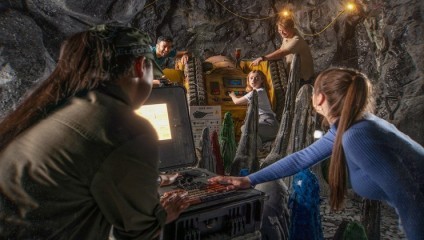 Basement Atrium, Lower Basement & Upper, The Stables Market, Chalk Farm, London NW1 8AH
Calling all adventurers, it's time to raid some tombs... but with a twist! Tomb Raider: The LIVE Experience is not your average archaeological expedition. Picture this: You and your team of daring explorers start as innocent archaeology students in Finland, digging away merrily. Then, out of the blue, you receive a message from none other than the real Lara Croft herself (well, a pre-recorded Alicia Vikander) begging for your help to save the world. Your mission, should you choose to accept it, involves solving mind-bending puzzles in exotic, larger-than-life locations. While you might not get to wield two pistols and mow down enemies, there's a zip wire that'll get your heart racing. Created by the immersive geniuses at Little Lion Entertainment, this experience bridges the gap between theatre and attractions, making YOU the star of the show. So, gear up and prepare to unearth a treasure trove of unforgettable memories. Upcoming performances and pricing details can be found on their website, and trust us, this adventure is worth every penny!
---
The Murdér Express: Part Deux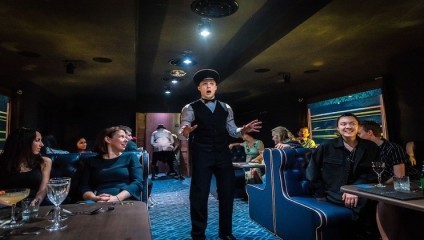 63 Pedley St, Greater, Bethnal Green, London E1
All aboard the suspense-filled sensation, The Murder Express: Part Deux - Jewel Of The Empire! Who needs a regular theater when you can have immersive intrigue on a 19th-century-style train? This East London journey is no ordinary ride; it's a thrilling four-course menu of mystery and mayhem. Sip on cocktails from Pedley Street Station's 'Seven Sins' Bar as you dine on exquisite dishes crafted by MasterChef finalist Louisa Ellis. But don't get too comfortable because this train ride is anything but ordinary. As you chug along the tracks to the fictional town of Murdér, you'll rub shoulders with a colorful cast of characters, from East End Costermonger Frank to music hall star Tilley. But beware, as the Jewel of the Empire vanishes, bodies start piling up, and the race against time to catch a killer begins. Get ready to be a detective on this murder mystery train, where everyone is a suspect, even you. Upcoming performances and ticket details are available on their website, so grab your boarding pass to mystery and suspense!
---
Shrek's Adventure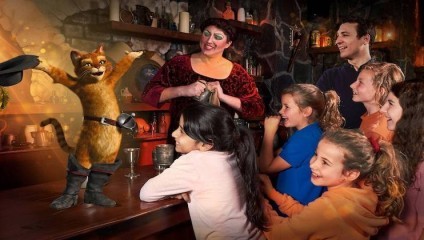 Riverside Building, County Hall, Westminster Bridge Rd, London SE1 7PB
Get ready to be ogre-whelmed with laughter and adventure at Shrek's Adventure! London. This unique immersive attraction, brought to life by a magical collaboration between Merlin Entertainments and DreamWorks Animation, takes you on a journey through Shrek's whimsical world. Prepare to be surprised as you walk through the doors, as the unexpected awaits at every turn. Interact with a hilarious cast of characters, including Shrek, Fiona, Donkey, and Puss in Boots, as you become a part of the story in this immersive extravaganza. It's not just an attraction; it's an uproarious adventure where you're not just an audience member but a character in the Shrek universe. Located at County Hall alongside other iconic Merlin attractions like the London Eye and SEA LIFE London Aquarium, this 2,000 square meter experience is an unforgettable day out for the whole family.
---
The Burnt City: Punchdrunk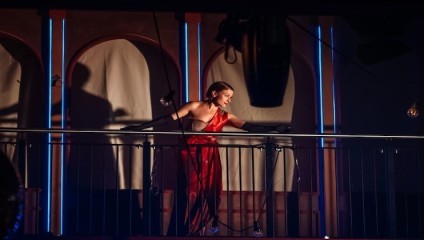 The Carriageworks, 5 Carriage Street, London, SE18 6DJ
Prepare to be 'Punch'-drunk with wonder at 'The Burnt City,' the latest and grandest immersive theatre experience from the legends at Punchdrunk. Set against the epic backdrop of the Trojan War, this production sprawls across two colossal locations in Woolwich, with one portraying Troy and the other Greece. Like all of Punchdrunk's masterpieces, this show encourages you to roam freely between scenes, and you'll quickly discover that many are happening simultaneously. The sets are truly spectacular, the performers astonishingly athletic, and the score takes you on a heart-pounding rollercoaster ride. It's been eight long years since their last production, and they've pulled out all the stops to deliver an immersive experience like no other. From the company that brought you 'Sleep No More' and 'Masque of the Red Death,' 'The Burnt City' is poised to be their magnum opus. Don't miss this chance to step into a world of gods and mortals, where every choice you make shapes your unique adventure.
---
Rumble In The Jungle: Rematch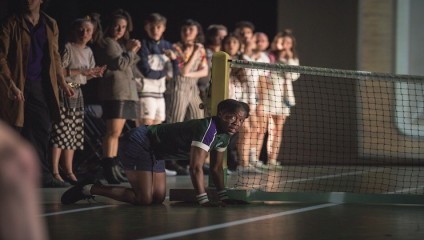 Retail Park, Unit 1 Canada Water, Surrey Quays Rd, London SE16 2XU
Step into the ring with Rumble in the Jungle: Rematch, a punchy and immersive theatre experience that transports you back to 1974 Kinshasa, Africa, for an electrifying retelling of the legendary championship bout between Muhammad Ali and George Foreman. This theatrical time machine plunges you into the sights, sounds, and flavors of the era, letting you groove to soul-stirring melodies from James Brown, Sister Sledge, Celia Cruz, and Miriam Makeba live! You'll be right in the middle of the action, from the press conferences and grueling training sessions to behind-the-scenes locker room preparations. But when the lights dim and the crowd roars, take your seats ringside for the ultimate showdown between two boxing icons. With precision performance and breathtaking physical theatre, this immersive experience packs a historical punch and is underscored with live original music.
---
Dead On Time: Murder Mystery Experience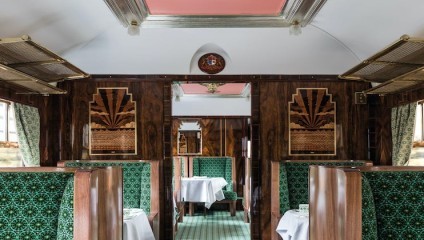 4B Victoria House, Bloomsbury Square, London WC1B 4DA
All aboard the British Pullman for a thrilling journey into the golden age of murder mysteries! Dead on Time invites you to channel your inner Sherlock Holmes or Miss Marple on this irresistibly vintage whodunnit adventure. As the historic 1920s train departs from London, it's not just the locomotive that's steaming – tensions run high as you delve into a captivating murder mystery. Expect stunning period decor, characters straight out of Agatha Christie's novels, and a delectable five-course English lunch to keep your detective skills sharp. With clues hidden in every corner and a cast of suspicious characters to interrogate, it's a culinary and cerebral escapade like no other. So, put on your best detective hat, as this immersive experience is bound to be a real 'whodunit' hit!
---
Poetry Brothel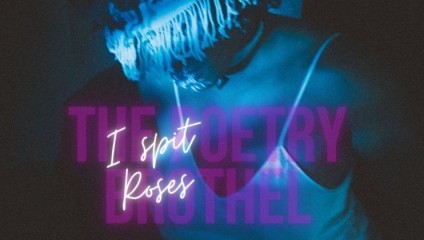 61-63 Shaftesbury avenue, London, United Kingdom, W1D 6LQ
Step into a world where words become the currency of desire at the Poetry Brothel, an immersive literary cabaret that's set to leave you lusting for more. The Century becomes the stage for this enchanting evening on September 29, 2023, at 8:00 PM. As you step into the dimly lit parlour, prepare to be transported into a realm where poets metamorphose into captivating performers, and verses set ablaze the flames of imagination. It's an experience that blurs the lines between literature and live entertainment, offering tantalizing one-on-one readings with resident poets who'll whisper their artistry directly into your ear. This immersive performance revives poetry as a communal experience, reminiscent of ancient rituals and ceremonies, and boasts a rotating cast of "poetry whores" ready to cater to your poetic cravings. So, whether you're a literary connoisseur or just looking for an extraordinary night out, the Poetry Brothel has got your desires covered. Tickets are £15 for general admission or £20 for admission plus a one-on-one poetry session. Get ready to have your senses seduced and your imagination ignited!