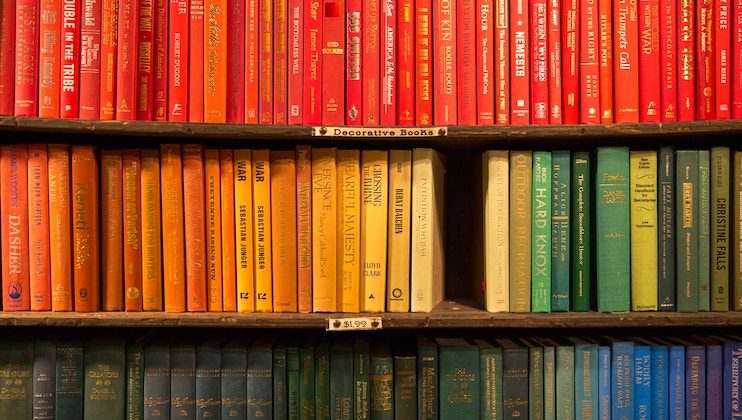 From shops to bookshops to a literary cemetery, have a read of our guide for book lovers.
London is a famously literary city; home to writers such as Charles Dickens and poets such as John Keats, as well as a source of inspiration for countless works of fiction, it is definitely a city rich with literary history.
---
British Library
This famous national library is an important part of literary London, housing every book published in the UK and Ireland, as well as many historic documents such as the Magna Carta. As a visitor, you can explore their permanent display as well as walking around the amazing building itself. The library also hosts regular exhibitions in different areas of the building, on a wide variety of subjects, including recent shows about Punk, LGBT history and Harry Potter. As a reader, you can sign up for a pass free of charge and use one of the many reading rooms to access the collection - over 150 million items!
The British Library is on Euston Road.
Reading room at The British Library (c) Paul Grundy
---
Keats House
Just next to the gorgeous Hampstead Heath is Keats House, where Keats spent his last few months in the UK before travelling to Italy. It was turned into a museum in 1925, and includes a large collection of Keats related memorabilia. They now run a range of exhibitions, talks and guided walks, including craft events for children. This beautiful house is well worth a visit to learn more about the young poet, as well as enjoying the serene setting.
Keats House is in Hampstead Heath.
Image credit: Keats House
---
London Review Bookshop
The London Review of Books is a famous fortnightly publication that reviews a range of books across various subjects, as well as including essays and poetry. The London Review Bookshop is the accompanying bookshop, selling a wide range of fiction, nonfiction, poetry and children's books. Opened in 2003, this is an absolute must for any literary fan. The shop also hosts various literary events and talks, along with accompanying podcasts.
London Review Bookshop is on Bury Place, Fitzrovia.
Image credit: London Review Bookshop
---
Highgate Cemetery
Though a cemetery does not immediately spring to mind for a nice day out, Highgate Cemetery offers not only a lovely tranquil walk, but a chance to see some graves of prominent literary figures and philosophers. The most famous grave is probably that of Karl Marx in the East Cemetery; this impressive grave includes a huge bust of Marx's head. You can also find the graves of prominent realist writer George Eliot, historian Eric Hobswam, and famed writer of the Hitchhikers Guide to the Galaxy, Douglas Adams.
Highgate Cemetery is in Highgate.
Image credit: Karl Marx grave via their website
---
Charles Dickens Museum
For anyone interested in classic fiction, the Charles Dickens Museum in the centre of London should definitely go on your list. The novels of Charles Dickens are synonymous with Victorian London, often telling the story of children and young people growing up in hard times. At 48 Doughty Street, Dickens lived with his wife and family, and wrote Oliver Twist, Pickwick Papers and Nicholas Nickleby. The museum hosts regular exhibitions and talks, as well as housing an international research centre.
Charles Dickens Museum is in Holborn.
Image credit: The Charles Dickens Museum