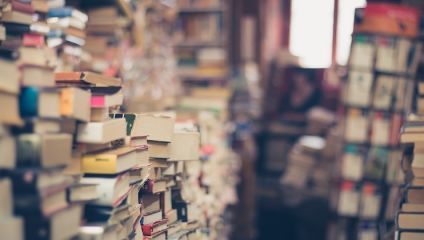 London Calling gives its round up of the top 5 bookshops in London, including London Review Bookshop and Daunt Books...
Autumn is definitely bookshop season in London, and we love wiling away the hours browsing or sheltering from London showers. London has some incredible bookshops, from the all-rounder to the specialist. There are so many wonderful bookshops in London, we've included another top 5 - recommendations for local neighbourhood bookshops - at the end.
London Review Bookshop: The All Rounder
The London Review Bookshop is tucked away next to the British Museum, and spread over two floors with an adjoining café. As you'd expect from a shop owned by the London Review of Books, it is carefully curated, with great recommendations tables pairing best selling and more unusual books. Its politics, current affairs and history section at the front of the shop is brilliant and approachable, even if you aren't an expert. Alongside the extended fiction section you'd expect, there's also a varied selection of poetry, plays and criticism, as well as philosophy downstairs. They run brilliant events here, securing incredible speakers and often have preview events for the latest releases with the authors themselves. The café is lovely, and does great coffee and cakes.
For opening times, and recommendations, see the website.
Daunt Books: The Browser
Daunt was an instant success when it came on to the London bookshop scene, laid out not by fiction and non-fiction but by country, whatever the nature of the book. It makes it a fabulous place to browse, and you can come across wonderful surprises here as biography, history, guidebooks and novels share shelf space. The Marylebone branch is the most beautiful location and has a long gallery and is airy, light but faintly antiquarian. But there are also locations in Hampstead, Belsize Park, Chelsea, Holland Park and Cheapside.
For more information on branches, see the website.
Quinto Books: The Second Hand Bookshop
Charing Cross Road has always been home to great bookshops, especially second hand bookshops. At Quinto Books, you get two in one. On the ground floor is Francis Edwards, which specialises in antiquarian and fine quality books, with prices starting at around £15. It's a great place to buy a one-off present, including collectibles like first editions and signed copies. In the basement is Quinto, a second hand bookshop on all subjects, from modern paperbacks to forgotten classics. It's a great place to browse and look around, and for this month they've just overhauled the basement and given one third over to Fantasy and Sci Fi. If dystopian futures aren't your thing, they change this up each month, so check the website for the next month's change over.
You can see their website here.
Gosh! Comics: The Comic Shop
Gosh! specialises in comics, which might sound niche, but it's actually a broad medium that covers graphic novels, illustrations and manga too. They also have a great selection of children's books, including new releases, vintage classics and more unusual kids books. It's an incredible shop to look around, and obviously visually striking, even if you don't usually take an interest in comics. The staff are extremely knowledgeable and willing to offer help and recommendations, whether you're looking for your first comic, or something more obscure. The great thing about Gosh! is that they are part of the comic and graphic novel scene, so have plenty of book launches in store, window paintings from artists, and even a small press run by Gosh! to promote new work from up and coming writers and artists.
Their website is here.
Southbank Book Market: The Outdoor Bookshop
Having an outdoor bookshop might seem mad. What happens when it rains? But Southbank Book Market is nestled under Waterloo Bridge, and has become ingrained in the life of the Southbank. It's there everyday, rain or shine, with a great and changing selection of second hand books, including classics and new books, and a few antiques. Prices are reasonable, and it's a lovely place to stand around browsing for an hour, before carrying on along the Southbank.
You find out more here.
And the top 5 local bookshops, because there are too many good bookshops in London...
Brick Lane Books, Spitalfields
Nomad Books, Fulham
Review, Peckham
Village Books, Dulwich Village
Highgate Books, Highgate