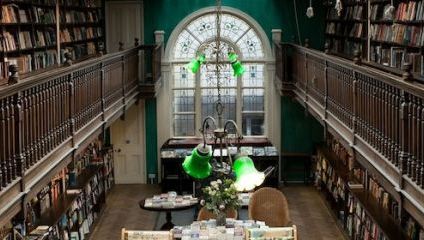 An interview with Daunt Books
If you're looking for London bookshops with a difference, you can do no better than checking out an independent. One of the best known is Daunt Books, and for good reason: with its six beautiful shops, its expert booksellers, and its books organised entirely by country, it's a must-visit for any book lover.
Rebecca Le Fevre, bookseller at the Marylebone branch, spoke to London Calling about what makes Daunt so special.
London Calling: Why do you think, with near-instant access to books, people still come to independent bookshops?
Rebecca Le Fevre: For me, it's a real pleasure to shop on the high street. I like to see what I'm buying, I enjoy browsing, and sometimes I want professional advice. I think lots of people still feel that, even keen online shoppers.
LC: Daunt Books is well known among book lovers. What sets you apart even from other independents?
RLF: At our heart, we are a travel bookshop; we've always categorised our books by country. It's an inspiring way to browse, and it promotes great conversations. We stock books that we love and believe in, and our customers really trust our opinion. Hopefully our layout helps inspire travellers, and is a nice surprise for people who don't know us! By mixing genres under the umbrella of a country we highlight books that people might never come across. It gives our customers a richer experience. It's always a treat to meet people who haven't visited our shops before. For its original Edwardian architecture and interior, Marylebone is a fantastic destination. It's a privilege to work there, being part of history and offering such a great selection of titles. I've heard people gasp when they walk into our Europe section - it's very special.
LC: Have you had any unusual books that became surprise hits?
RLF: Jamilia by Chingiz Aitmatov gave us all great pleasure to read and proved to be a runaway success over weeks and weeks. More recently we've been incredibly proud of our own publication Lillian Boxfish Takes a Walk by Kathleen Rooney - an ode to 20th century New York - it took off when we put it in our window.
Liliian Boxfish Takes A Walk, Published June 2017 by Daunt Books Publishing
LC: Like many independents, Daunt also has a packed events calendar, and even its own book festival. Why are events so integral to the life of the shop?
RLF: Events open the shop past our normal times, and they're always a celebration, whether it's a private book launch or our own talk. The atmosphere is always fun, and it's a lovely way to unwind and immerse yourself in something you want to learn about. Our Spring Festival on 15-16 March always attracts new customers - Ali Smith and William Sieghart will be there, and local independents provide food and drink. The shop takes on a whole different feel and there is always a lovely buzz. It's essentially an extension of our talks across all our shops throughout the year - they go from strength to strength thanks to our brilliant staff who organise them.
LC: For you, what has been the most outstanding Daunt event?
RLF: We always love welcoming back Alexander McCall Smith - his books are fantastically enjoyable and readable. And he is hugely entertaining as a speaker. You always know you'll have a fun night when he is on stage. For me, Philippe Sands discussing his book East West Street was a special night - just in the wake of Brexit, it held huge resonance.
LC: With print sales declining, it's an uncertain time for many bookshops. How can independents hope to stay afloat?
RLF: It's all about providing what the customers want, listening and learning. We try to be as welcoming and helpful as possible - booksellers should live and die by that. We can order books that arrive in the shop in under 24 hours, and we have a great global postal service. On our website, we sell a selection of new releases, travel guide highlights, titles from Daunt Books Publishing, book bundles, bags, event tickets, and annual subscriptions. It's not the full range, but hopefully it's a good shop window and allows people to reach us outside shop hours. Independents need to continue improving their online presence to make themselves more available.
LC: What do you wish more people knew about Daunt?
RLF: We read everything and anything - reading should be as much about escapist pleasure as it should be about learning. We enjoy our "pot boilers" as much as our travelogues!
LC: Finally, what's the best thing about your job?
RLF: I feel incredibly lucky - I meet new people all day every day and I have some great conversations. Booksellers often provide the ears and advice to everyday problems - we're like a clinic, and books are the medicine.
Daunt Books Spring Festival takes place on 15-16 March at Daunt Books Marylebone, 83 Marylebone High Street, W1U 4QW. You can buy tickets for individual events or the whole festival.