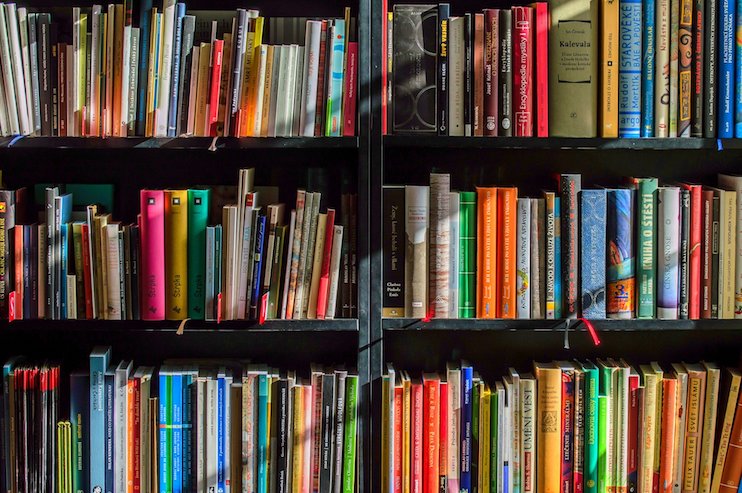 Book lovers come forth!
Public libraries are in need of some love as they are facing their greatest crisis in history with budgetary cuts of £25m a year. So alongside the big ones, we're shining a light on some smaller local libraries to show the vital part they play in their communities.
---
Senate House Library
Senate House is a bit of a Hollywood star. It's art deco interiors, impressive courtyard and exterior have featured in Batman Begins, The Dark Knight Rises, The Theory Of Everything and Doctor Who and famously served as inspiration for the Ministry of Truth in Georg Orwell great dystopian novel Nineteen Eight Four. Built in the 1920s, the pyramid shaped building was intended by University Vice-Chancellor William Beveridge as "an academic island in swirling tides of traffic, a world of learning in a world of affairs." The University of London Library resides in Senate House, and stretches from the fourth to eighteenth floors of the building, although only storeys four to seven are open to the public. Walk through the entrance of Senate House and feel the waves of history wash over you. It holds around three million volumes, including 120,000 volumes printed before 1851. The leather sofa Reading Room is the most impressive space of all, perfect for curling up with a book.
Senate House Library is at Malet St, Bloomsbury, WC1E 7HU
---
Peckham Library
In 2000, Will Alsop's Peckham Library became the first, and to date only, library to win British architecture's highest honour, the Stirling Prize. The unusual inverted L-shaped building was created in the hope of raising Peckham's profile and assisting in the regeneration of the borough. The project was also unusual in that it had sustainability in mind from the start, with heating and ventilation with minimal mechanical assistance. The strong colours and unusual textures of its metal mesh and patinated copper cladding were controversial but Peckham Library has proved to be a big success with visitor numbers well above what was originally expected. Library membership at Peckham is above the borough average in all age groups, with three times as many 15 to 17-year-olds. A highlight of Peckham Library, and a major success of the building, is the reading room on the 4th floor above city noise and with sweeping views across London from Westminster and the London Eye, via St Paul's and the miniature Manhattan of the City of London, to Canary Wharf and the Dome.
Peckham Library is at 122 Peckham Hill St, Peckham, SE15 5JR
---
Wellcome Library
The Wellcome Library is named after founding collector Sir Henry Wellcome but you'd be forgiven for mistaking the name's origin: it is indeed a very well-coming space. Free to anyone interested, you can sign in as a day visitor anytime. After a major £17.5m refurbishment in 2016, the glorious new Reading Room is unlike any other. Known as a major resource on the history of medicine, Wellcome Library is an innovative hybrid of gallery, library and events space, designed to encourage you to indulge your curiosity and explore more than ever before. Completely open to the public, it has over a thousand books and 100 objects available to browse and discover, including contemporary sculptures, paintings, medical artefacts and manuscripts. Take your books and flop on one of the new beanbags for the most chilled out library experience in London. It's light, bright, colourful and comfy and chatting isn't snuffed out by library personnel, but encouraged with a gentle nod and 'it's fine to talk'. Possibly as far away from the hush-hush stuffy library stereotype as you can get.
Wellcome Library is at 183 Euston Rd, Kings Cross, NW1 2BE
---
Camberwell Library
The planning and building of the Camberwell Library wasn't born under the best star with the location of the building, on the site of the old Camberwell Orchard, attracting great controversy and protest from tree lovers, campaigners and the community. Since it opened in 2015, Camberwell Library is doing well though, with visitor numbers nearly doubled, issues more than doubled and new borrowers nearly tripled. The project's highly sustainable design results in a significantly reduced CO2 footprint and was nominated for a New London Architecture award in 2016. In 2017, Camberwell Library was named as the "Library of the Year" providing state-of-the-art facilities that are accessible to the whole community.
Camberwell Library is at 48 Camberwell Green, Camberwell, SE5 7AL
---
British Library
The British Library is the national library of the United Kingdom and houses the largest collection of books, periodicals, journals and sound recordings in the world: an incredible 170 million items and the collection is expanding at a rate of around 3m items per year. But it's not just the vast catalogue that makes this imposing, Grade I-listed brick building so compelling. For book-lovers it is a place of worship, for general visitors, it is a piece of architecture to admire with its huge open lounge entrance hall and multi level facilities. The British Library houses some of the most rare and beautiful items in the Sir John Ritblat Treasures Gallery on the ground floor, including one of four surviving copies of the Magna Carta of 1215, a manuscript of Handel's Messiah in the composer's own hand, the original handwritten copy of Alice's Adventures in Wonderland and notes written by Leonardo da Vinci. Who could fail to be inspired here? In this Journalist's humble opinion, and probably Harry Potter fans all over the city, the British Library bookshop is where it's really at, and you'd be a hero if you manage to leave empty handed.
The British Library is at 96 Euston Road, NW1 2DB.