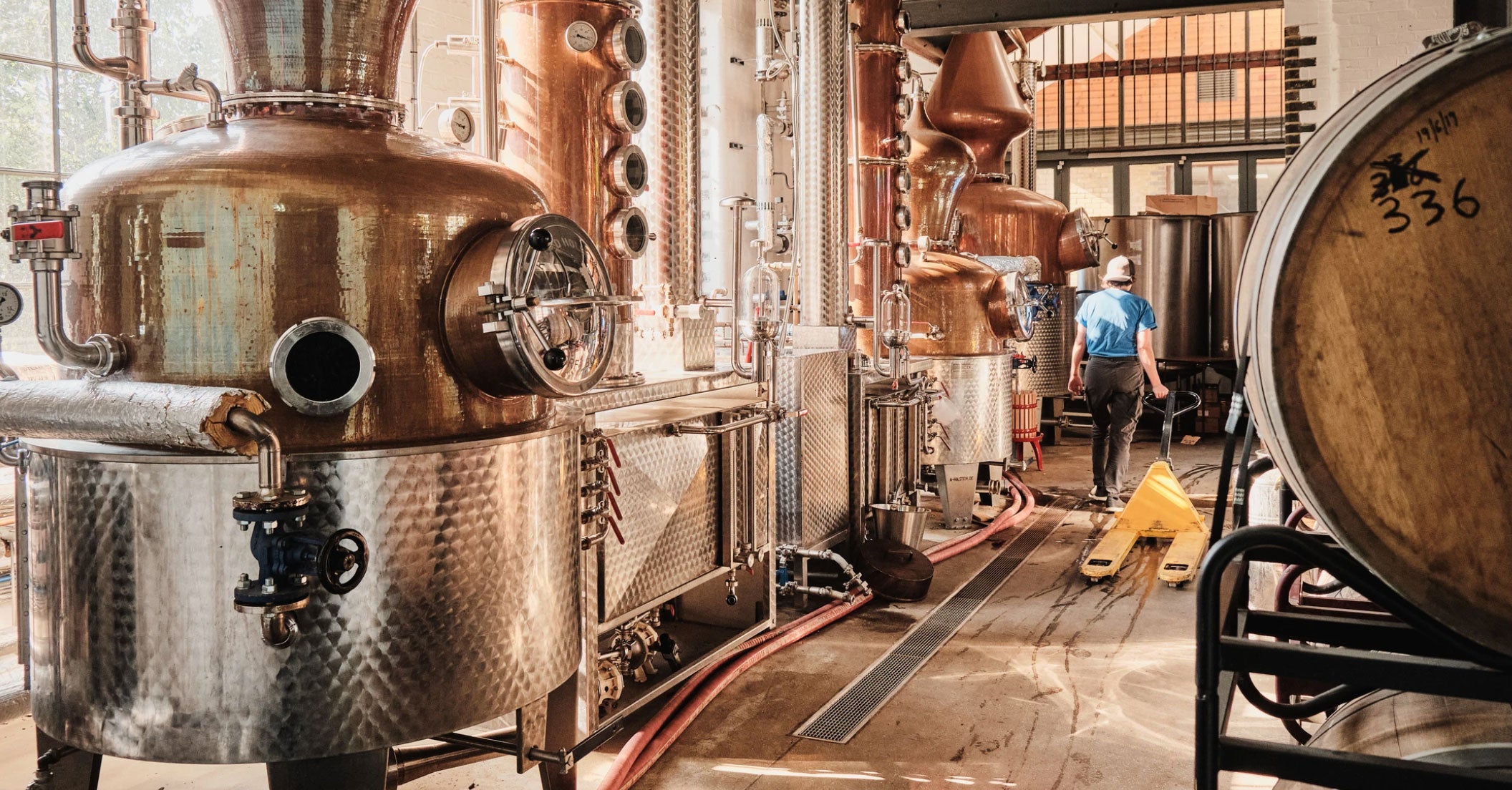 The top spots in London for the Juniper (aka gin) obsessed...
A standard G&T is easy to get hold of in almost any establishment nowadays, but such a classic spirit with a long and rich history in London does deserve its own haunt. Luckily there's a few pretty good ones dotted around the capital. From cocktail bars to distilleries, pubs specialising in gin and venues producing their own bottles here's our ultimate guide for the top 5 gin bars in London. Get ready for a tipple... or three!
---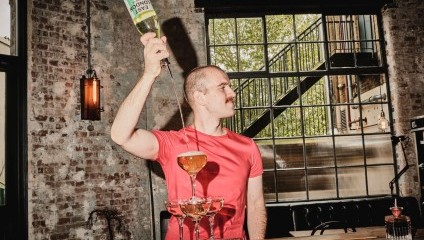 East London Liquor Company
221 Grove Road, Bow Wharf, London, E3 5SN
This establishment has come a long way since it was an old glue factory. Now transformed into a popular gin distillery, The East London Liquor Company provides its guests with an en-booze-iastic experience they'll never forget. With the tall ceilings, dusty, rustic brickwork and wooden stable doors adorning the entrance, the aesthetic is as traditional as their process. Definitely beating any old bar.
Whilst you've probably seen their pre-mixed drinks in you local off-license, it's always better to sample the real deal straight from the source. The ELLC are particularly passionate about their gin, with several varieties making an appearance throughout the year. They recently had an eclectic collaboraiton with Kew Gardens, making a legendary picnic drink that satisfied many a sunbather this summer.
Their menu is stacked with interesting concoctions and unique creations combining their own spirits with botanical ingredients such as lavendar, fennel and even asparagus. If you're feeling adventurous why not try their 'Gin & Asparagus infusion'... or if you're craving something sweeter take a crack at their 'Kew & Douglas Fir'. Of course, all this alcohol can certainly work up an apetite so it'll be music to your ears when we tell you that there is a delicious restaurant attached too. The Royale London menu serves chicken and other dishes to perfectly compliment your cocktails.
If you're fascinated by the process behind your beverage, why not book one of their distillery tours. It's a great gift for any curious gin-theusiast.
If you're planning on popping by we highly recommend making a reservation. You can do that here.
---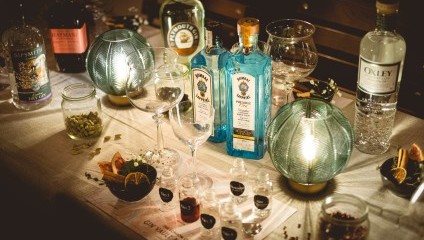 London Gin Club
22 Great Chapel St, London W1F 8FR
From humble beginnings as an old Italian café, The London Gin Club went through a re-gin-carnation (geddit?) and is now one of Soho's most popular gin bars, swamping you with over 100 choices of gin and allowing you to really cater to your own preferences, from the type of ice to your choice of slice. Their slogan is "dedicated to the enjoyment of drinking gin" and they really do mean it! Try your luck with one of their gin-fusion cocktails, if you're struggling there are plenty of well-versed bar tenders and connoisseurs on hand to advise, educate and make your experience as enjoyable as possible.
If you're totally stuck, why not just spin their 'wheel of choice' and let fate decide for you. Drinks are a little bit on the pricier side, but from a company that knows what their doing... it won't be a penny wasted. You can check out their menu here.
They're also open 7 days a week, so a tasty glass of gin is never far away, however don't let their opening hours fool you. They're packed pretty much every eve so it's best you make a reservation to avoid disappointment.
Fancy becoming a master of gin? Why not create an experience for you and a friend by booking one of their masterclasses. You'll have plenty to talk about over the dinner table and you'll be able to show off your new skills at home.
---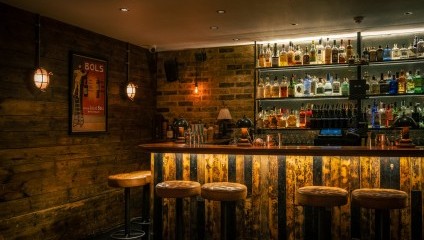 Two One Four Bermondsey
Flour & Grape, 214 Bermondsey St (beneath, London SE1 3TQ)
We all love a bar that's a little hidden, and tucked away underneath an Italian restuarant is a whole load of gin and a fantastic atmosphere. Two One Four really encapsulates the cool, speakeasy vibe without the unnecessary snobish attitude. The one thing they do take seriously, however, is their gin. So much so that they even make their own tonic water.
Offering over 100 gins you're certainly spoilt for choice when it comes to the menu, but for those that are struggling to choose there's a succint selection of cocktails that help encapsulate the best of flavours. If you're more of a connoisseur, why not try their gin flight where you're given a tray of three numbered mini G&T's with e beautifully waxed sealed envelope describing all the tasting notes. The catch? You have to guess which gin is which... perfect for a date night or a laugh with friends.
Reasonably priced too, drinks start from £6 and each week there's Happy Hour to enjoy where you can grab a beverage for just a fiver. Don't you just love a bargain?
Book your table here.
---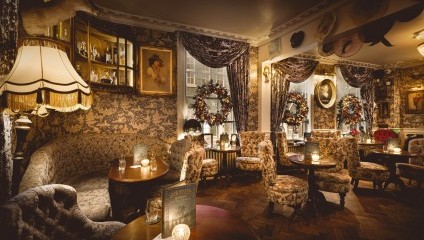 Mr. Foggs Gin Parlour
1 New Row, London WC2N 4EA
At first glance, to the unassuming eye, Mr. Fogg's Gin parlour can be mistaken as any regular London haunt serving premium ales and other spirits, but the name itself gives away what it really is. With over 200 varieties of gin and a novelist theme, this place is not only a great spot to sample the much enjoyed spirit, but also a wonderful atmosphere to nestle into. It's inspiration being the main protagonist of Jules Verne's adventure novel 'Around The World In 80 Days'. Now it's your chance to explore... but in this case it's not the world but their overflowing options of gin based beverages.
In true adventurer fashion, the Gin Bar is accessed by way of a secret bookcase, adorned with kitschy charm and Phileas Fogg regalia. Our favourite part being that whilst centrally located it's hidden enough to keep discreet from the prying eye of tourists. Just as eccentric as their aesthetic is their drinks menu. With their travelling theme continued through the names of their elaborate cocktails. All gin-based of course.
When you're having this much fun with you gin experience it's perfectly natural to get a bit peckish, but fret not, Mr. Foggs also have a quaint eatables menu of nuts, cheeses and puddings to keep the cravings at bay.
Fancy exploring? Book your table here.
---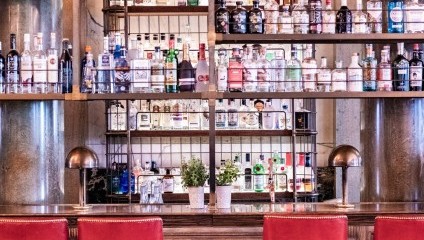 The Gin Bar- Holborn
Rosewood, 252 High Holborn, London WC1V 7EN
We've finished our list with the biggest gin selection. The Gin Bar in Holborn has over 500 gins, 30 tonics and 14,000 possible pairings of the two available. If you're going with someone who is more selective when it comes to gin and demands an array of choice. This is the place to be.
A relaxed and stylish atmosphere, the stunning copper top bar is the sleekest spot to situate yourself whilst you explore their cocktail menu. Though dedicated to gin there is also a selection of spirits, wines and craft beers. Perfect for a treat on the town, why not enjoy a beautiful meal at the Holborn dining room before heading to the bar for your beverages? If you fancy something a little more in-depth you can join one of their masterclasses and verse yourself on the wonderful array of gin and cocktails they have on offer.