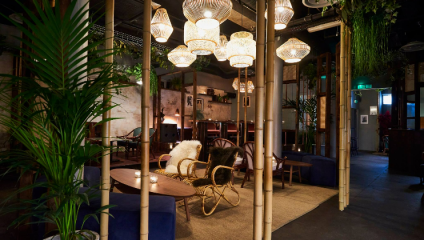 Five places where you'll never have to ask 'Why is the rum gone? Read on for the best Tropical Tiki Bars in London.
Fancy escaping to Polynesia without boarding a plane. London can't promise the weather, but it can absolutely provide you with a buzzing watering hole where you can enjoy a tropical drink (not a drink in the tropics sadly) for a quarter of the price. Read on to discover our top 5 picks for tropical tiki bars in London.
Laki Kane
144-145 Upper Street, London, N1 1QY
Situated in North London, this small but mighty Pan- Asian tiki bar is the perfect place to retreat to for a rum shaking/ making and drinking experience. Laki Kane means ' a lucky person' in Polynesian and you're sure to be just that if you visit this spot with cocktails, delicious food and good energy in abundance. Visually, it's exactly what you'd expect, wicker, bamboo and lots of Rum in the form of a wide variety of cocktails packed with exotic ingredients.
It's also packed with some unique cocktail making and rum tasting experiences for you to get stuck into.
Whether you're looking for a light refreshment, a vibrant evening or late night cocktails, Laki Kane will provide you with a taste of the tropics without the hefty flight costs.
To make a reservation or to find out more information, click here.
---
Nine Lives
8 Holyrood Street, London, SE1 2EL
Bermondsey is packed with a little bit of everything and anything when it comes to food and drink. However, when it comes to Tiki Bars, Nine Lives is your go-to. Switch up the corporate towers and steel buildings of the city for hanging plants, bamboo, warm light and jungle palms in this underground tropical haven.
The cocktail menu is designed by leading global drinks agency, Sweet and Chilli with a deep attention to flavours and details. They also have a zero waste approach to their cocktail making- we recommend trying the Moby Dick, a tropical take on an Old Fashioned with salted caramel. This, combined with their just as scrutinised music and food selection will have you feeling their 'Tropicalifornication' in no time.
To make a reservation or for more information, click here.
---
Trailer Happiness
177 Portobello Road, London, W11 2DY
Trailer Happiness, the epitome of kitsch-cute, this Retro Polynesian cocktail bar sat on the corner of Portobello Road is a hearty dose of Caribbean flair in the Notting Hill area. It's known as a breeding ground for some of the worlds best bartenders and trust us when we say these tiki cocktails really do pack a punch!
Upon entry you're greeted by a Polynesian statue (known as Bianca), then headed downstairs you're presented with a 50's style retro basement with wood panelled walls, velour coated booths and a cracking cocktail menu.
The food and drinks selection is exceptional and the music is always on point.
---
Handy Joe's Tiki Bar in Two Floors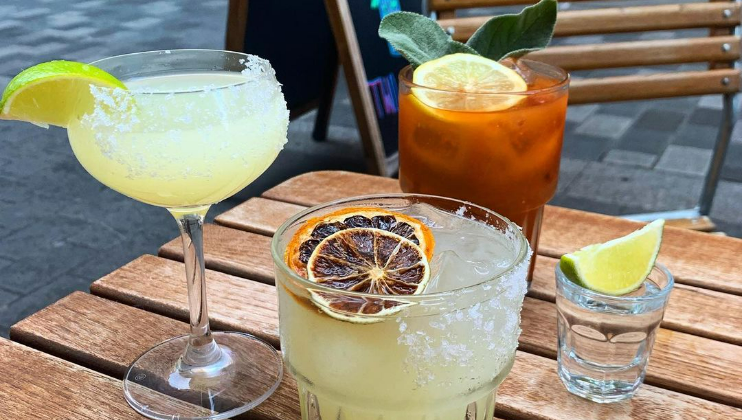 3 Kingly Street, Carnaby, London, W1B 5PD
Located below Soho's Two Floors is this playground of exotic cocktails and themed furniture. This kitsch Hawaiian themed affair offers a no nonsense Polynesian Tiki experience without the extortionate London prices. Cocktails start from around £8.50 and the menu has an extensive list of juicy drinks to select from.
To make a booking or for more information, click here.
---
Trader Vic's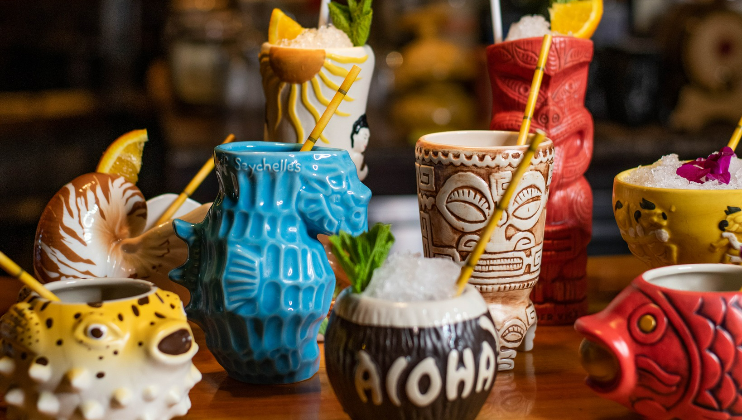 22 Park Lane, London, W1K 1BE
Originating all the way from Oakland California, Trader Vic's is a globally known name in the world of tiki bars. After embarking on an adventure to Cuba to refine his skills as a bartender and explore the subtleties of rums from around the world (not a bad job if you ask me), Vic transformed his bar 'Hinky Dinks' to the now, well-known Trader Vic's. Now with over 17 locations around the world Trader's is a must-visit whilst you're in the city.
Mixing island-style cuisine with sumptuous cocktails, bottomless brunches, quirky decor and a relaxing environment. Trader Vic's is the perfect paradise to escape the bustling nature of London. With regular performances too you are sure to stay entertained.
Their Sunday Cheeky Brunch starts at just £36 per person. Bookings can be made here.
Standard reservations can be made here.
---