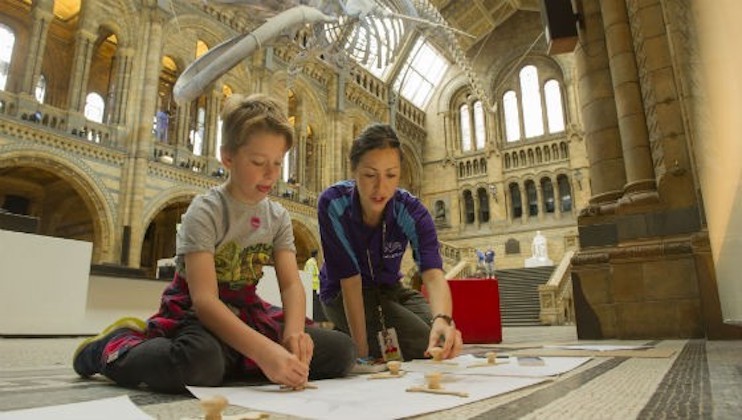 Unlock London's hidden treasures for family fun without breaking the bank!
London may have a reputation for being pricey, but guess what? We've cracked the code to having a blast with your kids without emptying your wallet! Get ready to explore the city's free and fabulous family-friendly attractions that'll make both your kids and your budget jump for joy. Read on to discover the top things to do for free with your kids in London!
---
Natural History Museum
Cromwell Rd, South Kensington, London SW7 5BD
Step into a world where history comes to life, and the past roars back with a vengeance at the Natural History Museum in London. The magnificent Alfred Waterhouse building, a masterpiece itself, houses a treasure trove of over 70 million specimens. From the jaw-dropping animatronic T-Rex that's a hit with the kids to the spellbinding Earth Galleries that unveil the mysteries of our planet, this museum is a free wonderland for families. Don't miss the chance to take a thrilling ride through the Earth's core on the earthquake simulator or explore the Darwin Centre, where 80 million specimens find their home. And the best part? It won't cost you a penny (though donations are welcome)! Plus, if you're lucky, you might catch one of their fascinating temporary exhibitions or the breathtaking Wildlife Photographer of the Year showcase. For a dino-mite day out with your little explorers, the Natural History Museum is the ultimate destination. And when you're ready to refuel, nearby Hyde Park offers the perfect picnic spot to recharge before your next adventure!
---
Sky Garden
1, Sky Garden Walk, London EC3M 8AF
Escape the urban jungle and soar high above the city at the Sky Garden, London's best-kept secret garden hidden atop the 'Walkie-Talkie' building. It's a green haven in the sky that'll make both kids and adults feel like urban explorers. Don't forget to book your free tickets in advance to secure your spot! Inside, the indoor rainforest on the top floor is a must-see wonderland for the little ones. While you're here, soak in panoramic views of iconic landmarks like The Shard and Tower Bridge. And if your family's appetite calls, you can savor a delightful meal at one of the restaurants or cafes with a view. With the Sky Garden, you'll have a high-flying, leafy adventure that won't break the bank!
---
Queen Elizabeth Olympic Park
E20
Venture into the land of imagination and adventure at Queen Elizabeth Olympic Park, where the fun is as boundless as the Olympic spirit itself. The Tumbling Bay play area is a dream come true for kids, featuring swings, slides, treehouses, and even squashy orange hills to conquer. Plus, there's a climbing wall that'll make your little explorers feel like champions. And the best part? It's all free! But that's just the start of this playground paradise. Take a leisurely stroll through parklands, where you can refuel at the Timber Lodge Café.
Fancy a dip? The Aquatics Centre is open for swimming and diving sessions, or you can pedal your way to fun at the VeloPark. Don't forget the London Stadium, now home to West Ham and host to thrilling events. The Olympic Park is still evolving, with exciting new cultural destinations and more on the horizon. Located in Stratford's East End, it's your ticket to a day of free family fun in the heart of London!
---
Vauxhall City Farm
165 Tyers St, London SE11 5HS
Discover a pocket of countryside charm right in the heart of London at Vauxhall City Farm. Here, the city's hustle and bustle fade away, making room for alpacas, farmyard animals, and even a few friendly cats. It may be compact, but it's packed with excitement. Don't be surprised to stumble upon a duck pond, an ecology garden teeming with life (including a stag beetle nursery!), and a community allotment that plays a role in vibrant spinning classes. While entry is technically free, donations are happily accepted to support this urban oasis. More than 100 animals, including alpacas and rare-breed goats, call this place home. You might even recognize the alpacas from their screen debut in 'Star Wars: The Force Awakens'!
For a tasty treat, head to The Old Dairy café, where you can savor seasonal delights made from local ingredients. And if your little ones dream of pony rides, you can make it happen here. Vauxhall City Farm is not just a visit; it's an experience that combines education, community, and furry friends, all while being right at the doorstep of London's iconic landmarks. Open Tuesday to Sunday, 10:30 AM to 4 PM, this farm is your ticket to an animal-filled adventure without breaking the bank.
---
Horniman Museum
100 London Rd, London SE23 3PQ
Roam through the fascinating world of the Horniman Museum and Gardens, where Victorian charm meets modern family fun. Little explorers adore the colossal walrus and the comical dodo, while parents appreciate the rich history. Located in the heart of South East London, this gem offers a delightful array of activities without costing a penny. As you stroll through the museum's captivating exhibits, you'll also fall in love with the lush garden, offering stunning Central London views and hosting a mini petting zoo with rabbits and llamas. For those seeking extra excitement, there's a paid butterfly farm and aquarium. The beautifully landscaped gardens are perfect for picnics, and on clear days, you can catch a glimpse of the city skyline. Let your kids create melodies on giant musical instruments scattered across the garden, or embark on a farm tour with alpacas, sheep, guinea pigs, and rabbits. When hunger strikes, the museum's cafe and weekend food markets have something for everyone. Don't forget to explore the Horniman Triangle playground, with its circular sandpit, climbing boulder, and interactive sand-play areas. So, immerse yourself in history, nature, and family fun at the Horniman, where every visit is an adventure waiting to happen. Check their website for upcoming events and exhibitions!
---
Crystal Palace Park
Thicket Rd, London SE19 2GA
Step into a prehistoric paradise at Crystal Palace Park, where dinosaurs once roamed, and kids can embark on their own Jurassic adventure. The park boasts an enchanting collection of vintage dinosaur statues that, while not 100% accurate, are utterly captivating for young paleontologists. As a bonus, there's a dinosaur-themed playground nearby for even more dino-fueled fun! Explore the 80-hectare park's lush surroundings, including the picturesque lake, where life-sized dinosaurs lurk among the vegetation. From the mighty Tyrannosaurus Rex to the gentle Brontosaurus, these colossal sculptures are a delight to discover. But that's not all; Crystal Palace Park also offers a free farm, weekend markets, and a playground with a giant sandpit filled with life-sized fossils. When it's time to refuel, you'll find excellent cafes in the park and nearby town. Make sure to check out Green and Browns, a local favorite serving kid and adult-friendly menus.
---
Platform 9 3/4 at King's Cross Station
King's Cross Station
Calling all Potterheads! At King's Cross Station, you can step into the wizarding world of Harry Potter and make your magical journey to Hogwarts via Platform 9 3/4. While Muggles might find platforms 9 and 10 separated by tracks, a visit to the station concourse will reveal the iconic platform hidden within the brick wall. Look out for the luggage trolley embedded in the wall, and let your imagination run wild as you pretend to embark on your own wizarding adventure. The trolley is accessible at all hours, and the best part is, you don't need to spend a single Galleon for a magical photo op. If you're feeling fancy, have a professional photo taken with a Hogwarts house scarf, available inside the Harry Potter shop next door from 9 am to 9 pm daily. Just be prepared for queues during school holidays and festive seasons; arriving early ensures you're first in line to capture the magic. And as a bonus tidbit, did you know that J.K. Rowling chose Kings Cross for the Hogwarts Express because it's where her parents first met on a train to Scotland? So, whether you're a Gryffindor, Ravenclaw, Hufflepuff, or Slytherin, Platform 9 3/4 is a must-visit for Potter enthusiasts.
---
Science Museum
Exhibition Rd, South Kensington, London SW7 2DD
The Science Museum in London is a playground of innovation, boasting seven floors of mind-boggling exhibits, from the Apollo 10 command module to a thrilling flight simulator. Kids, brace yourselves for the Wonderlab on level 3, where over 50 interactive shows and demonstrations await to ignite your curiosity. For the tiny tots, the Pattern Pod introduces them to the fascinating world of patterns in contemporary science, while Launch Pad is a hands-on wonderland where budding scientists can explore fundamental principles. But wait, there's more! Delve into the wonders of space with the Exploring Space galleries featuring the Spacelab 2 X-ray telescope and full-scale models of space probes. And for some cinematic magic, the IMAX cinema showcases captivating 3D scientific films. The museum is a treasure trove of human achievements, and the best part is, it's free! So, embrace your inner scientist and embark on an educational adventure. Check out the website for exciting events and don't forget to explore the shop for quirky toys. Plus, adults can get their dose of science at the Dana Centre's free lectures and performances. Science is cool, and this museum proves it!
---
Diana Princess of Wales Memorial Playground
Kensington
The Diana, Princess of Wales Memorial Playground in Kensington Gardens is where the magic of Peter Pan comes to life. Set sail on a colossal pirate ship, complete with its own sandy shore, perfect for bucket-and-spade escapades. Venture beyond the ship to discover a tepee camp with wigwams fit for a tribe, and a tree-house village boasting walkways, slides, and 'tree phones.' But that's not all; the playground features a sea monster sculpture, giant swing, turtle drum, storyteller's chair, and more, making it a wonderland for kids up to 12. Plus, there are facilities for parents, including nappy-changing areas and a café. This enchanting play area offers free entertainment, from clown visits to storytelling sessions. Just keep an eye on the website for event details. Inspired by Princess Diana's love for children, this playground ensures a delightful and safe playtime for your little ones.
---
<> Mudchute Park and Farm >
Pier St, London E14 3HP
Want a taste of the countryside without leaving the city? Head over to Mudchute Park and Farm, a sprawling 32-acre oasis nestled on the Isle of Dogs, making it one of London's largest farms. From 9 am to 5 pm daily, you can enter free and explore this charming urban farm that's home to over 100 animals, including pigs, sheep, goats, cows, ducks, geese, and even llamas. The farm offers hands-on experiences for kids, with a petting zoo, stables, and a delightful duck pond. You might just meet Juliet, a Manx Loaghtan sheep, or the friendly turkey who's all ears for 'Old MacDonald Had a Farm.' For those aged over 7, the Mudchute Young Farmers program lets them dive into animal care, grooming, and feeding for just £40. Plus, they offer cool workshops like forest schools and arts and crafts, although these are an additional cost. Don't miss the ever-popular café, perfect for hearty breakfasts.