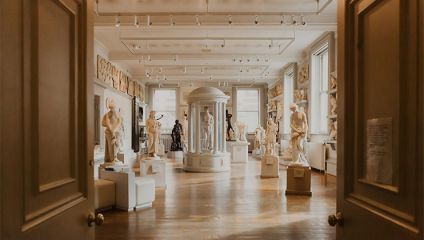 Satisfy your culture cravings with our essential guide to galleries reopening across the North-West of England!
There's lots we've missed over the past few months, with many industries forced to put business on pause, but the exciting creative scenes across the North West have continued to thrive. We've compiled a round-up of some of the galleries reopening across the region, and their must-see displays.
---
Castlefield Gallery, Manchester
2 Hewitt Street, M15 4GB
Castlefield Gallery reopened its doors to the public on 16th September, releasing their programme for the upcoming year. With a schedule of contemporary collaborations, commissions and solo shows, you can get excited for the year ahead at this renowned space nestled in the industrial heart of Manchester.
The programme kicks off with Soft Bodies, delayed due to lockdown, now open until 1st November. Taking its name from a field of computer graphics that are designed to resemble the properties of soft textures and objects, the group exhibition considers painting, photography, print and drawing alongside these technologies, to encourage us to think about "our experience of being in a body". The exhibition feels now more relevant than ever, as we navigate the world in a pandemic where our interactions and relationships with other bodies are changing.
---
The Whitworth, Manchester
Oxford Road, M15 6ER
Manchester's stunning red brick gallery housed in Whitworth Park also reopened on 16th September, with several exhibitions now open to the public. Don't miss Utopias, showing until January 2021, examining the meaning of a "utopia" as an unreachable aspiration for society. The exhibition includes a space by Whitworth Young Contemporaries that discusses what a utopia means for young people today. Other current exhibitions include White Psyche, discussing the norms of white dominance in art and culture, told through the Classical story of Cupid and Psyche.
Make sure you note the new opening times of 11am-4pm Wednesday to Sunday! All visitors are now required to book a free ticket in advance, by clicking here.
---
Tate Liverpool
Royal Albert Dock, L3 4BB
Housed in a warehouse at Albert Dock, Liverpool's Tate is the heart of modern and contemporary art in the city, now open after months of closure. The gallery relaunches its programme with Don McCullin, exhibiting over 200 photographic works of Liverpool, the north and beyond, created over 60 years. Depicting everyday life, work, landscapes and conflict across the UK, this archive of work has been printed by the artist himself, allowing viewers to appreciate his personal dedication to the moments and lives he captures.
Don McCullin is on display until 9th May 2021.
Visitors are required to book a timed ticket before arriving at any Tate gallery, here.
---
Walker Art Gallery, Liverpool
William Brown St, L3 8EL
Displaying art and design from the 13th century to the present day, Walker Art Gallery is a must-visit on a trip to Liverpool to experience a wealth of British painting, textiles, décor and more across history. The gallery celebrates its reopening with Linda McCartney Retrospective, looking back at the photographer's intimate documentation of her life. The display boasts more than 250 photographs, giving the viewer a nostalgic view of the 1960s music scene, as well as private snapshots of Linda and Paul's family life - the exhibition is certainly not one to miss, with several images never displayed in public until now. You can book your entry to the exhibition here.
Booking your visit to the gallery is now essential, by clicking here.
---
Warrington Museum and Art Gallery
Museum Street, WA1 1JB
Nestled between Manchester and Liverpool, the unsuspecting town of Warrington benefits from easy links to the more known cultural hubs of the North West. However, this year brings the tenth anniversary of Warrington Contemporary Arts Festival, celebrating creativity across the region. The Museum and Art Gallery is free to visit, and houses this year's huge Open Exhibition, showcasing submitted works from emerging and established artists across painting, print, sculpture, textiles, installation, performance and film.
WCAF Open Exhibition is on until 20th December 2020. Book your visit here.