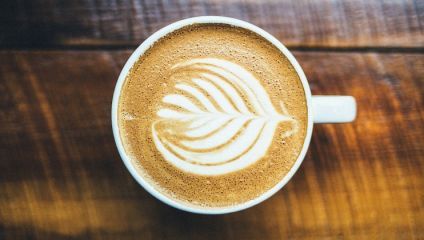 Oxford is hardly short of coffeehouses for those who are seriously into good quality blends and roasts. We've picked out the best independent cafes to try out, from in-house roasteries to expert baristas, some with sunny gardens, others with late opening hours ideal for continuing a first date.
---
The Handle Bar
The Handle Bar (formerly Zappi's) sits above a bike shop on St Michael's Street off Cornmarket, the main shopping street in the city centre. They serve great blends of coffee, but the main draw is their must-have toasted banana bread, an Oxford rite of passage. The interior is cramped but the turnover is fast; be patient and you'll secure the perfect coffee spot. Their newly extended opening hours mean that you can also head there for a glass of wine in a candlelit evening setting.
Image Credit: Bex Walton, The Handle Bar.

Open Monday-Saturday 8am-11pm, Sundays 10.30am-6pm.

​
---
Quarter Horse
For true bean aficionados Quarter Horse lies a fifteen-minute walk from the city centre on Cowley Road. They roast their own coffee and you can buy boxes of their blends to take home. They've also just opened a new summer garden behind the shop, featuring wooden decking and potted plants, which is a great place for cold brew and a catch-up.
Image Credit: Bex Walton, Quarter Horse.
Open Monday-Friday 8am-6pm, Saturdays 9am-6pm, Sundays 10am-6pm.
---
Another hot coffee destination on Cowley Road is one-year-old The Bear & The Bean a slightly shorter walk from the city centre than Quarter Horse. They serve cakes made locally by Barefoot Kitchen and source roasted blends from all over the world, including New Zealand's Supply Specialty and London's Caravan, and cold brews from Kenya and Ethiopia. TB&TB also stock literary-themed gifts—Hungry Caterpillar pencil cases and library book socks are a highlight—so why not kill two birds with one stone and pick up a present with your coffee?
Image Credit: The Bear and The Bean.
Open Monday-Friday 8.30am-6pm, Saturday-Sunday 10am-5pm.
---
The Missing Bean
A student favourite for a coffee fix is The Missing Bean, on Turl Street. It's always packed, so finding a wooden stool to perch on is a challenge, but their Antipodean-style coffee is worth it and the take-away turn-around is speedy. During the winter their Italian-style thick hot chocolate is a popular choice with locals.
Open Monday-Friday 8am-6.30pm,Saturdays 9am-6.30pm, Sundays 10am-5.30pm.
Open Monday-Friday 8am-6.30pm,Saturdays 9am-6.30pm, Sundays 10am-5.30pm.
---
BREW Oxford
In north Oxford you'll find the tiny independent coffee shop BREW, boasting a 'brew bar' that serves single origin espresso coffee, as well as filter coffees from all various countries. In a given week, they will have blends of coffee from Kenya, Colombia, Panama and Ethiopia. You can sample their homemade breakfast bars and cinnamon rolls in the cosy wooden interior, and customers are encouraged to choose background music from their vinyl selection.
Image Credit: Bex Walton, Brew Oxford.
Open Monday-Friday 7.30am-6pm, Saturday-Sunday 8.30am-5.30pm.
---
Jericho Coffee Traders
Jericho Coffee Traders have their own on-site micro-roastery behind Walton Street, which coffee-lovers are welcome to wander into, and they can tailor-make your order depending on whether you like fruity, chocolatey or spicy blends. They used to have an actual coffee shop on King Edward Street, regrettably closed at the moment, but they still run pop-ups all over the city. However, many of the other independent coffee shops on this list stock blends from Jericho Coffee Traders, so you can get your fix there in the meantime. The Barefoot Bakery, directly opposite the roastery in Jericho, also sells their coffee.
Image Credit: Yves Maurer, Pub in Jericho.
The Barefoot Bakery is open Monday-Saturday 8am-5pm, Sundays 9am-5pm. The roastery hours vary, so check before visiting.