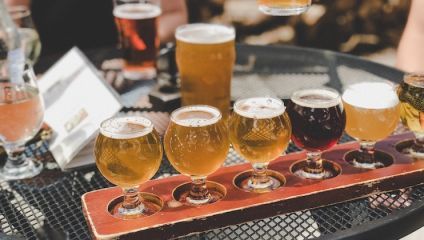 From caves to the canalside, here's where to get the best pints in Notts
---
The Hand and Heart
In a city of atmospheric pubs, The Hand and Heart is probably the most characterful one to visit in Nottingham. Just a few minutes from the centre of town, towards the student area of Lenton, the dining room of the pub is built into sandstone caves which date from the Saxon era, where the food threatens to overtake the surroundings as the star of the show. From hearty breakfasts to sumptuous Sunday roasts and traditional pub grub, landlady Dawn's food never disappoints - make sure to complement your meal with a pint of their signature Light Hearted ale.
---
The Malt Cross
Nottingham has a tradition of community, and that was no less true after the Malt Cross's shock closure in 2018, when the Nottinghamshire YMCA came to the rescue to reopen it. The treasured old music hall is one of Nottingham's cultural hubs, hosting everything from gin tastings to exhibitions, to poetry nights down in the caves underneath the pub. There's also a great pub quiz every Monday, if you think you're tough enough.
---
The Canalhouse
If you listen very carefully, on the first day in April that the mercury hits 15 degrees, you can hear the footsteps of every single person of drinking age in Nottingham heading towards Canalhouse. The huge canalside garden is the star of this pub, and it's always buzzing with a good crowd on a sunny afternoon. However, the pub also boasts the largest world beer selection in the whole of the Midlands, and even on a chillier day, the canal, bridge and moored narrowboat inside the pub make it worth a visit.
---
Ye Olde Trip To Jerusalem
If you go to just one pub while visiting Nottingham, make it this one. Hastily shoving visiting parents inside the pub to avoid their finding out that you've never actually visited any of the city's cultural attractions is a rite of passage for university students living in the town, and it's a must-do for any tourist. The pub claims to be the oldest pub in Britain, established in 1189, and is nestled into the side of the cliff on which Nottingham Castle stands. As such, it's extremely cosy, with fireplaces, historical curios on the walls and various nooks and crannies to cram yourself into while you eat and drink to your heart's delight.
---
The Cross Keys
Located just opposite Nottingham Contemporary in the heart of the Lace Market, The Cross Keys has been around for centuries, and after a brief stint as a trendy bright yellow-painted bar renamed CK's in the early noughties, is now back to doing its job as a good old traditional pub. With seven hand-pulled cask ales and boasting a healthy selection of craft beers and keg products, the Cross Keys is the perfect place for a pre-night out pint.