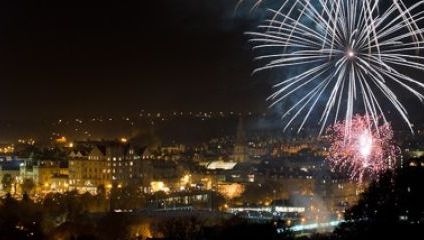 The New Year is just around the corner, and for many of us 2017 can't come soon enough! If you happen to be in the beautiful city of Bath over the New Year then you're in luck. We've rounded up some of the most picturesque spots to hail in 2017. Whether you want a panoramic view of the city's fireworks or are looking for a quiet corner to pop some bubbly, we've got you covered.
Our selection of the best places to view the new years festivities in Bath
---
Alexandra Park
Opened in 1902 to commemorate the coronation of Edward VII, Alexandra Park has been delighting Bath residents and tourists alike with its stunning panoramic views. From the top of this sweeping park, you'll be able to get a perfect view of Bath's Georgian city centre, including the Abbey, The Circus and The Royal Crescent. There's even a romantic cluster of benches on the park's northeast corner where you can snuggle up on the count of midnight and clink glasses. There's no more picture-perfect way to start a year.
Photo Credit: rudgephotography
Alexandra Park is located at Shakespeare Ave, BA2 4RQ.
---
The Royal Crescent
The Royal Crescent, one of Bath's most iconic landmarks, was built between 1767 and 1775 and designed by John Wood the Younger. This impressive landmark forms a sweeping crescent of 30 Grade I Listed terrace houses, and is without doubt one of the greatest examples of Georgian architecture anywhere in the UK. The Royal Crescent gives out onto Royal Victoria Park where you'll be able to take in New Year's midnight majesty in the most elegant setting you could hope for. Voted the best view in Bath during the Great British Views TV series, the Royal Crescent and Royal Victoria Park are definitely a winning combination for stunning firework viewing.
Photo Credit: Robert Lovell
The Royal Crescent resides at Bath, BA1 2LR
---
Perfect View Road
No, that's not us here at Culture Calling being biased. This beautiful spectator spot really is called Perfect View - and for good reason. Just behind Bath's famous Camden Crescent, this Regency era site boasts magnificent vistas. Doing exactly what it says on the tin, Perfect View Road gives a breath-taking panoramic of the city below. Take advantage of the view in the winter months: tree foliage can often block out the wonderful scenery during summer. But, like it its name promises, you can't really go wrong here, especially on New Year's.
Find Perfect View Road at Bath BA1 5JY
---
Abbey Church Yard
Admittedly, this one's not exactly a viewing point. But it sure will provide the best view of Bath's New Year's celebrations. Join in with the crowds and huddle together in festive fun as the countdown to 2017 begins. Not only will the atmosphere be truly amazing, but you'll also get an incredible up-close view of Bath Abbey under the glow of sparklers, fireworks, and bubbly showers of champers. For a view with a "Whoo!", don't bother going anywhere else but here on New Year's Eve.
Photo Credit: jacquesmart
Bath Abbey Church Yard is located in Bath, BA1 1LT
---
Sham Castle
Yet another Bath landmark that sounds more like a square on a board game than an actual place, Sham Castle is a beautiful, albeit fake, edifice that overlooks the city. Erected in 1762 by entrepreneur and philosopher Ralph Allen in order to improve the view from his own townhouse, Sham Castle is what is known as a "folly". Looking straight on at this bath-stone building, it would be easy to think that it's a remnant of a medieval castle. Upon closer inspection, it quickly becomes evident that it's nothing more than a façade. Despite its falseness, there's one thing that's not fake about Sham Castle and that's its glorious view of Bath below. Pretend you're a King or Queen for the night and hail in the New Year in style!
Photo Credit: Andrew Male.
Find Sham Castle at Golf Course Rd, Bath BA2 6JG