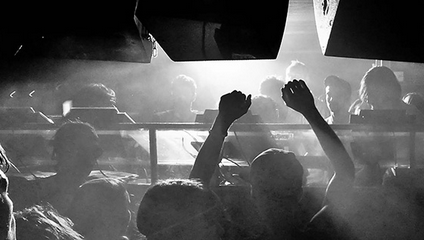 There's been a great deal of concern over UK nightlife in recent years, with council cuts having forced the closure of some of the country's best places to dance the night away. However, it's not all doom and gloom; British nightlife is still alive and kicking thanks to some outrageously good nightclubs. So crack open a Red Stripe and enjoy our pick of the bunch.
Take your pick from our selection of the best clubs around the UK
---
1. Leeds West Indian Centre
Image credit: Christian Bodden Photography
A community hub by day, by night the Leeds West Indian Centre transforms into an incredible grassroots nightclub. It's best known for hosting the club night 'Subdub', a night that specialises in the very best of dub/reggae/drum'n'bass to an enthusiastic crowd spanning all ages. The Centre takes a no-frills approach to clubbing, favouring a ground-shaking sound system and dancehall atmosphere over light shows and dress codes. Unsurprisingly then, the club has earned a loyal following, and a place as one of the UK's ultimate cult club destinations.
Leeds West Indian Centre is located at 10 Laycock Pl, Leeds LS7 3AJ.
---
2. The Soup Kitchen, Manchester
Image credit: Banana Hill
Nipping at the heels of London's nightlife, Manchester has no shortage of great bars and clubs. However, The Soup Kitchen is easily one of the best. Located in a former boxing gym in the heart of The Northern Quarter, the venue is split between two floors: Upstairs, you'll find resident DJs and a bar/canteen serving top-notch grub, while downstairs, a 200 capacity basement boasts excellent regular nights (Swing Ting; Me and You) and intimate gigs. It's a friendly vibe with a strong emphasis on the music. Expect to hear grime, basement, reggae and garage all served with a dash of Northern charm.
The Soup Kitchen can be found at 31-33 Spear St, Manchester, M1 1DF.
---
3. Sub Club, Glasgow
Image credit: CollegeTimes.com
No club list would be complete without featuring Glasgow's Sub Club, the longest running dance club in the world. Having opened way back in 1987, Sub Club has survived against the odds (and a pretty big fire in 1999) to prove it's as vital and alive as ever. It's hosted an impressive range of names, including LCD Soundsystem and Derrick May, and fans of the club include Scottish writer Irvine Welsh of Trainspotting fame. Expect a community-like atmosphere with a crowd who are always raring to go.
Sub Club is located at 22 Jamaica St, Glasgow G1 4QD.
4.
---
Motion, Bristol
Image credit: Motion Bristol
A network of old warehouse spaces spilling out onto a cobbled front courtyard by the river, Bristol's Motion is a bastion of dance in the South West. Its nights are legendary, with the main stage having played host to some of the world's biggest DJs, including their resident collective The Blast. Having been named the 19th Best Club in the World by DJ Magazine in 2016, Motion is a must for those looking to groove away into the early hours.
Motion is located at 74-78 Avon Street, Bristol, BS2 0PX.
5.
---
Fabric, London
Image credit: The West Review
London's Fabric made the front page last year as part of a controversial decision to close the club. Like a Phoenix rising from the ashes however, the case was overturned and Fabric reopened at the start of 2017 thanks to a huge 'Save Fabric' campaign. A mecca of dance music, Fabric is massive in every sense of the word; three huge spaces host resident and guest DJs playing drum and bass, dubstep, house and techno. Try as you might, no one does parties quite like Fabric.
Fabric is located at 77A Charterhouse St, Clerkenwell, London EC1M 6HJ.