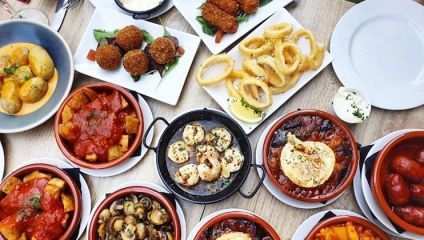 Just make sure you don't hold back on the small plates…
---
Spotlight on: Tinto Taperia
7 New Road, Brighton, BN1 1UF
For foodies who always arrive desperate to try everything, tapas restaurants are the perfect solution. Small plates to be ordered for the table (recommended 2-3 per person but we're not counting) and shared between everyone - absolute bliss. We had to pick an authentically Spanish restaurant for our 'Spotlight on', as the concept of tapas is a fundamentally Spanish cuisine. Tinto Taperia offer authentic Spanish dishes and always promise an exciting dining experience. You'll be transported right back to your last Spanish beach holiday with an order of patatas bravas, calamari and Spanish tortilla. You can enjoy crusty bread and aioli whilst pretending the English Channel is, in fact, the Mediterranean Sea, especially when sat in a coveted spot on the restaurant's terrace.
With plenty of meat, fish and veggie tapas, we're certain you won't have to stray from the back page of their menu. But to complete the truly authentic Spanish experience, order a generous pan of made-to-order paella, with fish, chicken and even a vegan option available! It's only right to accompany this experience with jugs of fresh Sangria and be sure to make room for Churros before home time.
---
Best of the rest:
---
Polpo
20 New Road, Brighton, BN1 1UF
What? Unforgettable Italian tapas in the perfect date-night spot.
Where? Just a few doors down from Brighton's Theatre Royal.
Why? This Venetian spot boasts a small but well-curated menu, featuring delicious fish and meat dishes along with extra special Venetian snacks! Be sure to pick one dish from each section of the menu, along with cute little Pizzetteand an authentic Italian Bellini!
---
Baby Bao
The Pond, 49 Gloucester Road, Brighton, BN1 4AQ
What? Taiwanese steamed bao buns and delicious small plates to go along with them.
Where? Inside The Pond pub, perfect for an after-work drink and bite to eat.
Why? This street food-come-tapas menu is filled with delicious treats and, arguably, the best bao in Brighton. Each bao dish comes in at less than £6 and the most expensive small plate costs just £7. Be sure to order the Baby Bao Original fries and bear in mind that each Monday is a meat-free day!
---
Giggling Squid
11 Market Street, Brighton, BN1 1HH
What? Popular Thai restaurant with delightful tapas menu.
Where? Opposite trendy brunch spot, The Breakfast Club.
Why? Giggling Squid offers a full menu fileld with classic and contemporary Thai dishes, along with a selection of smaller tapas style plates that are perfect for sharing! Choose from 20 dishes or pick up one of their tapas set menus to enjoy the perfect combination of flavours to share.