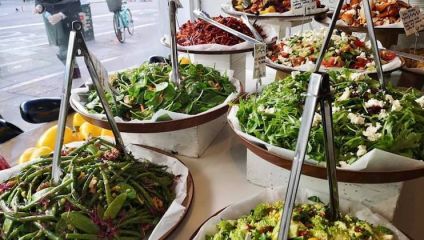 Who says eating healthily has to be boring?
---
Spotlight on: Lovefit Café
110 Queens Road, Brighton, BN1 3XF
Whether you're counting calories, bulking up or simply trying to be a bit healthier - eating well whilst eating out can often be difficult. Rather than face a menu filled with indulgent goodies and tasty treats, perhaps opt for an eatery that tries to solely produce healthy options and know that you're getting the best of fresh and tasty diet food! Lovefit café is our top choice for exactly this. This central Brighton café promises to provide healthy options that are taste-bud tested and body approved. Generally, their dishes aim to be high protein making them an excellent choice for diets such as Atkins or Keto!
Ticking plenty of boxes, this café offers meals for meat eaters, veggies and vegans looking to pick healthier options. They offer heaps of sandwiches, salads and burgers, along with a selection of exciting side dishes. Where possible they use lighter mayo, lean meat and low-fat cheeses. Their breakfast pancakes are protein packed and perfect for a mid-morning gm session, and their veggie and vegan menu is packed with low calorie, high protein choices. You'll also find the calorie content of each dish clearly established on the menu, along with 'Syn' count for Weight Watcher dieters.
---
Best of the rest:
---
Foodilic
60 North Street, Brighton, BN1 1RH
163 Western Road, Brighton, BN1 2BB
What? Healthy eating option with to-die-for all you can eat buffet!
Where? Their buffet spot is on Brighton's busy North Street, whilst their restaurant is opposite the McDonalds on Western Road.
Why? Both of these branches offer a huge selection of all you can eat dishes which include meat, veggie and vegan options as well as bright and beautiful salads. For just £7.50 you can sit in and fill up on healthy dishes, or for just £5 you can take a box home or back to work on your lunch break!
---
Leon
75 North Street, Brighton, BN1 1ZA
What? Popular fast food chain for healthy eating options.
Where? In central Brighton, opposite the Jubilee Clock Tower.
Why? Looking for something fresh, fast and easy? Leon's range of take-away fast food is perfect for those looking for a lunchtime treat that isn't too calorific. Opt for a under 500-calorie salad or treat yourself to a tasty Fish Finger Wrap.
---
Six
102 Western Road, Hove, BN3 1FA
What? Contemporary restaurant with organic offerings.
Where? On Western Road, heading up towards Hove.
Why? Whilst getting a healthy lunch or breakfast can be quite easy, evening mealtimes might present more of a struggle. Six pride themselves in cooking with natural, organic and locally sourced produce, so even if you're treating yourself to something a little bit naughty you can rest assured that it's a healthier choice than many others. Try their Organic Hot Buddha Bowl for a satisfying yet sensible option.