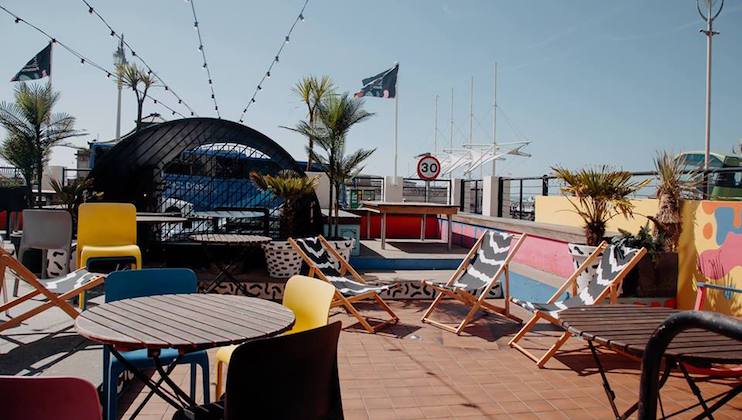 Wherever you end up in Brighton during the summer, you're guaranteed to be greeted with a bustling atmosphere and great party vibes (weather permitting!). So get your checklist out and plan your next rooftop bar outing!
---
The Grand Central
Suitably named, this pub is situated just around the corner from Brighton station, and is home to a cosy, comfortable rooftop garden decorated with bright furniture and plenty of greenery. Set among the back gardens of Brighton homes, its laidback atmosphere is perfect for a sunny drink with friends. The venue is free of much of the pomp you can encounter at rooftop bars - you can simply have a pint in the sun for reasonable pub prices.
Image © Grand Central
The Grand Central is just outside Brighton station at 29-30 Surrey Street, BN1 3PA
---
It's difficult to decide which is the winning aspect of this restaurant-pub; the amazing hidden roof terrace or the food. This hidden gem is situated halfway between Brighton and Hove, and with a delicious selection of fresh seafood and a list of daily specials, it's probably a place you'd stay longer for just the one drink, even if you didn't plan on eating! Their terrace is made even better by the windy journey to get to it. Trust us, it's worth discovering!
The Lion and Lobster is located at 24 Sillwood Street, Brighton BN1 2PS
---
Mrs Fitzherbert's
Named after Maria Fitzherbert, the woman who stole the heart of George IV, The Fitz has an incredibly central location and an always-buzzing atmosphere, whether you visit for a quick lunchtime pint or spend a Saturday night there. Decorated in the style of a biker bar and offering two for £9 cocktails throughout the week (or two for one from 5pm-9pm!) this bar boasts an impressive outdoor seating area. Alternatively, you can climb the steps to their 'Lost Gardens of Fitzherbert' roof terrace hidden amongst the sprawling buildings of Brighton.
Image © Mrs Fitzherberts
Mrs Fitzherbert's is located at 25-26 News Road, Brighton, BN1 1UG
---
Bohemia
If you're celebrating, or just in the mood for a fancier night out, head over to the South Laines for Bohemia's 'Veuve Clicquot Roof Garden', complete with AstroTurf and white furniture that leaves you with the feeling of attending a polo match rather than a bar in the heart of Brighton. For the full experience, make sure you try their smoking Pornstar Martini while you soak up the rays before heading down to the nearby beach.
You can find Bohemia at 54-55 Meeting House Lane, Brighton.
---
Patterns
Okay so this one is slightly cheating as it isn't technically a rooftop - we'd call it a terrace - but ask almost any Brightonian and they will point you in the direction of this place. Patterns boasts a really impressive outdoor decking seating area that offers an unbeatable view of the seafront and the Grand Pier, and has truly tropical vibes. The bar only opens in the evening, and you can watch the famous Brighton starlings dance around the pier in in a spectacle that draws crowds. And if you hang around long enough, Patterns is home to one of the best nightclubs: its downstairs regularly hosts some of the biggest DJs in the music scene. Top tip: Try a Tuaca, it's the Brighton special!
Image © Patterns
You can find Patterns at 10 Marine Parade, Brighton BN2 1TL.