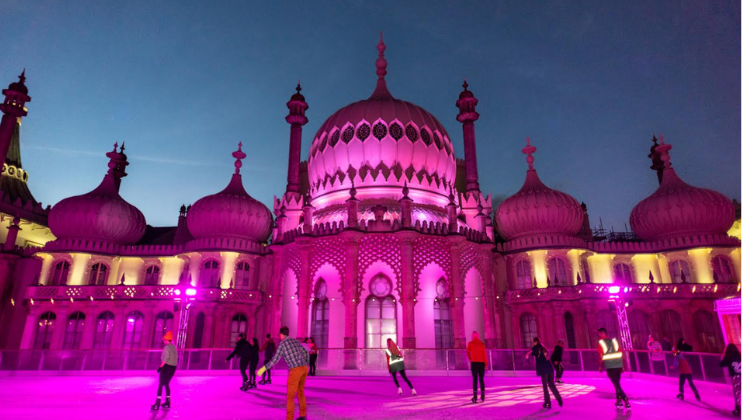 A Christmas market is the perfect place to soak up the yuletide vibe and completely immerse yourself in that magical festive feeling. Just perfect for picking up all those special Christmas gifts in one place and indulging in a cheeky mulled wine or a mince pie in the process! So wrap up warm, get your festive on and head out to our pick of the top 10 best Christmas markets in Brighton.
---
Brighton Christmas Market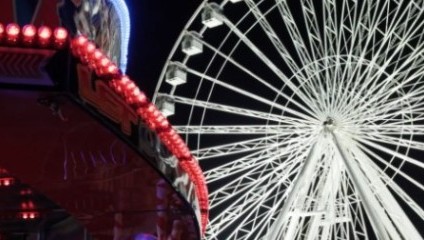 Brighton Christmas Market, St Peters Plaza, York Place, Brighton BN1 4GU
The heart of Brighton's Christmas festivities by day and THE place to strut your seasonal stuff at night!
A veritable extravaganza of a Christmas market, it stretches from St Peter's Church to Valley Gardens, a stone's throw from the city centre, this is Brighton's largest Christmas market and the mainstay of the Brighton Christmas Festival.
This is definitely one for the family and all you die hard shoppers, with festive fun at every turn plus it's completely free admission! Packed full of funky stalls with gift buying opportunities aplenty and loads of live entertainment, immersing you in the sights, sounds and smells of the festive season.
Why not take the opportunity to pick up all those Christmas prezzies in one hit, then take a well earned break and reward yourself with an eggnog and a seasonal bite to eat from one of the many eateries taking part.
For the bar crawlers among you, make a night of it at the pop up Apres Ski Bar and indulge in a bit of alternative Christmas spirit – after all, it only happens once a year!
(18 Nov - 24 December) (Open daily,10am or 12pm and closed by 8pm or 12am dependent on day)
---
Zero Waste Christmas Market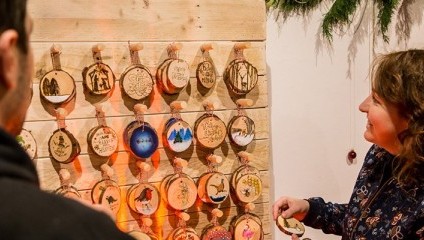 Zero Waste Christmas Market, The Old Market, 11A Upper Market Street, BN3 1AS
A first for Brighton and a Christmas trailblazer if ever there was one! The first Zero Waste Christmas Market is putting the future into festive!
With over 30 unique, zero waste brands from across the region, you can shop with a clear conscience, safe in the knowledge that all the stunning gifts, cards and wrap on offer are completely planet friendly. Everything is zero waste, zero packaging and ethical/fair trade.
If you ever needed an excuse to shop at Christmas, polish that halo and visit this market - all profits from the event will go towards reforesting the beautiful countryside.
(Entry is by ticket at a cost of £5 but get you entry into a prize draw to win a hamper)
---
The Makers Fair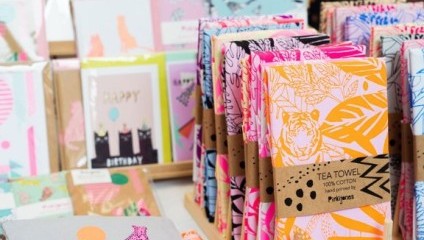 The Makers Fair, Wagner Hall, 2 Regency Road, Brighton BN1 2RU
Always searching for that elusive gift that nobody else will have thought of? Then head to The Brighton Makers Christmas Fair! Close to Churchill shopping centre and The Lanes, this is the perfect place to pick up something handmade and completely unique for that someone special (or just the one that's annoyingly hard to please!)
Chocka block with creative Christmas cheer, this gem of a market is a real celebration of local artisans, crafters and foodies - even the most difficult of rellies will find it hard not to love a present from here! Plus you're supporting local talent!
This Christmas market really is somewhere to browse for hours and find a one off gift fit to grace any seasonal stocking!
(Open 10.30am-5pm)
---
The AMEX Christmas Market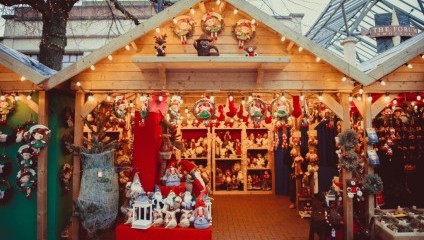 AMEX Christmas Market, AMEX Stadium, Village Way, Brighton BN1 9BL
That amazing feeling when you spot the perfect present that will make someone's Christmas one to remember…if it's going to happen anywhere, it will be here!
Spanning two floors of the West Stand of Brighton & Hove's AMEX Stadium, this Christmas market is host to a wealth of local businesses, selling unique gifts to inspire even the most jaded of Christmas shoppers.
Entry by ticket online (kids under 12 go free) and plenty of free parking; stalls selling everything from festive food to seasonal smellies.
So embrace the festive feels! This one's a festive shopping experience on a grand scale with something to suit everyone!
---
One Garden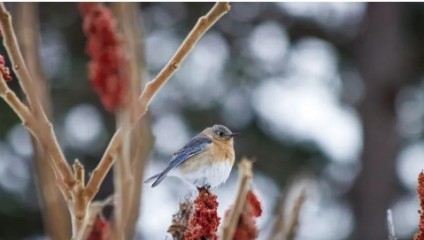 One Garden Christmas Market, Brighton Stanmer Park, Lewes Road, Brighton BN1 9SE
Head to the festive gardens of the Stanmer Estate for a Christmas celebration of the very best of Sussex local produce and crafts.
You'll discover some gorgeous, handmade jewellery, hampers and homewares or a Christmassy candle or two! Still seeking that Christmas outfit for the big day? You'll even find clothing here - including for kids and dogs, if you want to be fully coordinated and picture perfect on this year's Christmas round robin!
There's an opportunity to come face to face with the big guy himself too, with tickets available to meet Santa. Children can also post him a letter for free in the Christmas postbox and pick up a decorate your own gingerbread man kit!
(Open 3 and 10 December) (9.30am to 4pm)
---
Brighton Christmas Artisan Market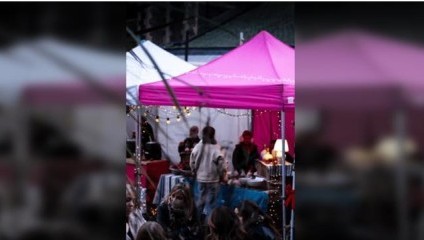 Brighton Christmas Artisan Market, Circus Street Market, Circus Street, Brighton BN2 9QF
Craving a cosy, homely Christmas vibe? Look no further than this artisan Christmas market that's brimming with creative, Christmas, community cheer!
Packed with a variety of seasonal lovelies to buy from local artisans, craft makers and food producers, it's a charming mix of quality and homespun with knits, prints, gifts and festive food and treats galore?.
Mad about mince pies? Munch them to your heart's content at this market while you browse the stalls to the sounds of seasonal serenades from local musicians. Not even man's (or woman's) best friend has to miss out on the fun - it's a dog friendly event!
Entry is free so there's no reason not to embrace a cool Yule here!
(Open from 10 Dec at 11am)
---
Cliffe Christmas Fair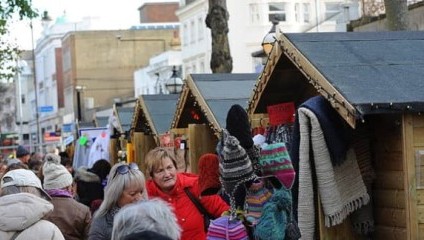 Cliffe Bonfire Christmas Market, Lewes Town Hall, 18 High Street, Lewes BN7 2QS
This is a real local affair, in the picturesque town of Lewes, just outside Brighton, famed for its bonfire celebrations - in fact this market is organised by the Bonfire Society!
It's a lovely, festive market with a multitude of independents offering a seasonal spread of all that the local area has to offer in the way of crafts, food and drink. A true taste of local life if you will!
Just like its quirky cousin, a Lewes Christmas market is full of delightfully individual festive treats in a glorious setting. One not to be missed.
(9 Dec, 10am - 3pm)
---
Late Night in the North Laines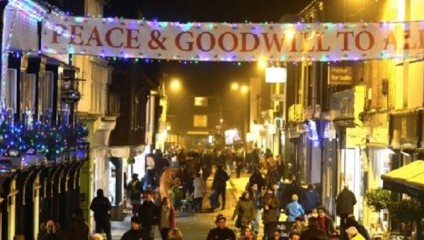 Spilling out onto the bohemian North Laines in a riot of colour and festivities, this late night shopping event qualifies itself as a Christmas market that will solve all your gifting dilemmas while still supporting local independent shops and businesses.
This quirky, eco conscious shopping area of Brighton, has some amazing green gifts to choose from, including the opportunity to screen print your own Christmas cards! Many of the shops offer discounts that are only available on the night and the odd free gift with a purchase.
The free fizz flows and the Christmas vibes are plentiful! Grab a bag for life and make a dent in that Christmas list!
---
Brighton Etsy Made Local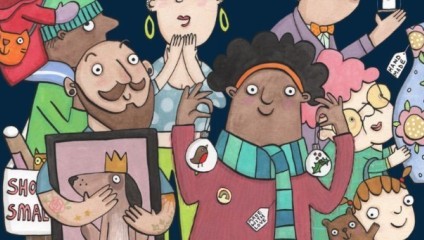 Brighton Etsy Made Local, Clarendon Centre, 47 New England Street, Brighton BN1 4GQ
We all know and love this online marketplace that is chock-a-block with unique and handmade gifts but, come December, the Brighton gang transform into a living, breathing community of Christmas traders!
If you need inspiration for your Christmas list or gifting ideas for friends and family, this is the place for you. Inspiration is here in spades with over 75 local designers, makers and artists and some incredible, colourful workmanship. You'll find the Christmas present you didn't know you were looking for!
Everything is covered from home and garden to accessories. The only seasonal stress you might have is choosing from everything that's on offer!
Treat yourself to something original this Christmas at the Brighton Etsy market and have fun meeting the people behind the gifts!
---
Lewes Artists & Makers Takeover and All Day Fair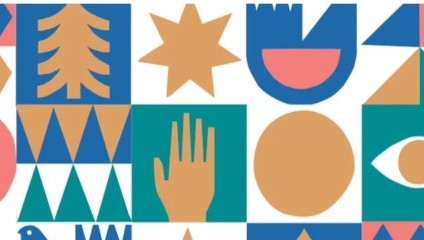 Lewes Artists & Makers Takeover and Fair, Lewes Town Hall, High Street, Lewes BN7 2QS
It's that time of year again, the annual takeover of Lewes Town Hall on the night before an all day Artists and Makers Christmas Fair at the same venue - and this year they're celebrating their 20 year anniversary!
Stalls number a fantastic 80 plus! So let your imagination run riot on the amazing choice of gorgeous gifts and quality, original pieces from talented local independents that will be on offer. There will also be plenty of winter warmers in the way of homemade food and drink to keep you fuelled up for the shopping mission ahead.
Festive fun for all ages, including a Christmas craft corner for all those budding artists of the future! All funds made over the two days go towards a local primary school and there are beautiful items on sale to suit every budget, making this a really inclusive, community event that's sure to give you a warm, winter glow!
(Details and tickets for the preview night here)