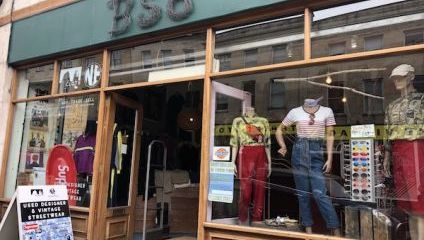 Bristol is at the heart of the up-cycling movement, and there's no better demonstration than its wide array of quality second-hand, vintage and charity shops. Well-established as the cutting edge of cool, these are the best charity shops in Bristol to pick out some new threads, furnish your new place, or hunt for that golden bargain as the pennies get pinched…
---
SOFA Project
Specialising in - believe it or not - up-cycled and 'pre-loved' furniture, this local favourite is a firm believer in revitalising second-hand electrical goods, clothing and household items, and keeping as much as possible away from the tip. Built on a firm 'reuse and regenerate' philosophy, the project encourages us to rethink our relationship with the items we use, lengthening their life by passing them on and giving them a bit of love. The project has two shops (one in St Phillips, the other on Gloucester Road), and also runs a bustling eBay store, so there are plenty of ways to explore what they have on offer. They offer a delivery service and welcome donations of items too.
Image Credit: SOFA Project
Find the SOFA Project at Old Market, 48-54 West Street, St Phillips, BS2 0BL, and at 19-21 Gloucester Road, Bishopston, BS7 8AA.
Alternatively, check out their eBay store.
---
Uncle Sam's American Vintage
For vintage clothing in Bristol, journey to the ever-popular Park Street, where you will find the longest-running vintage shop in the city and continues to offer a broad stock of 20th Century American fashion. Uncle Sam's imports directly from California and so it's always worth checking out their latest offerings. Beyond the clothing, the shop is a fun place to visit, bursting with retro vibes, original movie posters and rare vinyl. So if American vintage from the 40s to 80s is your game, check out Uncle Sam's! Also don't miss their little sister Dustbowl Vintage in the Clifton Arcade, which specialises exclusively in remarkable menswear.
Image Credit: Uncle Sam's Vintage via Facebook
Uncle Sam's Vintage is at 54A Park St, BS1 5JN.
Dustbowl Vintage is 6 Clifton Arcade, Boyces Avenue, BS8 4AA.
---
BS8
Another Park Street favourite (it boasts quite the collection), BS8 has been around for decades as one of the leading quality vintage shops in bristol, proving just how popular it is with the Bristol crowd. Although not solely focused on vintage fashion (you'll need to head to the back of the shop to find that), it always stocks a wide range of quality styles. From Levi's jeans to outrageous printed shirts, leather jackets to classic snapbacks, BS8 has it all. To top it off, the store hosts an in-house DJ all afternoon every Saturday, creating the distinctive buzz that Bristolians know and love.
Image Credit: BS8 via Facebook
BS8 is at 34 Park Street, BS1 5JG.
---
RePsycho
Gloucester Road is a must-visit if you are after the best charity shops in Bristol, and one of the best you'll find is RePsycho. The shop is a vast playground for anyone interested in vintage fashion, with three floors offering everything from denim and shell suits through to party wear, Sixties gear and delightful oddities for your home. And if you've still got the brain space, after all that, delve into the basement's array of classic vinyl records. Established in 1995 having previously traded at the Portobello Road Market in London, the shop's owners work hard to refresh its stock at regular intervals, keeping the prices affordable to keep the clothing moving. For an alternative a bit closer to town, check out Urban Fox, which is run by the same owner, and presents only the very best finds to cut down on rummaging time.
Image Credit: RePsycho via Facebook
RePsycho is at 85 Gloucester Road BS7 8AS.
Urban Fox is at 58 Corn Street Bristol BS1 1JG.