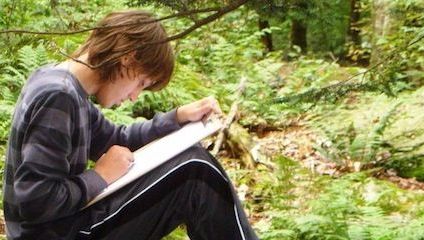 An indispensable directory for the dedicated draftsman
Perhaps you've recently found that empty sketchbook from Christmas, along with a renewed sense of enthusiasm and inspiration. Maybe you've decided to take up a new hobby for the autumn. You might be a seasoned sketcher with a keen eye for detail. Whatever your situation, read on for our favourite places in London to sit back and sketch.
---
Natural History Museum
The Natural History Museum is a brilliant resource for anyone who wants to start sketching wildlife - these birds and beasts stay still. If you can, try and head down on a quieter term-time weekday, when there will be fewer crowds to work around. Both the 'Birds' and 'Mammals' corridors have a wealth of specimens to choose from, and the 'Images of Nature' section of the museum has a dedicated space where visitors can leave drawings - with staff selecting their favourites for display.
The Natural History Museum can be found on Cromwell Road, South Kensington, SW7 5BD.
Natural History Museum © Heather Cowper
---
Richmond Park
Now that you've honed your skills on stationary species, it's time to venture outdoors - and there's no finer area of London than Richmond Park for spying wildlife. Deer, 144 different species of bird, insects - including stag beetles - foxes, rabbits, voles: the list goes on. That's without mentioning the wealth of plant species and beautiful trees, while the landscape views aren't too shabby either. Richmond Park has it all.
Richmond Park can be found in Richmond, TW10 5HS.
Two deer at Richmond Park © Keven Law
---
Columbia Road Flower Market
If flora and fauna is your thing then Columbia Road Flower Market is the place to head. The variety of houseplants, flowers, shrubbery and exotic species provide plenty of inspiration, and it's a nice opportunity to brush up on your crowd scene sketching. The market opens every Sunday, and the busy environment means you've got to be speedy - another good skill to hone.
Columbia Road Flower Market runs every Sunday on Columbia Road, E2 7RG.
Columbia Road © Joel Suss
---
Little Venice
It's an urban oasis complete with a nice of subject matter: Little Venice is a calm stretch of water ideal for drawing. The picturesque riverside houses, wildlife, cafes and, naturally, gracefully gliding canal boats all provide plenty of scenery to sketch.
Little Venice can be found nearby to Paddington, W9 2PF.
Pride of London, Little Venice © David Hawgood
---
Greenwich Observatory
Greenwich Observatory sits proudly atop a hill in Greenwich Park, and affords clear views of London in all directions. If you're sketching in London, you might as well try the skyline, and this is one of the finest places in the city to view it. The building itself, with its magnificent baroque features and large domes, is also worth devoting a few pages to.
Greenwich Observatory can be found in Greenwich Park, SE10 8XJ.
London from Royal Observatory © Guillaume 1995