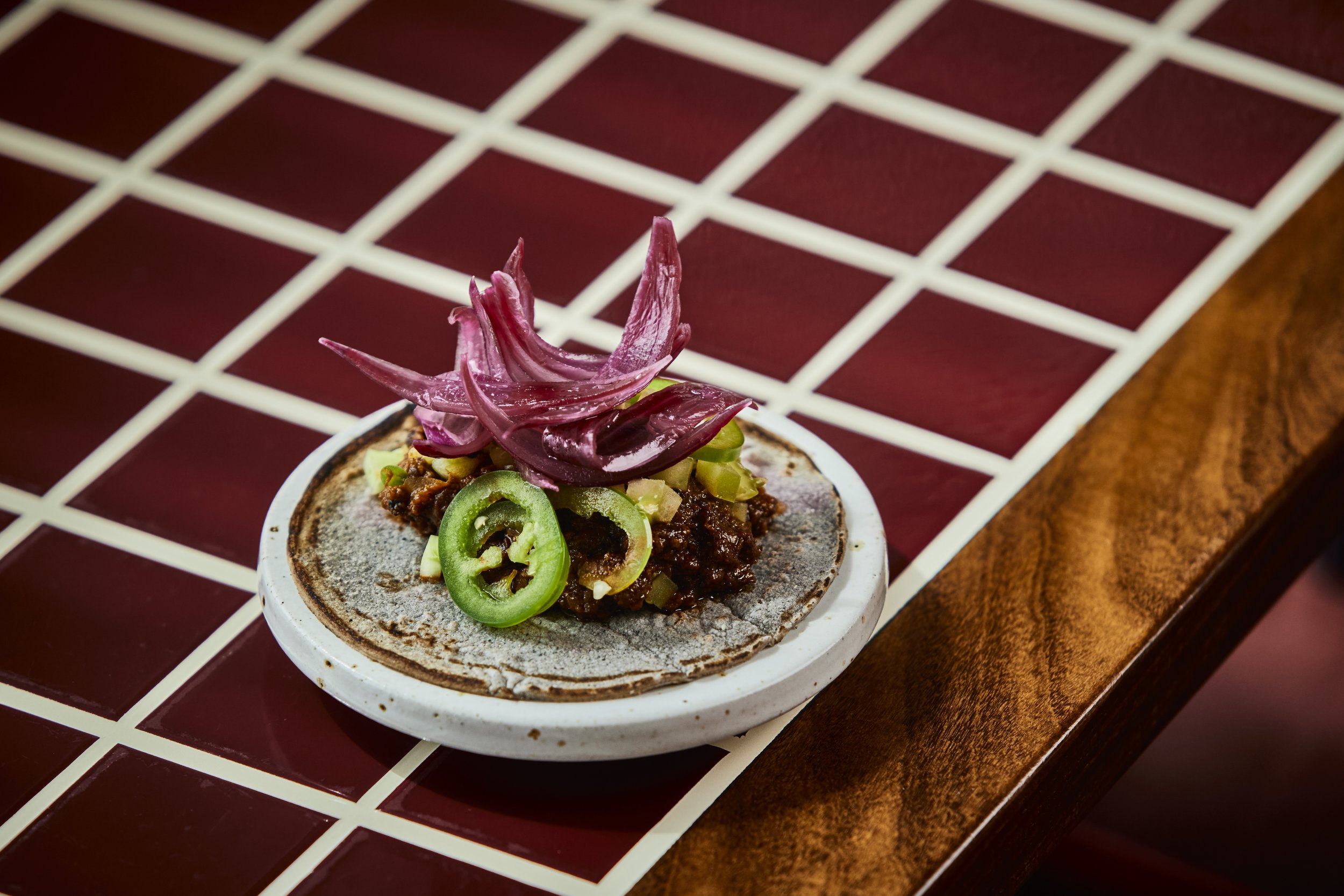 From fine dining to street food that will blow your socks off, these are the best Mexican restaurants in London 2023...
A few years back, if you were craving Mexican food you would have been stuck with the Tex-Mex edition of tacos, tortillas or tostadas. Thankfully, London has evolved since then and has exploded onto the food market with restaurants providing the authentic flavours of Mexico- no matter if it's Michelin starred mezcalerias or traditional taquerieas, street food or fine dining. Discover beyond guacamole and stringy cheese all over your burrito, and discover our list of the best Mexican retaurants in London 2023. Buen provecho.
---
KOL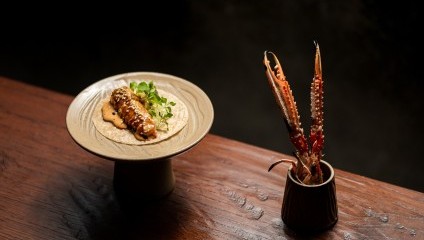 Lower Ground Floor, 9 Seymour St, London W1H 7BA
KOL is the new kid on the block that was opened in 2020 by Mexican chef Santiago Lastra- and, unsuprisingly, within 18 months, it was awarded it's first Michelin star. Combining the culinary influence of his Mexican heritage with a hyper seasonal menu, Lastra encompasses the meaning of taking traditional cooking methods and exploring them in innovative ways. Simple flavours and bold ombinations have allowed for a menu that will have you salivating immediately. Their current spring menu boasts flavoursome dishes such as tacos adorned with sea buckthron and tasty enmolada with pennywort. There's also a vegetarian menu with vegan options available on request.
Combine the fantastic food with the warm, simplistic, teracotta-hued interiors and you'll be a little bit closer to that Mexican trip to tulum you've been saving up for. Weather not guaranteed.
Understandably, KOL tends to book up quite fast, so make sure you make a reservation before heading on down.
---
La Chingada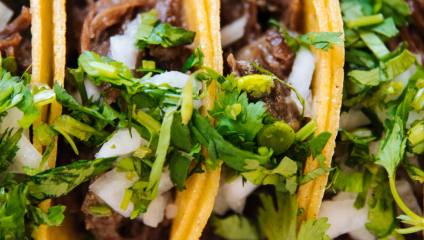 12 Rotherhithe New Rd, London SE16 2AA
From the popular to the unassuming, with bright pops of colour and comic sans signage, if you didn't know better, you'd walk right by it- and that's the way most people like it at La Chingada. Their colourful meals are made with local and organic ingredients, from tacos to burritos with a liberal dose of cheese, a strong selection of salsas, and aromas that will have you feeling hungry all over again. Good thing the portions are generous!
No need for reservations here, meals are reasonably priced and you'll never leave disappointed. Whats not to love about La Chingada?
---
Decimo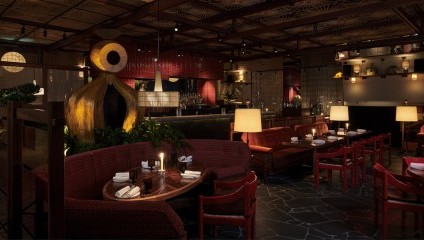 10th Floor, 10 Argyle St, London WC1H 8EG
You'll find Decimo on the 10th floor of The Standard hotel, meaning not only is the food great (otherwise we wouldn't list it) but there's a view accompanying it too! Serving Mexican food combined with Spanish accents, Decimo was created by Michelin starred chef Peter Sanchez-Iglesias who was inspired whilst travelling around the country. Tacos filled with cauliflower or pork (veggies can breathe easy) can be topped with caviar for an added dose of luxury. There's a few menus to explore- packed with flavour and served in colourful portions, the a-la-carte boasts delicious bites including monkfish, tortillas and the perfect mezcal to pair with any dish. They also have a simple Sunday brunch menu serving tacos and squid skewers along with egg based dishes. Pair this with the richly decorated interiors and guacamole to match and you'll be in the equivalent of Mexican food heaven. Just make sure to book in advance.
---
Santo Remedio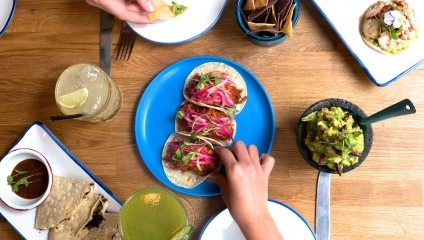 152 Tooley St, London SE1 2TU
What began as a series of pop-ups and supper clubs, quickly evolved into a popular establishment serving authentic plates of Mexican food. The name 'Santo Remedio' translates to 'holy remedy' and boy does this restaurant live up to it. Serving delicious dishes of everything Mexican from anotjitos to flautas, tacos to tortillas. Dream team duo Edson and Natalie Diaz-Fuentes do all in their power to bring the vibrant culture and flavours of Mexico to the tip of your taste buds. Inspired by the time the couple spent in Oaxaca and Yucatan, they use speciality ingredients such as grasshoppers (yes you heard correct) sourced directly from Mexico- that is combined with dishes for added texture and flavour. Check out more of the menu here!
Santo Remedio is not only a great spot to grab a meal, its perfect for after work drinks too; with bottomless brunch available on Saturdays. Psssst- they have a restaurant in Shoreditch now too! You can find them here.
---
Mestizo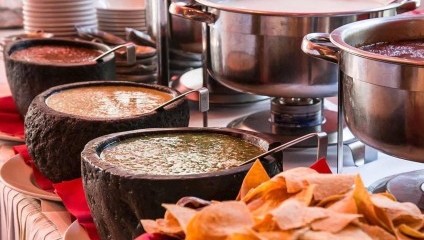 103 Hampstead Rd, London NW1 3EL
Restaurant and tequila bar combined? Don't mind if we do. Born in 2004, this vibrant restaurant was opened with the purpose of bringing authentic Mexican food to Londoners, and we can't begin to tell you how grateful we were. With only the likes of Tex Mex giving us an insight into this cuisine, Mestizo took the reigns and developed a menu that packed a punch, had hefty portions and left each customer with a smile on their face. Their signature dishes include molcajete Mestizo (a cheesy, meaty, delightful sharing platter) and mole poblano (chicken served with chocolate chilly sauce; don't knock it till you've tried it). And the menu doesn't end there. Vegans have their own menu entirely- try the enchiladas de mole- there also nut free, gluten free and lactose free, unusual for Mexican restaurants, and beautifully convenient for modern day dietary requirements. Lest we forget the Tequila menu packed with delicious tequila that will completely change your mind about that hangover inducing shot experience you had on your 18th birthday. Whatever you decide, you're bound to find something for everyone here and pretty much every occasion- Salud!