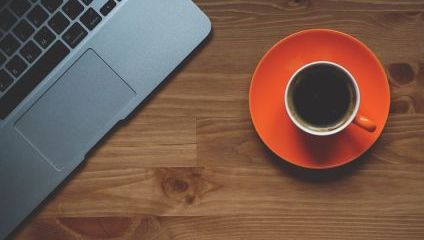 It's time to focus! We've picked out the 5 best coffee shops and cafés in London that offer a little serenity, good coffee and a comfortable space to work in.
Coffee shops can be a fantastic environment for freelancers to get out of the house and focus with a warm brew and a croissant. But with loud music, screaming children, patchy wifi and a lack of plug sockets to contend with in the chaotic hustle and bustle of London, it isn't always the easiest way to work. If your packed local Starbucks or Costa isn't working for you anymore, we've picked out five of the best coffee shops and cafés in the capital for working on your start-up or that novel you've been meaning to write for years, promising a quiet comfortable space, good coffee and fast wifi a-plenty.
---
Hanbury Hall Café
Close to Brick Lane you'll find this quiet and cosy space inside Hanbury Hall, a beautiful 17th century venue in the heart of Spitalfields once frequented by Charles Dickens. This place is a little bit of a gem as it isn't particularly well known, and it boasts unlimited fast wifi, great coffee, sandwiches, slices and pastries to keep you refreshed and motivated throughout a productive afternoon.
22 Hanbury St, London E1 6QR
---
Barbican Cinema Café
Working inside a cinema café probably doesn't sound ideal, but this cinema café offers the ideal working environment. Not only is this venue located inside the architecturally beautiful Barbican, it's a quiet and artistically inspiring space to get some serious work done. You don't just have to survive on popcorn either, there are a great selection of freshly made soups, wraps and sweet treats available.
Barbican Centre, Art's Centre, Barbican Centre, Silk St, London EC2Y 8DS
---
Worker's
This Dalston cafe was created specifically for workers who were tired of the fact that power and good-quality wifi is a bit of a rarity. It's a membership only café where members pay a set price each month for complete use of the café facilities as well as unlimited coffee and 20% off their varied sandwich selection. Although you pay a fee it works out cheaper than going to a coffee shop everyday, so it's the perfect option for people who need a regular focused workspace with seriously good filter coffee too.
404 Kingsland Road, E8 4AA
---
Timberyard
This small coffee chain located in Seven Dials and Soho describes itself as a place for 'tea, coffee work and play'. With fast free wifi, locally brewed coffee and even a special wellness menu of superfood salads and juices to keep you feeling energetic throughout the day, this is a spacious and welcoming independent coffee shop in Central London.
7 Upper St Martin's Ln, London WC2H 9DL
---
Google Campus
The Google campus has a strong community atmosphere and equally strong coffee. With plentiful plug sockets, lightning fast wifi and an on-site café, this space is ideal for those working on a long-term project who can't quite justify renting a studio space. Work alongside likeminded individuals on the shared desks and maybe even do some networking. You do need to apply online to use the space but this is no exclusive members club, it's inclusive, only takes a couple of minutes and best of all, it's free to join.
4-5 Bonhill Street London EC2A 4BX