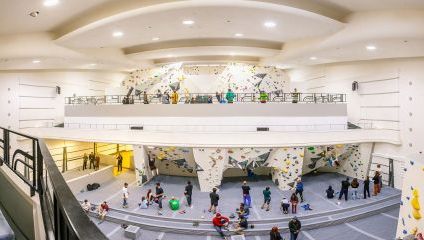 Scale some heights and check out the best places to go rock climbing in London!
When you think of London, mountains and climbing aren't exactly the first to come to mind... unless you have a random image of scaling Big Ben. But for adrenaline junkies, those seeking a fitness fix or those who are simply looking to try something new, you'd be surprised to discover that London is actually full of climbing centres with safety instructions on hand to teach you the ways of bouldering, top-rope climbing and lead climbing.
At the most basic level, climbing is an incredible way to get strong and mobile, it's fun and addictive and a great antidote for stress. Climbing is perfect for an alternative kid's birthday party to tire the youngsters out, and a fantastic alternative to netflix and chill. So check out our list of the best places to go rock climbing in London...
---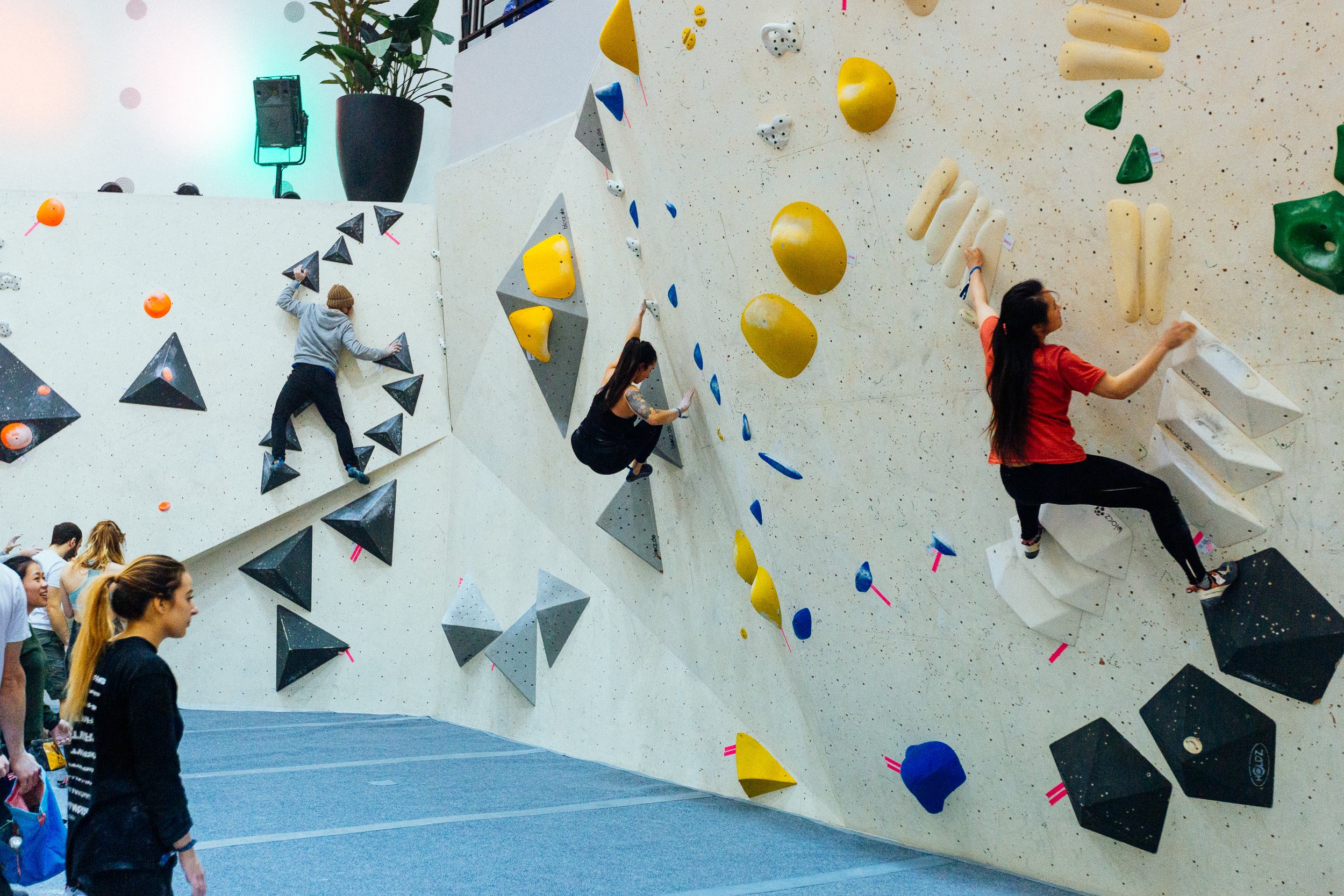 The Arch Climbing Wall
Tower Bridge Business, Drummond Rd, London SE16 4DG
It's good news when a climbing centre was started by a climber themselves and with the Arch Climbing Wall, that's exactly what happened. It began as a mere bouldering centre tucked underneath the railway arches of London Bridge, but after a huge growth in popularity and swaying from a fringe activity to a well-enjoyed major sport, The Arch expanded into 4 full sized climbing centres, situated in:
Their aim is simple, to provide the best climbing possible to their customers allowing Londoners to escape the everyday stresses of city life and set themselves a constructive challenge. They have a mission to help combat loneliness in London and really prioritise the entire well-being of those entering The Arch.
If you're unsure, they encourage you to drop in for a free coffee and look around. Their main centre in Bermondsey has over 300 routes, a 50m traverse wall and a 20m long roof giving even the most adventurous some space to test their limits. Once you've had your compulsory introductory session, you're free to turn up whenever you like (within opening hours) and enjoy your climb.
Check out their special courses on offer too, from women-only classes to 1-1 personal sessions there's tonnes to help you improve and enjoy this sport in a multitude of ways and environments.
Pricing varies depending on what you need, but general admission starts at £9.50. We'll bring the chalk and see you there!

---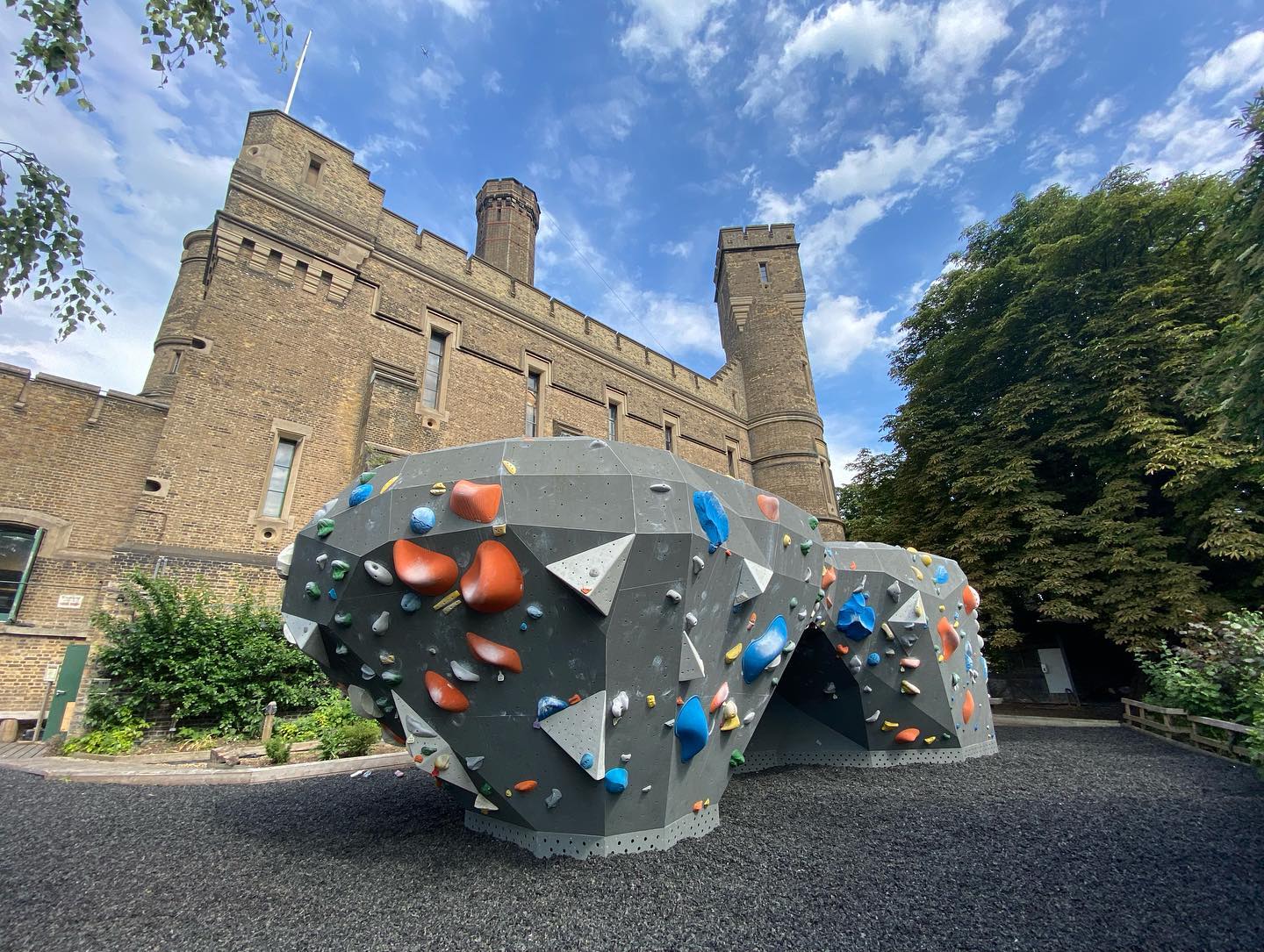 The Castle Climbing Centre
Green Lanes, London N4 2HA
Situated in an converted water pumping station that looks rather like a castle, is Castle Climbing Centre... (aptly named right?). It's run by climbers, for climbers receiving more annual visits than any other climbing centre in the UK. The centre is jam packed with over 450 routes to explore and enjoy making it a great place for pro's and beginners alike. There's a setting schedule in advance for grades so you can prioritise certain climbing routes, however if you want to lead climb remember to bring your own rope.
As with pretty much every place we will add to this list, everyone wanting to climb must complete a registration form that you can do online beforehand and declare whether you're a supervised or unsupervised climber and whether you'll require equipment or not.
After challenging yourself on the walls why not stop by their delightful café and grab yourself a bite to replenish and relax. If you're feeling a little sore after your session you can also book a massage, a yoga class... you can even have your bike prepared. We're not surprised everyone heads here!
Entry starts from £10 per adult. You can book your ticket here.
---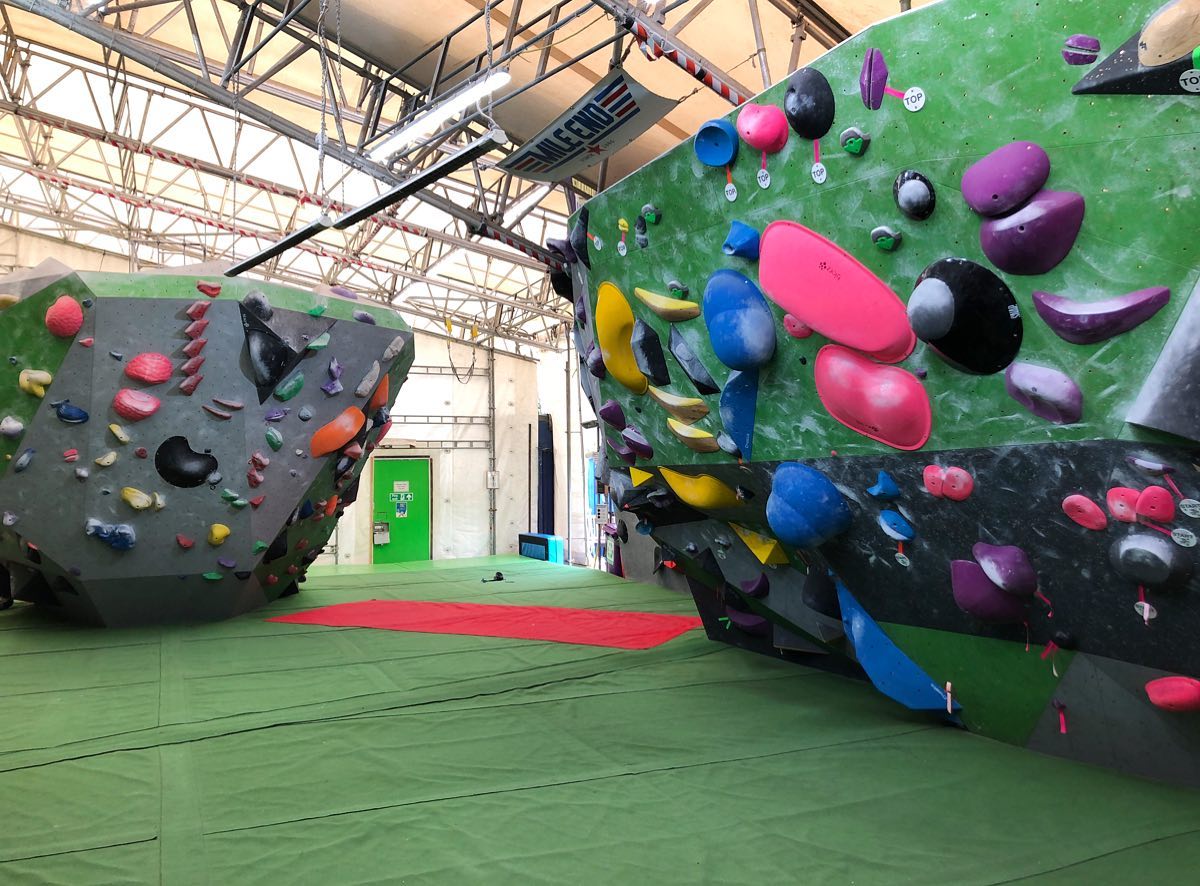 Mile End Climbing Wall
Haverfield Rd, London E3 5BE
Another climbing wall centre with a heart warming ethos. The Mile End Climbing Wall is maintained by a charity known as DEVELOPMENT through CHALLENGE which focuses on promoting personal development through challenging physical activity. So if you've chosen to climb here, you can rest assured your money is going towards a good cause.
Only a five minute walk from Mile End tube station, this centre is both easily accessible and centrally located offering bouldering, top-rope climbing and lead climbing as well as more advanced training areas.
They work on maintaining their relaxed, social atmosphere through their array of courses on offer. We'll be hanging around here for sure.
Prices start from £13 for a single entry, you can register here.
---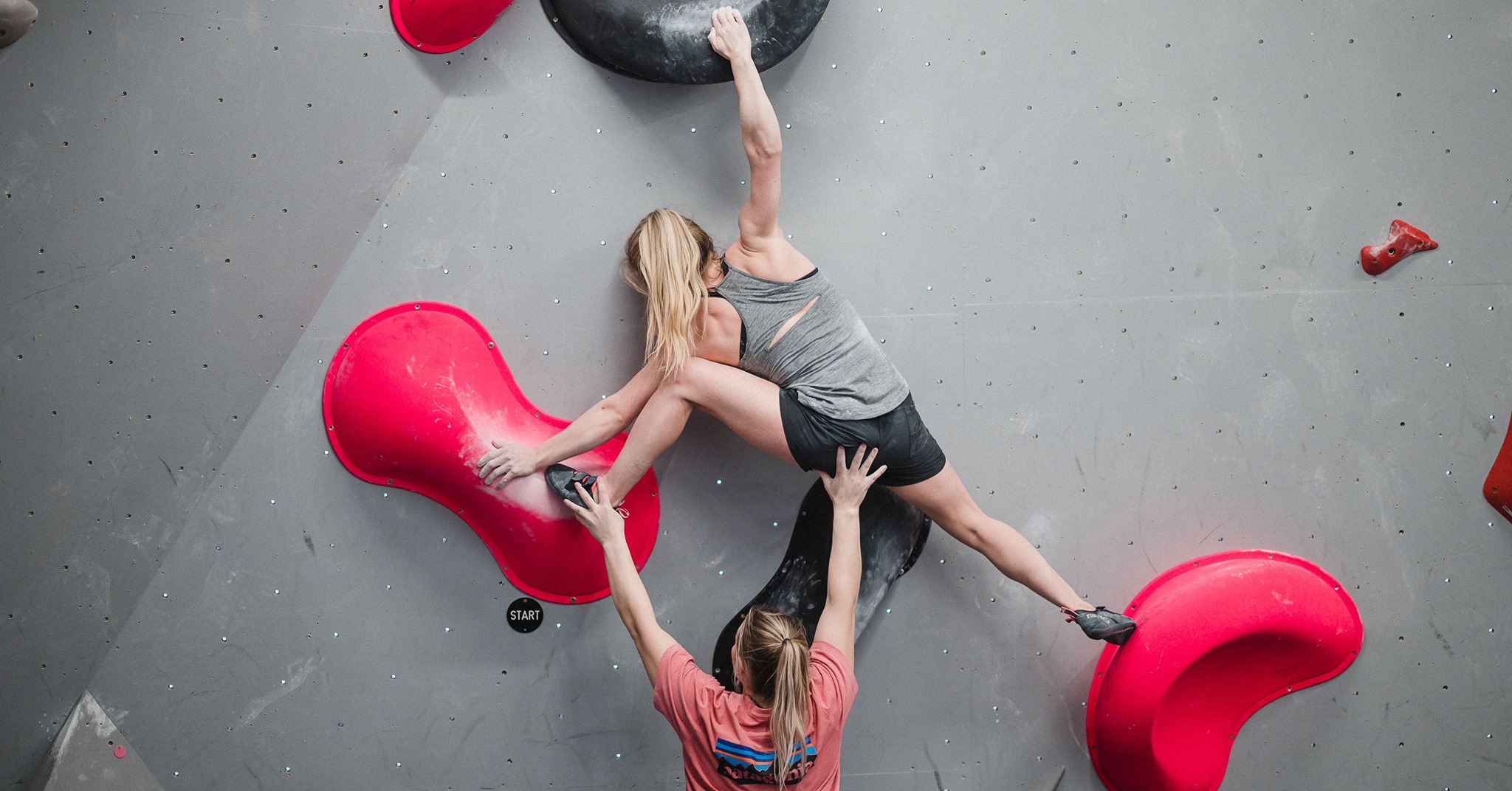 The Climbing Hanger
5, Parson Green Depot, 33-35 Parsons Green Ln, London SW6 4HH
Three floors of indoor climbing and fresh local coffee, The Climbing Hangar began in Liverpool and expanded over the years with one of their most popular sites now being based in London. They aim to help their customers lead happier, healthier and more connected lives through climbing with a special focus on the postivie social impact climbing can have.
Everything at the Hangar is designed to be both easily accessible with the opportunity of being challenging also for the more advanced attandees. Helping all customers feel right at home. There are different classes available depending on the individuals needs and kids will have an absolute blast here. With climbing classes, parties and trips available for schools. There's not excuse for them to not get stuck in on the action either. Read more on whats available for the littluns here.
Induction classes are mandatory and can be booked here with adult admission starting at £14.
---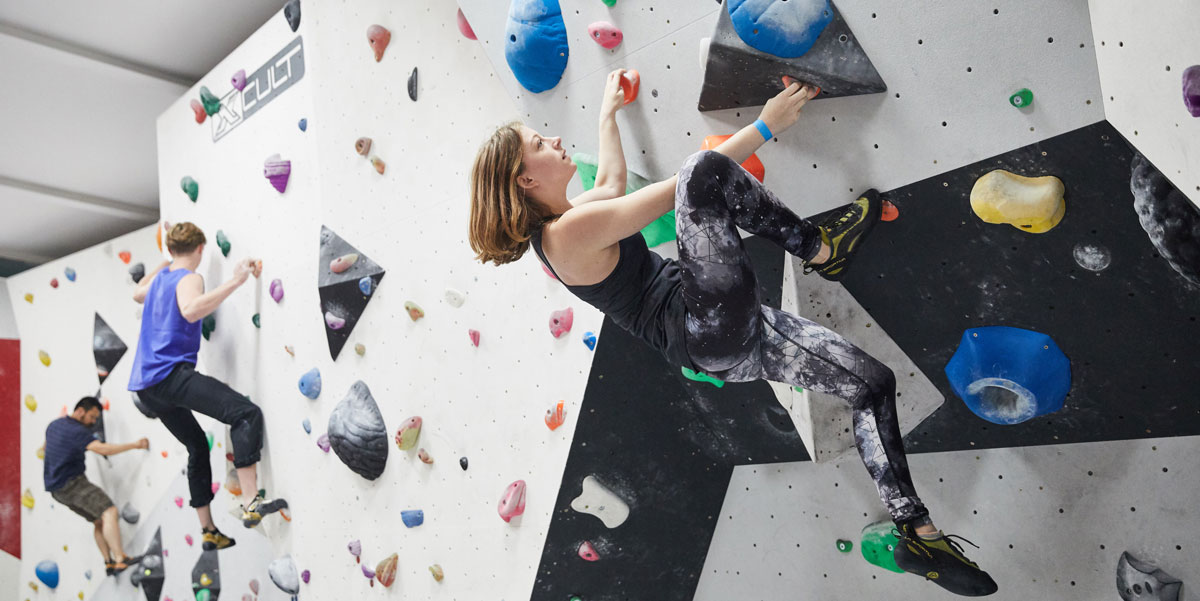 Westway Climbing
1 Crowthorne Rd, London W10 6RP
Westway is a world famous climbing facility is conveniently located next to Ladbroke Grove, offering over 350 routes on 110 roped lines up to a height of 13.5m (don't look down!...just kidding) and over 450 sqm of bouldering. The routes are changed every month (which you can explore on their pretty impressive schedule here) keeping you on your toes- and they go all the way up to a V10 grade.
There are training rooms if you want to work on your conditioning and high quality individual or group coaching sessions to aid you in perfecting your technicality. Pick from a range of different types of courses and lessons to learn to perfect and broaden your fitness. Check out women's bouldercise if you're looking for a new, fun and innovative way strengthen and tone your body, blast through problem solving exercises and expand your range of flexibility.
The centre provides an accommodating space for all abilities, whether you're ready to scale the heights like a pro or learn everything from scratch on a pay-as-you-go basis, the aim is to enjoy the physical benefits that climbing brings. We said it before and we'll say it again, Westway (and probably all other climbing centres) have a compulsory registration form to fill out, but if you have climbed before you can hit the walls (figuratively speaking) straight away.
Prices start at £10 for adults and increase depending on what you need to add as extra.