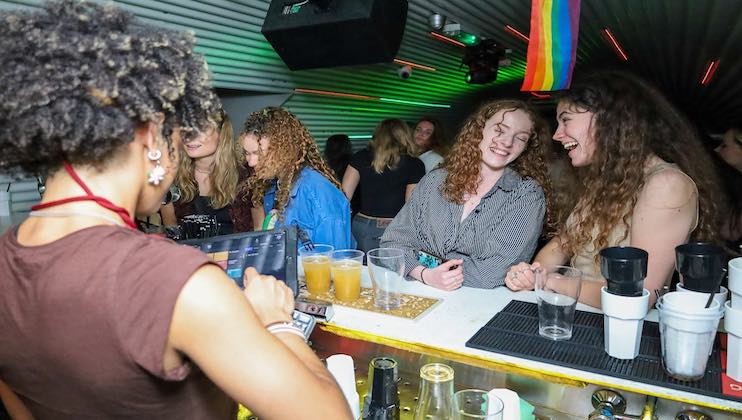 In the heart of London's LGBTQ+ landscape, where the scarcity of lesbian and queer women-only spaces persists, SHE Soho stands resolute as the capital's lone dedicated lesbian venue. Yet, London's lesbian scene is not confined to one space; it's a tapestry spanning East to West, offering an array of welcoming hotspots. From energetic clubs to sophisticated bars and friendly pubs, our carefully curated list promises an authentic experience. Whether you're seeking cocktails, epic music, or the camaraderie of like-minded women, join us in discovering London's vibrant lesbian nightlife.
---
Freedom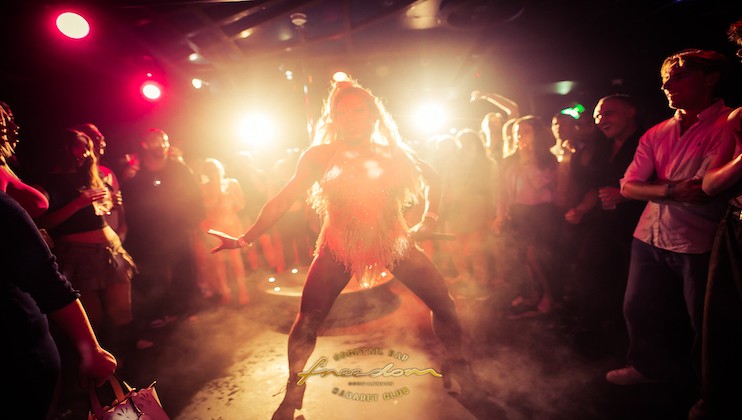 60-66 Wardour St, London W1F 0TA
While Freedom may not don the label of a "strictly" gay bar, it has undoubtedly earned its stripes as a cherished destination for London's lesbian community. This vibrant venue exudes an air of inclusivity and LGBTQ+ friendliness, making it an irresistible choice for a memorable night out. As you venture down to the plush party basement, be prepared to be swept away by a playlist of commercial hits, private booths for that extra touch of exclusivity, and the electrifying tunes spun by late-night DJs. It's a place where self-expression knows no bounds and where you can truly let your hair down.
Now, what sets Freedom apart isn't just its dedication to providing an unforgettable night; it's also about offering unique lesbian-specific events that ignite the London scene. Keep an eye on their calendar for upcoming gatherings tailored to the lesbian community, where like-minded souls converge to celebrate life, love, and the freedom to be oneself.
---
SHE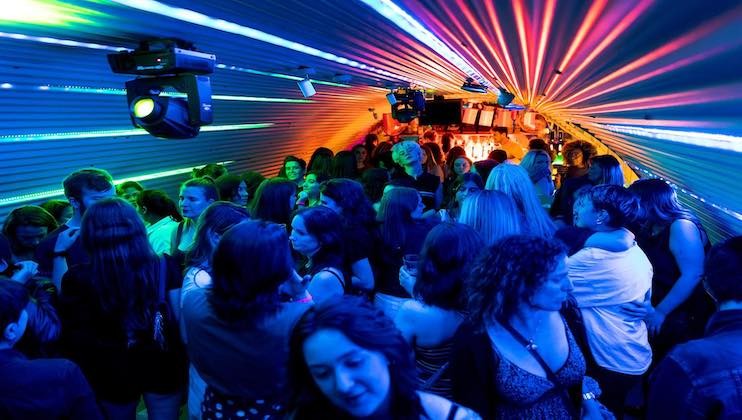 23a Old Compton St, London W1D 5JL
SHE Soho isn't just a club; it's a statement, a sanctuary, and a celebration of London's vibrant lesbian community. With its chic interiors and meticulous attention to detail, SHE Soho redefines what it means to party with purpose. As the city's sole venue designed exclusively for lesbians, it's not just about where to find the best cocktails; it's about finding your tribe, and perhaps a few colorful characters along the way. Weekdays here are a relaxed affair, a perfect spot for post-work drinks or a casual rendezvous away from the male-dominated club circuit.
But when the weekend rolls around, SHE Soho unleashes its true magic. Prepare to be dazzled by London's most uproarious gay comedy, captivating live music, and seductive burlesque acts that'll keep you coming back for more. Tina Ledger, SHE Soho's PR manager, underscores the importance of creating a safe space in a world where going out can be riddled with anxieties. SHE Soho stands as a beacon of acceptance, proudly trans-inclusive, and firmly opposing exclusionary rhetoric. In a city where LGBTQ+ spaces often cater predominantly to men, SHE Soho is on a mission to ensure that the interests and needs of queer women shine just as brightly, promising an unforgettable, empowering, and truly inclusive night out.
---
Heaven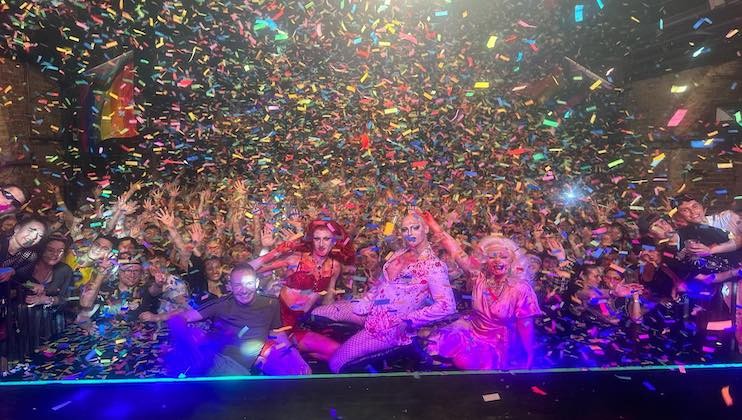 Under The Arches, Villiers Street, London, WC2N 6NG
While Heaven is renowned for its legendary gay nights, it's also a destination that speaks volumes to London's lesbian community. With late-night DJ sets that keep the dancefloor alive and kicking, it's no wonder Heaven is synonymous with unforgettable nights out. Beyond the electrifying beats, this venue boasts a lineup of residencies and irresistible drinks deals that'll have you coming back for more. And for our fellow lesbians seeking a spectacular night on the town, Heaven is a magnetic draw with its inclusive atmosphere. Keep an eye on their calendar for upcoming events tailored specifically to the lesbian community, because when it comes to embracing the nightlife, Heaven knows no bounds.
---
Dalston Superstore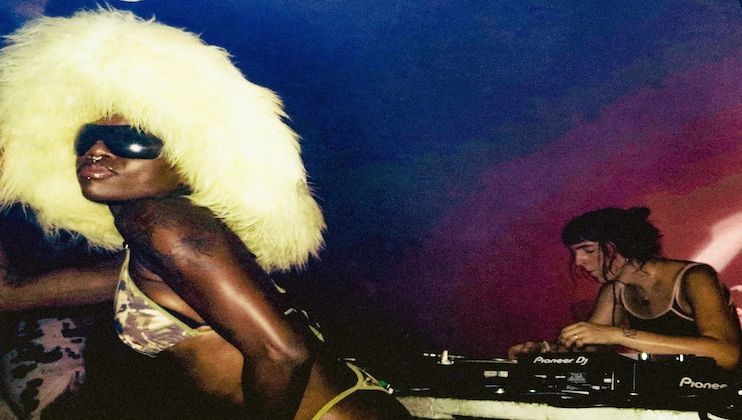 117 Kingsland High St, London E8 2PB
Tucked away in the heart of East London, Dalston Superstore is the cheeky and vivacious den of revelry that beckons you with open arms. As one of London's most vibrant gay bars, it's a playground for those who love their nights out with a generous serving of naughtiness. Here, you'll find a constant whirlwind of roaring nights, DJ parties that set the floor on fire, top-notch entertainment, and irresistible drinks deals that keep the good times flowing.
But what sets Dalston Superstore apart is its unapologetic celebration of rebellion and diversity. If you're a lady who loves ladies, you won't want to miss their sensational event, "Female Trouble." Curated by the irrepressible Celeste Guinness, this night is a heady mix of fierce femmes and rotating hot female DJ talent, all inspired by the audacious spirit of John Waters. It's a night where you can let loose, do what the hell you want, and revel in a unique blend of debauchery and freedom. Plus, the best part? Entry is absolutely free. So, whether you're a seasoned partygoer or a newbie in town, Dalston Superstore is your invitation to dive headfirst into the exhilarating whirlwind of East London's LGBTQ+ nightlife.
---
Royal Vauxhall Tavern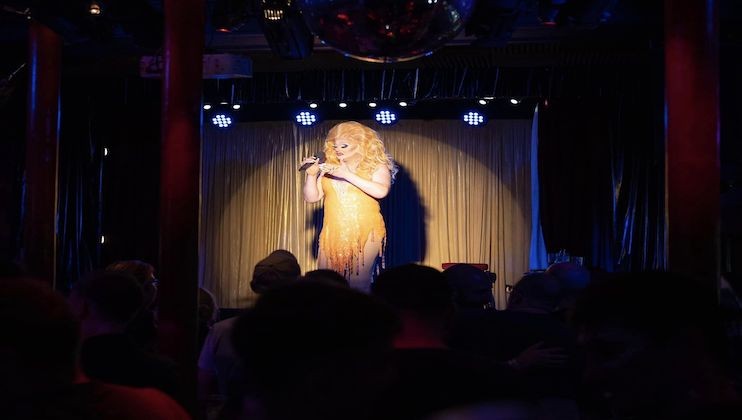 372 Kennington Ln, London SE11 5HY
In the lively heart of South London, the Royal Vauxhall Tavern stands tall as possibly the longest-surviving gay bar, and it's a charismatic marvel that beckons to all free spirits. Flamboyant, loud, and brimming with inclusivity, this Grade-II listed building has etched its name in LGBTQ+ history by embracing diversity and fostering an environment where the greatest queer artists and performers shine, from the fabulous Myra Dubois to the legendary David Hoyle.
But what truly sets this iconic venue apart is its refreshing departure from the typical nightclub scene. Here, you can savor quirky bingo sessions, indulge in mesmerizing poetry readings, and revel in the vibrant energy of fellow queers. Two standout nights to watch out for are "Butch Please" and "Kings of Clubs," renowned in the gay nightlife scene for their raucous, unforgettable experiences. On Tuesdays, "Bar Wotever" takes the spotlight, capturing the hearts of the lesbian crowd while maintaining an inviting atmosphere for everyone.
---
Rupert Street Bar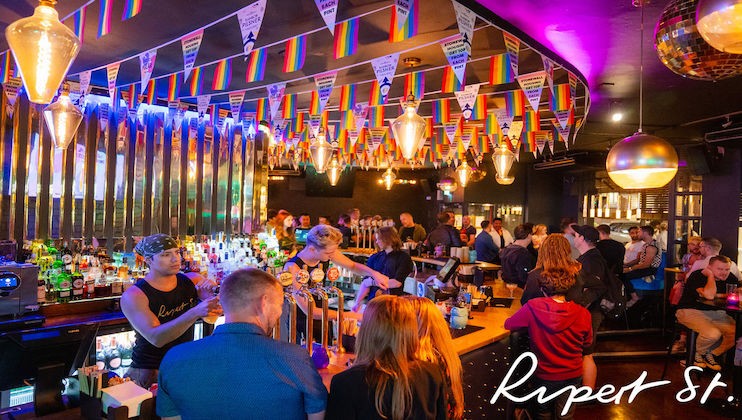 50 Rupert St, London W1D 6DR
For a fancier affair, we recommend popping by to Rupert Street Bar where you can expect sophistication and a welcoming embrace of the LGBTQ+ community. While not exclusively a lesbian bar, its elegant ambiance and inclusive atmosphere make it a standout choice for everyone. During the day, it offers a calm and relaxed setting for unwinding, but as the sun sets, the venue comes alive with buzzing DJs, ensuring an electrifying night out. With glamorous decor, glittering white bars, and daily drink deals like "Champagne Happy Hour" and "Cocktail Happy Hour" offering two cocktails for just £10, Rupert Street Bar is a stylish yet affordable haven in the heart of London.
Whether you're dressing up in your finest cocktail attire or seeking a welcoming spot to meet new people, Rupert Street Bar promises an unforgettable time in the heart of London's Soho. Keep an eye out for potential lesbian-specific events that may add an extra dash of excitement to your visit, as this iconic establishment continues to be a vibrant part of London's LGBTQ+ nightlife scene.
---
KU Bar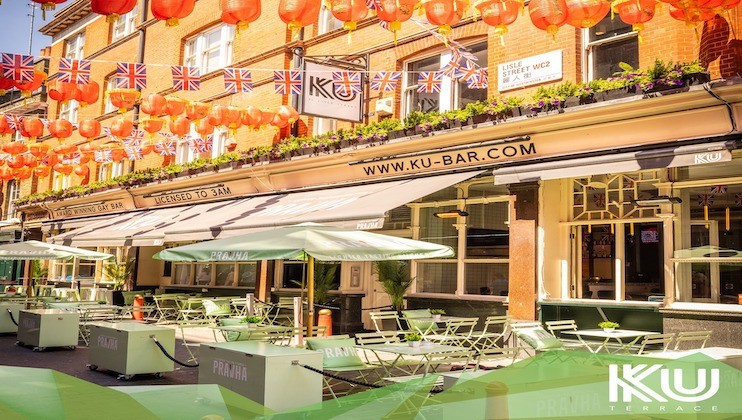 30 Lisle St, London WC2H 7BA
Ku Bar, a cherished gem of an establishment that has been lighting up London's LGBTQ+ scene for years and shows no signs of dimming its shine. It's not just a pub; it's a beloved institution that boasts an undeniable fan following in the gay community. Here, you'll find an atmosphere that's as cheerful as it is inclusive, complete with London's award-winning sexiest bar staff to keep the spirits high. The venue's extra-warm heaters may be responsible for keeping its shirtless staff looking effortlessly lust-worthy, making it a place where even employees revel in the fun while on the clock!
While Ku Bar welcomes everyone on the LGBTQ+ spectrum with open arms, it carves out a special place for lesbian revelers with its vibrant "Ruby Tuesdays." These nights are nothing short of hectic, blissful, and wild, drawing in party-seekers from all corners of the city to Leicester Square after work hours. Ku Bar isn't just a destination; it's a celebration where Soho's LGBTQ+ charm finds its groove. Keep an eye on their website for upcoming lesbian-specific events that promise to add an extra layer of excitement to your night out in London's iconic LGBTQ+ neighborhood.
---
G-A-Y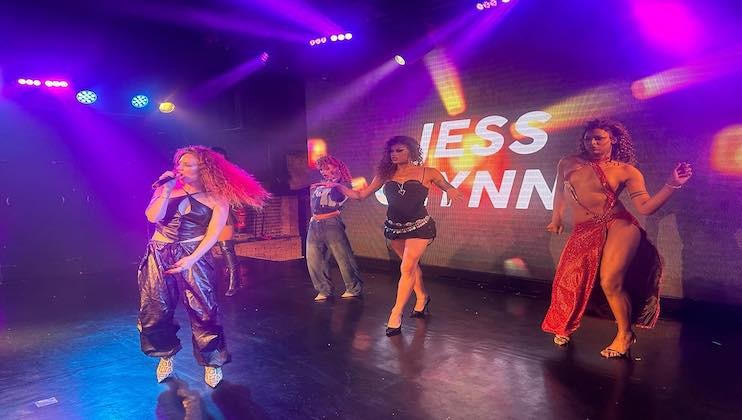 30 Old Compton St, London W1D 4UR
This iconic establishment hosts some of the queer community's most beloved events, ensuring there's always something spectacular to keep you on your toes. From the infectious energy of Sync or Sing Fridays to the enchanting Defying Musicals Saturdays, G-A-Y promises to knock your socks off with every visit. And if you're a fan of lecherous stripping competitions or breathtaking drag queens, this is undeniably the place to be, where entertainment knows no bounds.
For GBar-goers, the options are abundant, with four different locations to choose from—G-A-Y Bar, Late, Heaven, and Manchester—all offering their unique flavor of fabulous fun. To make the night even more enticing, G-A-Y Bar has a dedicated floor for lesbians and queer women, ensuring a welcoming and inclusive atmosphere that's as lively as it is legendary. So, get ready to party the night away in style, and be sure to stay tuned for upcoming lesbian-specific events that'll take your London nightlife experience to the next level. At G-A-Y, the queer party never stops, and you're always invited to join in on the fun!