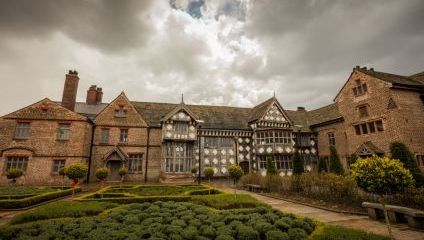 Go See This contributor Kelsey Mowat has rounded up some fantastic Salford locations that are well worth a visit.
Go See This contributor Kelsey Mowat has rounded up some fantastic Salford locations that are well worth a visit.
Salford is home to many interesting and action-packed activities that many people wouldn't know about. Whether it is historical places, ghost hunting adventures or just learning something new at a workshop in Salford, you're guaranteed to have fun at these Hidden Gems.
---
Salford Lads Club
Salford Lads Club is visited by people from all around the world because of a brilliant band called 'The Smiths'. The club is well known because of the picture that the band took just outside of the club and has since become an iconic image. But, not only is there a whole room dedicated to The Smiths, there's a whole range of great activities to enjoy. The club pride themselves on being a part of the community and they put on activities for boys and girls such as boxing and kickboxing, camping every summer and on certain days they put on football, badminton and other sports activities for children. Everyone who volunteers to work there is so nice and friendly which is what makes the club a perfect place to go and have fun.
---
Ordsall Hall
Ordsall Hall is an historic house which was built almost 750 years ago. This magnificent hall hosts many interesting activities that families can enjoy at any time of the year. Ordsall Hall is a place where you can dress up as a Tudor and discover foods that were cooked back in the 1500s. They host lots of interesting events all year round such as quizzes, arts and crafts and even Shakespeare in the Gardens where actors come along to re-enact famous Shakespearean plays like Romeo and Juliet in the open air. An event which is very popular is the ghost walk and previous overnight hunts have discovered poltergeist activity. If you're not brave enough to experience the supernatural in person, the hall has a GhostCam that live streams the most haunted part of the hall to viewers at home.
---
The Lowry
Across the water from MediaCityUK is The Lowry, which has been recently seen on televisions across the country playing host to Britain's Got Talent auditions. The Lowry is a well-known theatre venue, but it's also home to a great gallery space, a fantastic range of workshops and the venue stages performances across every artform. Included in the workshop offering are chorus singing, drawing, contemporary dance, adult art classes and adult acting classes - so there's something to satisfy everyone's interests. Their exhibitions range from the traditional to the more contemporary and cover everything from Pre-Raphaelite paintings to digital creations. In the theatre, you can find stand-up comedians, family shows, renowned dance performances, award-winning West End productions and new writing. The Lowry is endless in its offering and the venue also boasts the Pier Eight restaurant for some delicious pre-theatre dining.
---
Salford Homebrew
This is something that isn't mainstream but it's an interesting concept that many people might not be aware of in Salford - brewing your own beer and cider! Salford Homebrew sell everything you might need to brew your own beer, wine, cider and sprits. They stock individual ingredients and equipment as well as starter kits to get you going. If you're interested in delving into brewing your own beer, but don't quite know where to start, pay a visit to their shop or give them a call and the knowledgeable staff can talk you through everything you might need and provide you with useful tips.
---
Buile Hill Park
If you love nature or just chilling with your friends, then this park is the place to be. This park is one of the largest in Salford and has links with famous people such as artist L.S Lowry and the 'The Secret Garden' author, Frances Hodgson Burnett. It's rumoured that Hodgson Burnett even wrote 'The Secret Garden' during a trip to Buile Hill Mansion! There are lots of things to enjoy in the park such as the playground area, a tennis court, tree trails and outdoor gym equipment. Not only that, Buile Hill Park Hall is also there to explore and hire for conferences, weddings and other events. This park continues to be the most popular park in Salford, so why not go down and see what makes it such great place!
---
Salford Museum and Art Gallery
This museum, originally a mansion called 'Lark Hill', was built in the 1790s and turned into the first free UK library in January of 1850 and became a gallery in the following November. This museum is one of the most interesting historical places in Salford to visit because of the art that's exhibited there and the Victorian-styled street that has been built within the museum. There's a combination of permanent and temporary exhibitions in the gallery, so there's always something new to see. Although this gem is somewhat not hidden, it is full of historical insight and activities to enjoy with the family. There's also an excellent café that's well worth a visit!

To learn about other fantastic venues and events across the North West, sign up to our newsletter today at
---
goseethis.com/signup
Title Image: Ordsall Hall