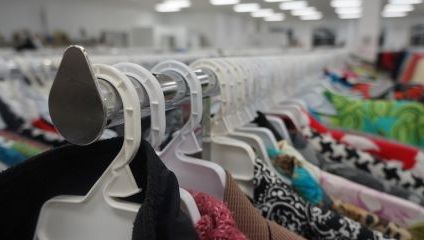 Hunt for treasure through London's best secondhand shops

Have an eye for a bargain? Can you sniff out a deal from a mile away? There are plenty of treasures to uncover in the capital's charity shops - without the price tags of typical vintage boutiques. Not only that, it's environmentally conscious, so you can feel like an angel while shopping. Here's the scoop on pre-loved shopping heaven.

North LondonPerhaps the most popular charity shop in North London is All Aboard in West Hampstead. A far cry from the carefully curated Chelsea boutiques, All Aboard demands that you rummage, and with plenty on offer you've got more chance of stumbling across something amazing. North London is particularly good for finding bunches of charity shops in certain places, and the main areas of activity are Holloway Road, with a variable but cheap as chips selection including Scope, Sense and British Heart Foundation branches.

Over in Highgate, there's a scattering of great charity shops including RSPCA and Mind just outside Highgate Tube station, with Oxfam Bookshop and Cancer Research close by on the High Street - expect vintage treasures and treasured objects from some of the borough's posher inhabitants. Finally, venture over to Crouch End, which perhaps doesn't have the trendiest selection of charity shops, but if you can hold your own against the area's older population you should be able to spot some good bargains.
South LondonThey say South is the new East (and East is the new North, and so on) and South London offers up just as many eccentric oddities as its Eastern counterparts. Most significantly is Traid Brixton, widely believed to be the best of the Traid branches, selling a mixture of vintage and high-street cast offs. Over in Clapham, Save the Children stocks an incredible selection of men and women's clothing and specialises in fancy dress and outlandish outfits for your next party.
Over in Battersea, Fara is full of carefully curated clothing donations where you're guaranteed to find something special, as well as a plentiful selection of books and VHS's (if you're feeling particularly nostalgic) at the back. For a dedicated few hours of secondhand bliss, Streatham High Street is the ideal South London destination. Along the road you'll find amongst others a Shelter, Trinity Hospice, Cancer Research, and undoubtedly plenty of other charity shop hunters to contend with.Central LondonAs you might imagine, Central is a little sparser for charity shops, but if you're willing to hop from bus to bus there are some great finds. Cancer Research UK in Marylebone is awash with ludicrously good-value designer buys and is largely accepted as the mother of all London charity shops. Tucked away on a street near Oxford Circus, the Salvation Army boast best-sellers stocking the bookshelves and the occasional Balenciaga or Prada piece, a true hidden gem just a few steps from Regent and Oxford Street's luxury thoroughfare. Over in Pimlico is Retromania, perhaps more of an affordable vintage boutique than a charity shop, and an immersive dressing up box of fashion finds.
East LondonEast London's trendy reputation and eccentrically dressed inhabitants mean that the charity shops in the area are littered with cool finds. Vinyl enthusiasts should pay a trip to Oxfam in ultra-trendy Dalston, with stacks of £1 vinyls ranging from 80's power ballads to new releases to play on your Crosley turntable, as well as a generous book supply and quirky men and women's clothes. For the particularly fashion-conscious, the amusingly named Past Caring between Canonbury and Islington is a must visit. This one has more of a junk shop vibe, and these once-loved items can now be loved again by you, if you're into your retro and nostalgic treasures!
Between Hackney Central and Bethnal Green you'll find an assortment of charity shops on Well Street that are famed in the local community, including The Charity Shop, Scope and Hackney Paragon Trust, stuffed full with the valuable glad rags of Hackney's coolest inhabitants. Over in Bethnal Green, pop into Llama's Pyjamas, the charity shop for the London Buddhist Centre. The kooky name gives you an indication of the sort of things you'll discover in there, from bowler hats and stone Buddhas through to children's toys.West LondonIn West London, you'll find the streets are paved with gold, and the riches of the Sloaney population on full display in the charity shops of the King's Road. Forget the typical image of charity shops filled with dog eared chick-lit novels, in Chelsea you're more likely to find a Chanel suit, which is, of course, reflected in the price hike. Still if you're looking to splash more cash and find something extraordinary, the King's Road Charity shops should be your first stop. And, of course, an honorary mention to Kensington High Street's famed concentration of charity shops, including an Aladdin's Cave of treasures in the two Octavia Foundations and an Oxfam stacked to the rafters with books.
If you want to keep your charity shopping less high-end, Putney High Street is another hub for second-hand activity. You're spoilt for choice with Trinity Hospice, Oxfam, Cancer Research and British Heart Foundation lining the street, ideal for an entire afternoon of treasure hunting.