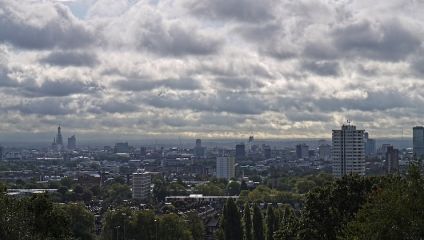 For all its energy, creativity and culture, London captured through the best vistas is really a sight to behold.

They say it's only when you look from above where you can experience great things. This couldn't be more true of our great Capital. For all its energy, creativity and culture, London captured through the best vistas is really a sight to behold.

Here's a guide on the best places to view London from above:
---
Parliament Hill summit
Possibly North London's finest viewpoint. Nested between Highgate, Parliament Hill and Hampstead Heath lies the summit. On a clear day, you can see London's finest landmarks including St Paul's Cathedral, The Shard and the London Eye. It's a truly stunning location and if you walk up on a sunny Sunday afternoon, you'll be accompanied by dogs of all types, doesn't get any better than that!
---
Telegraph Hill
Probably the closest big hill to Central London. Telegraph Hill Park is small in comparison to its North London neighbour but it's still a pretty location. The park usually brings in a young cultured audience and the views stretch all the way to Wembley Stadium. A South London hidden gem for sure.
Photo credit: Dale Harvey
---
Frank's Café, Peckham
In terms of views, the hype for this location is entirely justified. If you didn't know already, Frank's is a rooftop bar and restaurant on the 10th floor of a multi storey carpark. The rooftop is huge, which is ideal for drinks on warm evenings - which is why Frank's Café operates on a seasonal basis. It's the skyline however which really makes up the attraction of Frank's - the views from this point are spectacular. Added to the fact that Frank's Café is an arts and cultural venue which promotes music and drama events, this place is simply not to be missed.
Photo credit: Steve Wilde
---
Alexandra Palace
'The people's palace' is a multi-functional cultural venue in Alexandra Park, North London. Situated on top of a hill, it offers the best panoramic views of London. Again, the palace is well worth a visit of a lazy afternoon. With music events, an ice rink and even a pitch and putt course, this place is a great space for families and a unique selling point to living within walking distance.
Photo credit: Brian Adamson
---
Duck and Waffle
A restaurant for the adventurous eater. Based in the heart of the City, Duck and Waffle gives you a dining experience from London skies. The ride in the lift is pretty amazing and takes you 40 storeys above London's busy urban streets. The wonderful thing about this venue is that you can feel and see these incredible vistas even from a central table. It's an immersive experience and a popular one, so book in advance to avoid disappointment. That said, you see London captured in all its glory. Well worth a note in the diary!
Photo credit: Robert Young