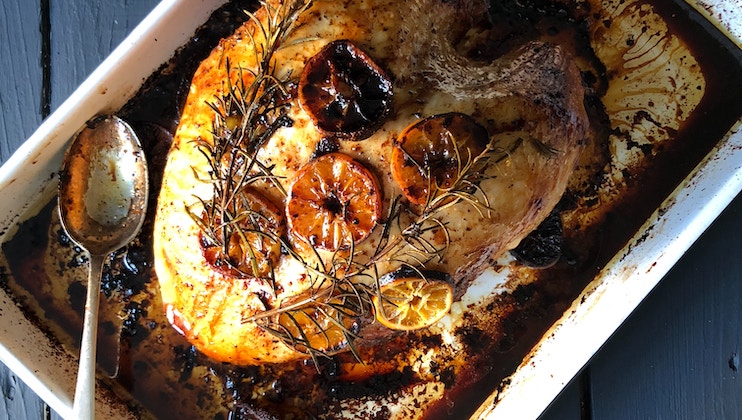 Say what you will about the darker days and the chill in the air that this time of year brings, but it's the perfect time for bundling on all your lovely (and forgiving) layers, and holing up for long lazy afternoons in a cosy corner of a pub after a banging Sunday lunch. We've had the ever so strenuous task of discovering some of the best roasts that the mighty Suffolk has to offer. We may have even had to peruse the dessert menu too. It's a hard life.
---
The Fox Inn, Newbourne
Image credit: Fox Inn, Newbourne/ via Facebook
Speaking of cosy corners, The Fox Inn is our pick of the quintessential country pub when it comes to whiling away a Sunday afternoon. With it's low-beamed ceilings, fireplace and Pearl-wearing Fox (yes really), the pub area is warm and traditional, whilst the newer restaurant area has a certain charm which makes the whole experience an inviting one. The quality of the food only adds to the allure of the place, with generous portions of perfectly cooked pork, chicken or beef served up with fluffy Yorkshires, crisp potatoes and flavoursome veg, whilst the nut wellington could tempt even the biggest carnivore. If you needed any other incentive to enjoy The Fox Inn yourself, the roast dinners are 2 for 1 after 4pm - perfect for any thrifty foodies.
The Fox Inn can be found at the Street, Newbourne, Woodbridge IP12 4NY
---
The Sibton White Horse, Sibton
Image credit: Sibton White Horse/ via Facebook
If we could sum this lovely country pub up in one word it would be 'welcoming'. From the lovingly restored interior that boasts warmth and friendliness in its atmosphere, to the carefully crafted menu, you can't help but feel that your relaxing Sunday is in safe hands at the Sibton White Horse. With a wood burner that will keep the wintry weather at bay, you can sit back and enjoy the delicious roast options from the Blythburgh free range Pork Belly, to the locally sourced Suffolk Chicken Breast with sage & onion stuffing, or indulge with the Sirloin of Beef. With an impressive dessert menu to finish off the gastronomic delight that was lunch, you may be glad to be in the heart of some of Suffolk's beautiful countryside, as well as close to the coast, to end a great afternoon with a leisurely walk.
The Sibton White Horse can be found at Halesworth Road, Sibton, Nr Saxmundham IP17 2JJ
---
The Unruly Pig, Bromeswell
Image credit: The Unruly Pig/ via Facebook
It's not hard to see why this gorgeous country pub has the highest local rating in the Good Food Guide when you try a mouthful of their Sunday lunch menu. Give your taste buds a treat with their rack of Dingley Dell Pork or Dry-aged rib of Beef accompanied by dripping potatoes and all the trimmings whilst you sit back and relax in an atmosphere that is the perfect blend of cosy and quirky. If you're in the mood for celebrating, or just indulging (because why not?) then the team at The Unruly Pig also cater to Sunday lunch feasts in their private dining room where delights such as a whole roast stuffed chicken and, wait for it, a suckling pig can be the showstoppers of your Sunday table. If you've still got room then sweet fancies such as bitter chocolate torte with banana and rum are there for the taking - let's be honest, there's always room for dessert.
The Unruly Pig can be found at Orford Rd, Bromeswell, Woodbridge IP12 2PU
---
The Queen's Head, Bramfield
Image credit: The Queen's Head/ via Facebook
For a country pub with a touch of history, visit The Queen's Head. Thanks to some recent restoration work, the interior highlights the original architectural beauty of the building; with exposed original beams and large fireplaces galore. The Sunday menu doesn't disappoint with the classic favourites of roast Pork Belly with crackling and apple sauce, as well as topside of Beef and leg of Lamb sourced locally from neighbouring Norfolk (we won't hold that against them though), all served with the perfect partners of roasties, Yorkshires, veg and lashings of gravy. However, the winning choice, in our opinion, is the option to have a mixed roast where you can feast upon all three meats -who needs to be able to move for a few hours on a Sunday afternoon?
The Queen's Head can be found at the St, Bramfield, Halesworth IP19 9HT
---
Ben's Restaurant, Bury St Edmunds
Image credit: Ben's Restaurant
In the heart of Bury St Edmunds lies the gem that is Ben's. When it comes to Sunday lunch, these guys have good game - literally - thanks to the phenomenal sounding roasted haunch of wild Venison. Add to this options such as Roast Leg of Jacob Lamb, Roast Loin of Ben's Rare Breed Pork and the Roasted Topside of Suffolk Beef, all accompanied with the traditional accoutrements, and you've got yourself a great Sunday. With such fantastic meat options, it's wonderful to know that Ben and his team are also passionate about high quality breeding and care when it comes to livestock, with an emphasis on the journey from farm to fork. From raising some of their own pigs and sheep, to ensuring everything is free range and locally sourced where possible, you can understand and taste that passion for quality in every bite.
Ben's Restaurant can be found at 43-45 Churchgate Street, Bury St Edmunds, IP33 1RG