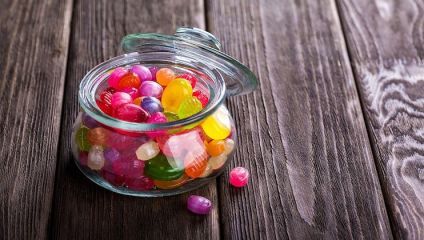 If you're fixing for a sugar rush in Brighton, we've picked a mix of the city's sweetest sweet shops. Whether you're after that perfect gift or just want to take a sensory trip down memory Laine (see what we did there?), we've got the perfect selection to keep you buzzing all day long.
---
Roly's Fudge Pantry
Ever thought, "Oh, fudge it!" and decided to ditch the diet? There's no better place for such wise decision-making than Roly's Fudge Pantry. Peter Riley opened this family store 28 years ago, cooking up his grandmother's recipe with his wife Lindsey in their Devon cottage. Now Roly's fudge is handmade in-store for you to see.
Several batches are cooked throughout the day guaranteeing fresh, great quality fudge. There are no silly ingredients: so say goodbye to additives and evil palm oils. Say hello to lashings of Devon butter and natural flavourings. We recommend their famous vanilla clotted cream fudge.
Roly's Fudge Pantry is at 9A Kensington Gardens.
---
Caramella
Established in 1987, Caramella casually slips between the bohemian shops of the vibrant North Laine. Variety fans can grab pre-made pick-n-mix bags by the weight, or you can take your time and select your individual favourites. At Caramella, confectionary is a serious business. Only the original varieties are on offer from brands such as Barnett's, Haribo and Maynards: no cheapo imitations here. Confectionary aficionados, prepare to be hit right in the sweet-spot! You can find Dutch and R&J's New Zealand liquorice, turkish delight straight from Istanbul and diabetic chocolate to ensure no one misses out.
Caramella resides at 29A Kensington Gardens.
---
Montezumas
We love a classic love story, especially when it involves chocolate. Montezumas has just that.
Let's set the scene: Boy meets girl. Boy and girl quit their lawyer jobs to camp on a cocoa plantation in South America. Boy and girl eat amazing chocolate. Boy and girl return to Brighton and open a little shop armed with a kitchen sink-sized chocolate making machine and bars of enthusiasm. Boy and girl set up a "Trading Fairly" policy, promising to use only the best quality ethical cocoa. Boy and girl support Chichester-based charity 'Children on the Edge' and they live sweetly ever after. The end.
We suggest browsing Montezuma's range of quirky treats and gifts, from a personalised build-a-bar, to a bottle of chocolate lager. Oh and don't forget their Chocolate Club membership!
You can find Montezumas at 15 Duke Street.
---
Sweet Boutique
Willy Wonka's traditional English dreams have materialised in Hove. The "Sweetest Shop in Brighton and Hove" houses all the classics that had us wired in the playground: Chupa Chups, Dip Dabs and white candy "cigarettes" all the cool kids were smoking behind the bike sheds. This boutique is so candied it goes above and beyond, with sugar-free options on offer, plus toys, gifts, cards and handmade goods.
Sweet Boutique is at 172 Church Road and 106 James Street.
---
Mr Simms Old Sweet Shoppe
With quaint Victorian-style stores open worldwide, Brighton's lucky to get in on the sweet treat that is Mr Simms Old Sweet Shoppe. You'll be spoilt for choice here: there's an endless array of vintage pick-n-mix favourites. Plus, if neither Cherry Lips, Pear Drops or even Uncle Joe's Mintballs tickle your fancy, maybe a genuine "Chocolate Tickle" will. Mr Simms' exclusive handmade chocolate collection is the perfect gift for someone who's tried it all.
Mr Simms Old Sweet Shoppe is at 42B Ship Street, The Lanes