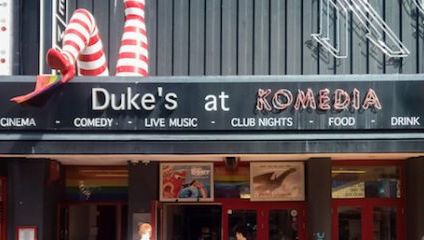 It's Sunday, which means you have a whole day ahead of you before Monday rears its ugly head once again. Although we are all for kicking back and relaxing at the weekend, we are also firm believers in the Sunday Funday mantra – so why not squeeze just that extra bit of excitement out of your weekend and beat off those Sunday evening blues? We have gathered a list of some of Brighton's best keep secrets, full of all things weird and wonderful, so there really is no excuse for staying in on a Sunday ever again!
What to Do in Brighton on a Sunday
---
Cabaret and Rock and Roll Bingo at Charles Street Bar
Charles Street is a gay bar situated on Brighton's seafront and it hosts one of the most underrated and entertaining nights the city has to offer. The bar invites you to enjoy a cabaret show from 7:30pm and rounds of 'Rock and Roll' music bingo for £2 a round from 8.30pm. With camp classics and power ballads, this event is a staple Brighton drag night with astonishingly cheap happy hour drinks (and we mean cheap!), ensuring a hilarious and purse-friendly time. If you're feeling lucky you can try winning their £100 cash prize. Otherwise grab a front row seat to the singing and dancing spectacle - but be prepared to be called on stage! Open until 1am, the bar is a perfect option for those of you who will never turn down a Sunday night party.
Charles Street Bar is located at 8 Marine Parade, BN2 1TA and is open from 12pm to 1am on Sunday's.
---
'Jam' Mixed Pose at Draw
If you insist on staying on the straight and narrow this Sunday night, then try this life drawing class - the ultimate relaxation activity. Open to all abilities, this laid back class encourages everyone of all ages to explore their creative side. All you need to take is your own paper and they'll provide the rest, including guidance from the session leader. The class's happy hour consists of a coffee and tea break - so it's like you never left your living room (if your living room had a naked person standing in it). Develop some artsy new skills in a therapeutic environment. A great class to do with a friend - even better if you can take one who won't get the giggles.
Photo Credit: Draw Brighton
'Jam' Mixed Pose is held at New England House, BN1 4GH from 5:30pm-8pm and costs £7 a session, £6 for students.
---
Bent Double at Komedia
Marked with an unmissable pair of ladies' legs sticking out in the heart of the North Laine, Komedia, Brighton's central comedy venue, hosts this LGBT comedy night that runs on a monthly basis, featuring a variety of comedians that change for each event. The best thing about visiting Komedia, aside from the range and quality of their acts, is the glamour of the whole evening: being ushered to your own table and waited on comes as a surprise for such an affordable evening. With a well-equipped bar and selection of drinks, spending your Sunday night at this fun-filled comedy night is the ultimate way to beat the Sunday blues - and all without spending more than £20.
The next Bent Double is on 5 March, starting at 7:30pm, doors open 6:30pm. Komedia is at 44-47 Gardner St, Brighton BN1 1UN. We recommend you book beforehand. Tickets range from £5-£12.
….
---
The many pubs of Brighton!
Now we know what you're thinking, but hear us out! There are all sorts of daytime activities taking place across Brighton's pubs, which pride themselves on being far more than your average watering hole. Take for example, The Hope and Ruin: this pub has a large upstairs gig venue which opens its doors to a variety of events across the city such as 'Sunday Swap Shop', a free clothes swapping event with a live DJ; and the upcoming closing party of Sussex Pink Week, which raises money and awareness for breast cancer. If you're looking for theatre, head to the Marlborough Pub and Theatre. This space, with its large theatre hidden upstairs, is one of the most integral venues to Brighton's art and theatre scene, and there are few others like it. They also do incredible roasts, but that's for another time.
The Hope and Ruin. Photo Credit: Eden, Janine and Jim.
The Hope and Ruin is situated at 11-12 Queens Road, BN1 3WA, open 12pm-12am on Sunday. The Marlborough Pub and Theatre is at 4 Prince's St, BN2 1RD, also open from 12am-12pm on Sundays.
Even on Sunday Brighton offers an enormous range of things to do. Hopefully we have inspired a few more ways to make your weekend last that little bit longer.