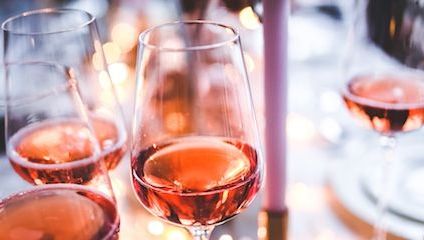 Skip the drink markups and bring your own wine, beer… spirits (hey we're not judging!) and enjoy some of London's more unusual culinary corners.
Quite rightly, us Londoners love to explore all the culinary delights the city has to offer. Sadly though, while our options for eating out are practically limitless, our money often isn't. And a few fine dining experiences here and there can leave your bank balance looking roughly the same as your punitive Oyster balance. That's where BYOB's come to the rescue. Always cheap and cheerful, some of London's most interesting restaurants will also let you bring booze from home. So you can skip the drink markups and bring your own wine, beer… spirits (hey we're not judging!) and enjoy some of London's more unusual culinary corners.
---
Marie's Cafe, Central - Waterloo
Greasy spoon by day, Thai by night, Marie's Cafe is a brilliant spot always crammed with diners.
There's normally a bit of a queue to get in but once you're seated, food is served up quickly and steaming hot. Try the Moo Yang, which is, in their words; 'MARIEnated pork strips' or their 'Drunken Noodles'; thick, chunky noodles smothered in chilli, basil and bamboo shoots.
Perfect for a quick meal if you're out in Central London and most dishes are a bargain at £7.50.
90 Lower Marsh, Lambeth, London SE1 7AB
---
Indian Veg, North - Islington
Something of a local legend, Indian Veg is just as famous for it's delicious food as it is its passionate extolling of all things vegetarian. Inside you'll find every available surface wallpapered with clip-art friendly stats and figures on the benefits of vegetarianism including slogans like; 'You say tomato, we say anti-aging!!' and more spuriously; 'research suggests vegetarian food can be orgasmic'. But the food itself will win over carnivores and veggies alike because it's so tasty and surprisingly rich. Despite the restaurant's evangelical praise of healthy lifestyles, the buffet comes with creamy curries, deep fried bhajis and samosas piled high. Best of all, it's brilliant value at £7.95 for an all-you-can-eat.
You'll leave stuffed and potentially considering a new vegetarian identity (possibly attributed to the food rather than decor).
92-93 Chapel Market, London N1 9EX
Photo credit: Paul Downey
---
Little Georgia Cafe, East - Hackney
This gem of a cafe is tucked away in a little corner of Hackney, just off Haggerston Park. Food changes weekly and ranges from juicy beef and pork dumplings with yoghurt and mint or Georgian pancakes with salmon. They also do The Georgian Breakfast (known as Chizi Bizhi); a kind of healthier version of the Full English, with herby scrambled eggs, tomatoes, Georgian beans and homemade Georgian sausages.
Homely but quietly stylish and with plenty of light shining through on a sunny day, this one is good for some early Spring time comfort food.
87 Goldsmiths Row, London E2 8QR
---
Persepolis, South - Peckham
This cafe-come-deli humbly bills itself as 'just a little corner shop'. But it's so much more! Customers enter via a small deli shop crammed with spices, flat breads, craft materials and cookbooks. Tucked around the corner is the cafe itself which is just as charmingly ramshackled and colourful. The menu offers up huge mezes with thick garlicky tahini and pomegranate sauces. Most dishes cost little over a fiver (even though the portions are huge). What makes this place especially delightful is the heart and soul put into it by the owner Sally Butcher who prepares and serves up all the dishes herself. Behind the scenes, she's doing her best to bring Persian tastes to the Peckham masses, having produced two cookbooks; Persia in Peckham and Snackistan. Check them out while you're in the shop.
28-30 Peckham High St, London SE15 5DT
Photo credit: Ewan Munro
---
Fez Mangal, West - Ladbroke Grove
Fez Mangal inspires devotion in its regular dinners. Often billed as the best Turkish restaurant in London, this restaurant offers a simple meats and salad menu, but it does each dish really well. Expect a traditional Turkish BBQ with grilled fish and meats, stuffed vine leaves, grilled aubergines and, if you have space, big slabs of baklava for dessert. Bring your own bottle for no extra cost and see your food being grilled right in front of you in the small but bustling restaurant.
To all South, North and East Londoners out there - this one's worth the journey!
104 Ladbroke Grove, London W11 1PY