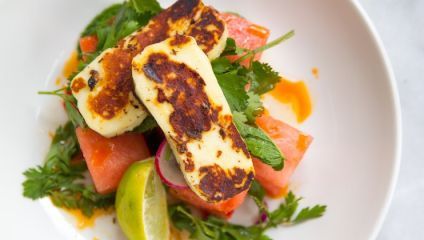 London Calling's top tips for the tastiest ways to get your five a day.
Meat-free eating is steadily on the rise, with London being named PETA's most vegetarian friendly city in the world and 2% of the British population identifying as vegetarian. In fact, the sheer volume of vegetarian restaurants out there can make it hard to know where to start. Fear not, London Calling has picked out the crème de la crème of veggie-friendly restaurants. From casual cafes to fine dining, we've got you covered.
---
Mildreds
A top veggie hotspot for over 25 years, Mildreds serves up classics - halloumi burger with sweet potato fries or hoummus and flatbread - alongside a range of Middle-Eastern and Asian dishes including mock chicken and duck, a surprising rarity for the vegetarian culinary world. The no-booking policy means that there is often a queue but the food, service and vibe are well worth the wait. Make sure to save room for dessert - the chocolate brownie with salted caramel sauce is to die for (and completely vegan).
Mildreds can be found in Soho at 45 Lexington Street, W1F 9AN, Camden at 9 Jamestown Road, NW1 7BW, and Kings Cross at 200 Pentonville Road, N1 9JP, with a Dalston branch opening on August 29 at 1 Dalston Square E8 3GU.
Mildreds. Image courtesy of Mildreds
---
Manna
International company Manna are currently celebrating their 50th anniversary with updates to a menu that already combines a range of cuisines and flavours; particular favourites are the spaghetti and veatballs, jerk tofu and raw tacos. Manna's mission extends beyond the restaurant. They give an inside view on the workings of healthy farming, cooking and eating, and aim to reduce their carbon footprint as much as possible. All about natural energy, Manna is a great place to pop in for a refuel after a tiring climb up Primrose Hill.
Manna can be found in Primrose Hill at 4 Erskine Road, NW3 3AJ.
Manna. Image courtesy of What Alice Did Next
---
NAMA Foods
For anyone out there that's passionate about healthy eating, Nama Artisan Raw Foods is the place for you. Whatever your opinion of clean eating and raw food, there's no denying the artistry and creativity that goes into the preparation of each of their dishes: cashew and coconut scrambled 'eggs' on artisan almond & walnut toast anyone? The cold-pressed juices are another selling point, as are the walnut crust pizzas. Add to this the relaxing environment of the black marble bar and faded wooden tables, and the careful presentation of the food itself, and you might just look at raw food in a completely different light.
NAMA Foods can be found in Notting Hill at 110 Talbot Road, W11 1JR.
NAMA Foods. Image courtesy of NAMA Foods
---
Ethos
Ethos offers a pay by weight self-service system where choice of flavour combination and price falls entirely on the customer. From Quorn lasagne to Japanese miso and Thai sweetcorn fritters, Ethos has all of your food-groups - and all of your desires - covered! As well as lunch and dinner, they also offer breakfast and afternoon tea, with a selection of truly mouth-watering treats to sink your teeth into. Watch out though: you'll want to try a bit of everything, resulting in some very odd flavour combinations, but that's all part of the fun!
Ethos can be found in Central London at 48 Eastcastle Street, W1W 8DX.
---
Vanilla Black
'We became vegetarian for no major reason. No dreadlocks were involved. We didn't hug trees and we kept our leather settee': the words of Andrew Dargue and Donna Conroy. The founders of Vanilla Black, a rare Michelin-recommended vegetarian restaurant, didn't pursue meat-free cooking as a noble cause but out of culinary curiosity and a desire to push the boundaries of fine dining. They've certainly done that: Iced and Charred Avocado with Oil Crumb, or Tomato Shortbread with Sheep's Milk and Broccoli, for example. Sounds odd? It is. But is it delicious? Hell yes. It's pricey, but definitely worth a visit for a special occasion.
Vanilla Black can be found in Holborn at 17-18 Took's Court, EC4A 1LB.
Vanilla Black. Image courtesy of Vanilla Black.