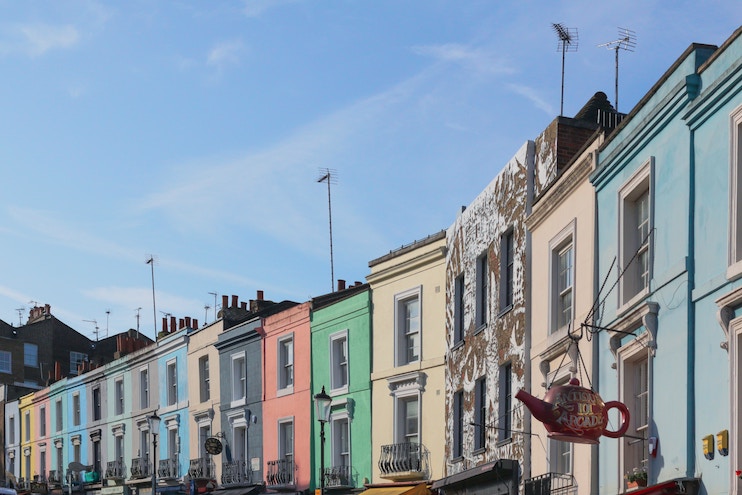 Portobello's unique and inviting atmosphere makes it worth braving the crowds

One of West London's most famous streets, Portobello Road draws in hordes of visitors and locals year-round. Even if you're a staunch avoider of tourist-loved areas, Portobello's unique and inviting atmosphere makes it worth braving the crowds.

Its biggest draw is, of course, the market. Or markets, to be precise: the antiques, bric-a-brac, fashion, and fruit and veg sections are all separate markets in their own right. Saturday is the main trading day when all stalls and the little antiques arcades are open, which means it's the best but also busiest time to go. If you're hoping to bag a unique collectible or a vintage fashion bargain, make sure you get there early. Fridays are less busy and probably your best bet if you just want to go for a leisurely(ish) stroll.

But outside market days, Portobello Road is still very much worth visiting, thanks to its unique shops, charming cafes and street art. Start your day on the right note at Bluebelles of Portobello, an inviting little place at the top end of the road that does all-day brunch as well as lovely cakes.

Has Portobello's street art got you inspired? Graffik Gallery is the place to go if you fancy indulging in a little (legal) graffitiing yourself - on Saturdays and Sundays they offer workshops suitable for prospective artists of all abilities. They also have a wonderful The Usual Suspects-themed mural outside, one of the many Instagram-worthy works of street art you can find around the north end of Portobello Road.

A couple of doors down lies record store Honest Jon's, one of the street's institutions, which has been around since 1974. Although no longer run by Jon himself, it's still a fantastic place to come for a browse, especially if you're one of the people still proudly playing and displaying their vinyl.

Wander further south and you'll find What Katie Did, a beautiful lingerie shop specialising in vintage-style underwear. Everything from corsets to stocking to bullet bras - you know, those really pointy ones - is on offer here, and the boudoir-style décor will get anyone's inner pin-up girl raring to get out.

If you're due a little break from the shopping by now, stop off at the Electric Cinema to catch a film in what is arguably London's most romantic cinema. All luxurious armchairs with footstools, plush blankets and impeccable waiter service, it's hard to imagine a more comfortable way to see a film.

Fans of Notting Hill should make a selfie stop at 142 Portobello Road, currently an unassuming souvenir shop, but once the location of Hugh Grant's travel bookshop in the 1999 film. The shop itself will hardly get your pulse racing, but the 'The Travel Book Shop' sign which was used in the film is still on the building and attracts a steady influx of romcom fans.

A wander further down will reveal a host of other wonderful shops, cafes and restaurants, including The Portobello Print and Map Store, antique shop Alice's, Aussie health café Farm Girl and many others… but why not go and find those for yourself?